The US Air Force invites you to hack their satellite in orbit, do you dare to try?
It was the first time hackers were allowed to learn about the F-15's system in order to detect potential internal problems. After only two days, a team of seven hackers reported a series of serious vulnerabilities that could be used to cripple a critical aviation data system, resulting in unprecedented tremendous damage. .
It is also a proof that the US Department of Justice is in need of all possible assistance.
" I left that event thinking that there is a huge force of security experts that the Air Force is completely missing " – Will Roper, assistant secretary specializing in acquisition, technology and post-production need the Air Force said. As the acquisition leader, every satellite developed by the Air Force must be under his scrutiny. But so far, all confidential information about the systems and technologies used in the Air Force has been kept strictly confidential because of fears of espionage or sabotage by enemies. Roper said that it was as if you were " stuck in the Cold War business model ."
" But in today's world, it is not the safest solution. You don't tell the world about your weaknesses, it doesn't mean you will be safe when you go to war " – he said.
Following the success of the DEF CON conference last year, Roper plans to bring security researchers back to this year's DEF CON in Las Vegas. This time, they want the experts to hack a real satellite orbiting Earth.
Space was only for brave nations and lots of money. For decades, only a few governments had the resources to push a satellite into space. But as private businesses have launched thousands of satellites containing their own technology into orbit, space is becoming ever more crowded. The space is not only a high level playing field for private businesses, it is also a potential war zone for all nations in the world.
Operating on Earth's orbit, the satellites seem to be out of harm's reach, but Roper says the risk facing the US is very real.
" I can launch an anti-satellite weapon directly into orbit to attack a satellite and disable it, " he said. " I can use energy weapons to disorient satellites or destroy components that allow it to gather vital information from the Earth. I can jam satellite links to you." cannot transmit any necessary information to other important decision-making parties . "
And not only satellites in orbit are at risk of being attacked. Earth stations and telecommunications links between the Earth and the sky are as likely to be affected as satellites, Roper said.
" We don't know the ghosts in our systems, which originate from the supply chains and the companies that assemble them, and so do the planes and satellites, " he said. The purpose of hacking is not only to fix existing bugs, but also to warn the supply chain to prevent new bugs from appearing.
" We really need help, " Roper said.
In collaboration with Defense Digital Services, an agency that director Brett Goldstein called a " SWAT team of nerds running the Pentagon ," they came up with the idea of ​​"Hack-a-Sat ", a space security program that invites hackers and security researchers to join in to find the bugs and vulnerabilities that every enemy will want to take advantage of.
This program was a big step away from the development of locking and locking systems that the Air Force had long been familiar with. By switching to semi-open systems, they can open their satellite technology to a wider community, while ensuring their top secret technology is in the hands of a team of experts and engineers. internal high.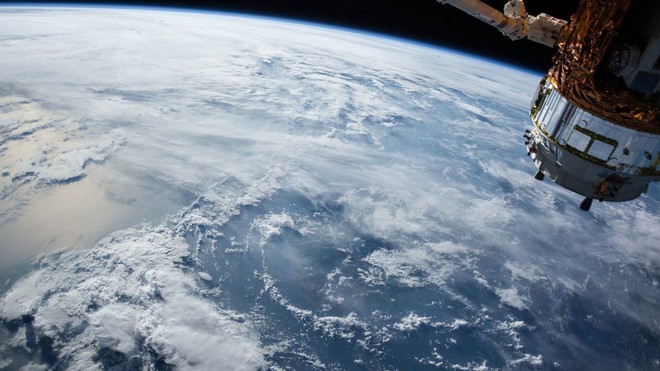 Surprisingly, Goldstein said that persuading superiors to allow hackers to attack an active military satellite was not as difficult as he thought – he thought the proposal even received heat support. more.
Roper and Goldstein say they want the best hackers to attack the satellite. In order to find such people, the US Air Force recently announced a review round next month. They will allow researchers to hack a fake satellite – basically a test satellite kit, to help find the tricks and skills needed to hack a satellite in orbit at DEF CON.
Those who qualify for the final round will be allowed to hack into the satellite while it is orbiting Earth.
"Our plan is to use a satellite with a camera on it and see if the hacker group can turn the camera towards the Moon, " Roper said.
What is going to happen? Nobody knows. Both Roper and Goldstein say they want to reveal hacker discoveries. But given the fact that they can hide inside the actual security holes that exist in active satellites, the Air Force may have to keep important details secret to avoid a disaster in the universe. can happen.
At the time of writing, Black Hat and DEF CON, the two largest security conferences held in Las Vegas in August each year, are announced to take place as usual. But in the unending situation of the corona virus pandemic, the US Air Force is planning a series of contingency plans. Roper and Goldstein say they are determined to organize the event, but still consider the idea of ​​organizing an event online.
Whether the event takes place on stage or from afar, the two Air Force officials insist the event will still be held. The interesting thing about hacking is that it can be done from anywhere, as long as there is an internet connection.
Roper said he hopes the hackers will successfully hack the satellite, and that the event is mainly to find and fix vulnerabilities that may surprise the whole system, so that the US Air Force has to change the way it thinks. when it comes to security.
" I think there will be a generation of Air Force officers and aviation experts with a completely different mindset in working with the hacker community. If that generation comes out, we will have good cyber security potential. than in the future to get ready for all forces "- Roper said.
Reference: TechCrunch
Nguồn bài viết : Genk