The home-sharing startup was founded from a car cushion and the Airbnb cereal car has just been an outstandingly successful IPO, valued at nearly $ 100 billion
Airbnb shares doubled in first-day trading, pushing the market value of the housing-sharing company to nearly $ 100 billion – one of the most remarkable records in stock market history. .
At the close of trading on Tuesday, Airbnb shares were priced at 144,, 71 USD, up 113% from 68 USD at the time of IPO price. The IPO, which was conducted 10 months after the Covid-19 translation, completely stopped the tourism industry, causing heavy damage to the company's business. It also arrived at a time when many potential Covid-19 vaccines were announced.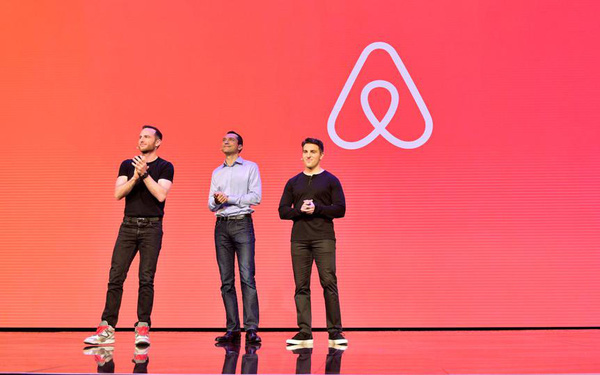 Despite the skyrocketing market capitalization that many veteran investors have questioned, at least Airbnb, unlike the 80% of IPO companies in 2020, they are already profitable. This company just reported the most profitable quarter in history.
"I don't know what to say right now. Everything is quite humble," Aribnb CEO Brian Chesky told Bloomberg after being asked how he felt about the company's unexpectedly successful IPO.
At its current market price, Airbnb becomes the world's largest online travel agency. Their market price is currently nearly surpassed by Booking Holdings, higher than Expedia Group and TripAdvisor. In addition, that number is also more than the market value of the four largest hotel chains listed in the world on the floor.
Afred Lin, a partner at Sequoia Capital who is a board member of Airbnb, says the need for large investors shows they still see Airbnb's enormous potential.
"We found that the resilience of this business model and the way the company saved itself from the abyss of the Covid-19 epidemic caused tourism to stagnate."
Still, Airbnb still faces a few challenges. Earlier, in a recent interview, CEO Chesky admitted: "There has not been a year that has been this crazy."
In the company's 13-year history, Airbnb has largely helped boost the travel market, give people the opportunity to earn additional income and create a completely new market with real estate-related services and motel.
The company's IPO plan was delayed in March when a pandemic broke out across the globe causing tourism to stall. By April, bookings were down 72%. Airbnb has a refund policy and incurs about $ 1 billion in cancellation fees.
Since then, things have improved significantly as residents in many cities have started to get too frustrated with being forced to stay at home for too long.
Currently, 2 co-founders Nathan Blecharzyk, Joseph Gebbia and Chesky hold 42.9% of the company's voting shares. Sequoia Capital holds 16.4%.
How did Airbnb get started?
In late 2007, Brian Chesky and Joe Gebbia moved to San Francisco from New York. Without a job, they have difficulty paying their rent and have to find ways to make more money. At the time, they found out that all the hotel rooms in the city were pre-booked because the local Industrial Design conference drew a lot of visitors to San Francisco.
Young entrepreneurs saw the business opportunity here. They bought a few air mattresses and quickly set up a website called "AirBed and Breakfast". Their idea is to provide visitors with a place to sleep and have breakfast with cereal. They charge 80 USD / night. The idea worked and Airbnb's first guests were a 30-year-old Indian man, a 35-year-old woman from Boston, and a 45-year-old father from Utah.
Soon, Harvard graduate student Nathan Blecharczyk and IT architect joined the group as the third co-founder. One of their big challenges was that the website was only two. users and 1 of them is Chesky. Initially, after their debut, they only received 2 bookings. Despite difficulties such as having no investors to help and thousands of dollars in credit card debt, the founders had to sell grain to keep the company running.
After revamping the website, the company launched again in August 2008, just before the Democratic National Conference in Denver. More than 20,000 people showed up to the conference and all hotels were fully booked. The 3 founders' desire is to serve thousands of people and more than 600 people participating in the conference use Airbnb's service.
Source : Genk