Samsung is about to launch a cheap folding screen smartphone similar to the Galaxy Z Flip
The lowest price that you have to spend to own a Samsung folding screen smartphone is $ 1,380. With this money, you get the world's first clamshell design, high-end configuration, and the world's first ultra-thin glass screen with the Galaxy Z Flip.
Low-cost folding smartphones are obviously a dream, and there will come a time in the future when a dream can come true. However, there have been several rumors about such a device lately. If it does cost less than $ 1,000, the device will be relatively cheaper than the current cheapest folding screen smartphone, which is about the same price as the Galaxy Note 20 Ultra.
Samsung's cheap foldable smartphone is more likely to be a clamshell device
It is said that Samsung is working on a new device and it could be a foldable smartphone. Carrying code SM-F415, if you regularly follow the codes of smartphones manufactured by Samsung, you must know "F" is the prefix used by Samsung for the Galaxy Z series. Galaxy Fold, Galaxy Z models Flip, and Galaxy Z Fold 2 are codenamed SM-F900, SM-F700, and SM-F916, respectively.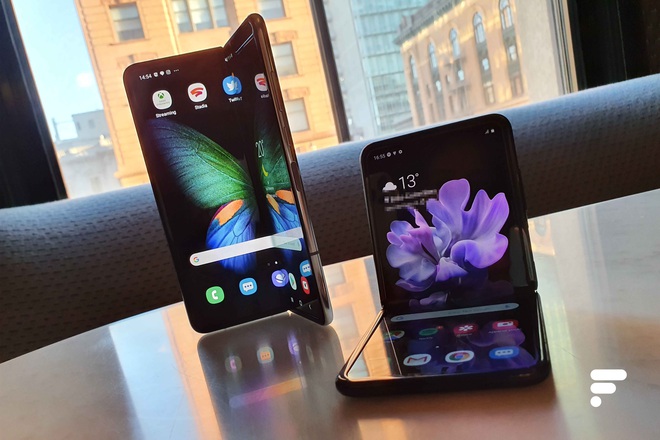 Galaxy Z Fold 2 and Galaxy Z Flip
Details about this cheap foldable smartphone are almost nothing, but some sources claim it will have 64 and 128GB of internal memory options, the same colors as black, green, and blue. . Of course, this information, although it sounds quite reasonable, is only for reference only.
Everyone knows Samsung plans to launch more foldable smartphones in the future, and it wouldn't be surprising if there was a low-cost device on that list. A cheap clamshell foldable smartphone is absolutely feasible, because it doesn't need to be equipped with a large external screen like the Galaxy Z Fold 2. Samsung can also just equip it with a range configuration. medium to further reduce costs. Folding screens and hinges are the most expensive devices that cannot be compromised, otherwise it will greatly affect the durability of the machine.
Lowering the average selling price of foldable devices will be a smart move to bring them to more users. Certainly the number of potential customers who want to own this type of equipment is not small, especially if they have prices ranging from 600-700 USD. It is unclear if everything is as expected or not, so let's wait together!
Reference: SamMobile
Source : Genk