Samsung introduces 2021 series of products: TV MICRO LED / Neo QLED / Lifestyle, smart monitor, sound bar …
On March 2, Samsung officially launched many new products in the line of Smart TV MICRO LED, Neo QLED, Lifestyle, along with models of computer monitors and audio speakers at the Unbox & Discover event. .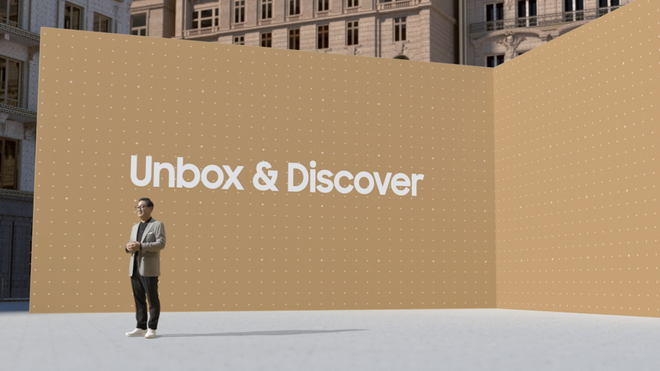 Samsung MICRO LED
In 2018, Samsung introduced Micro LED technology through its The Wall product. With outstanding image quality and dimensions, "The Wall" is made up of a modular system that reaches up to 292 inches for the best experience. However, the downside of this product line is that it requires the help of a specialized technician to be able to install "The Wall" at home or in the office.

By 2021, Samsung has brought the full power of Micro LED technology into a traditional TV to help consumers unleash the ultimate home cinema experience without any help. Who. The MICRO LED series is available in 110-inch and 99-inch versions, while the 88-inch and 76-inch models will be released in the near future.
The MICRO LED series supports 4Vue (Quad View) feature that allows users to view up to 4 different content on the same frame at the same time. In addition, the new display panel also helps the display quality of the MICRO LED series become more vivid.
Samsung Neo QLED
The Neo QLED line is integrated with an Neo Quantum processor, accompanied by a Quantum Mini LED system with a design that is up to 40 times smaller than conventional LEDs. With these technologies, Neo QLED provides good light control, for deep blacks and better contrast, reproducing surreal images with whatever content is displayed.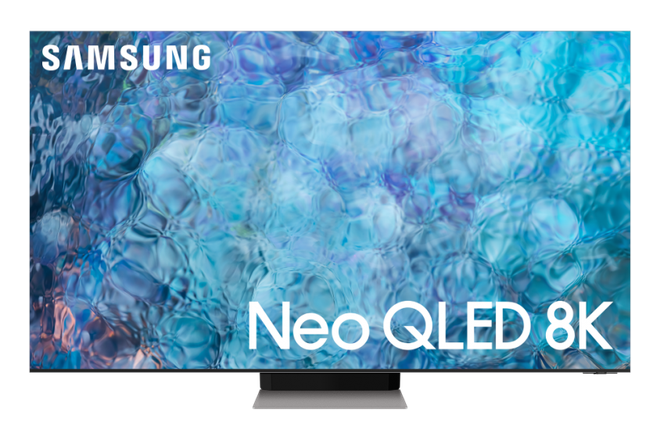 Samsung Neo QLED also comes with gaming features such as Game Bar or Super Ultrawide Gameview, … to help maximize the user's gaming process. The product allows users to play games at 120 frames per second 4K resolution with a response time of just 5.8ms.
Samsung Lifestyle
The Lifestyle lineup with the brightest candidate, The Frame, turns your TV into a masterpiece of art, integrating personalization features to match your home aesthetics and décor.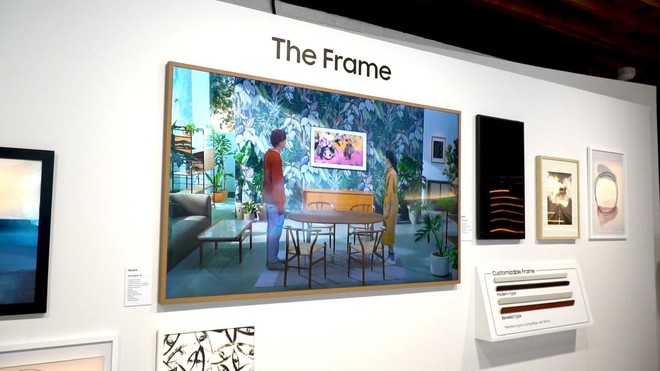 Samsung has also collaborated with NAVA Contemporary and Etsy to bring many unique artworks to the Art Store app to suit each person's preferences. The AI-based auto-management technology in The Frame will also recommend the artwork based on your selection.
The 2021 version of The Frame will give users more choices, from Slim Fit Wall Mount to five types of bezel and more from third party vendors. New version for a thickness of only 24.9mm, similar to an actual photo frame.
In addition, with the need to watch movies as when viewed in theaters, Samsung offers the Premiere line. This is the first compact three-laser projector with 4K resolution, exceptional with a maximum projection size of up to 130 ", and powerful built-in sound that transforms your home into a mini cinema.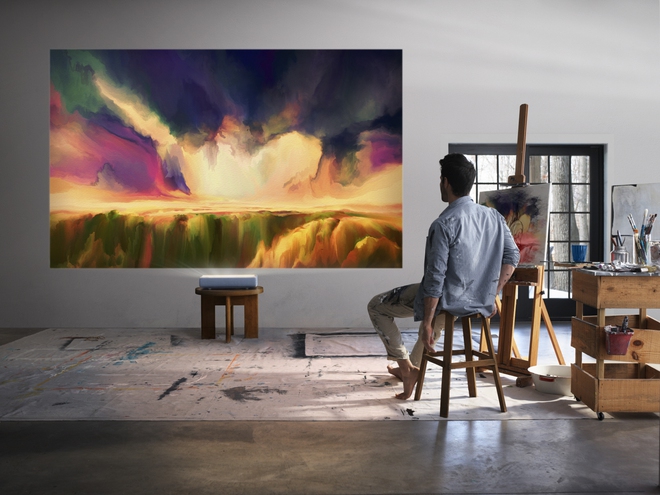 The Premiere offers a simple solution, with a refined compact design, with rounded edges and a fabric finish to fit any home. Just keep the camera about 5 inches (13 cm) or more away from the white wall or the ALR screen to watch movies, and the Smart TV feature is a one-for-all choice.
And yet, the Samsung Lifestyle line also includes The Terrace product. This is a Samsung outdoor first TV, allowing consumers to enjoy the picture quality, sound performance and smart features from Samsung outside their home. The Terrace is extremely weather resistant with IP55 certification for water and dust resistance. The device can also be easily installed with a cable connection and Wi-Fi network without the assistance of a technician. The Terrace comes in 55-inch, 65-inch versions and a new 75-inch Full Sun model coming this summer.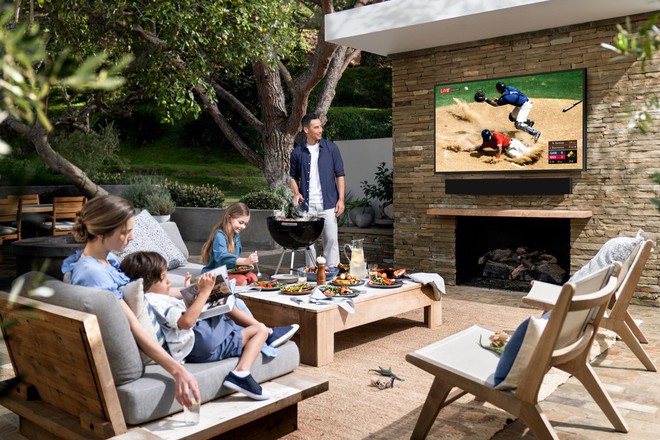 Computer screen
Samsung's line of computer monitors are divided into two categories: smart displays and traditional displays.
With smart screens, Samsung combines a Smart TV and a screen. Smart Monitor is compatible with Wi-Fi, Bluetooth, Wireless DeX and AirPlay 2, allowing consumers to work anywhere without needing to connect to a PC.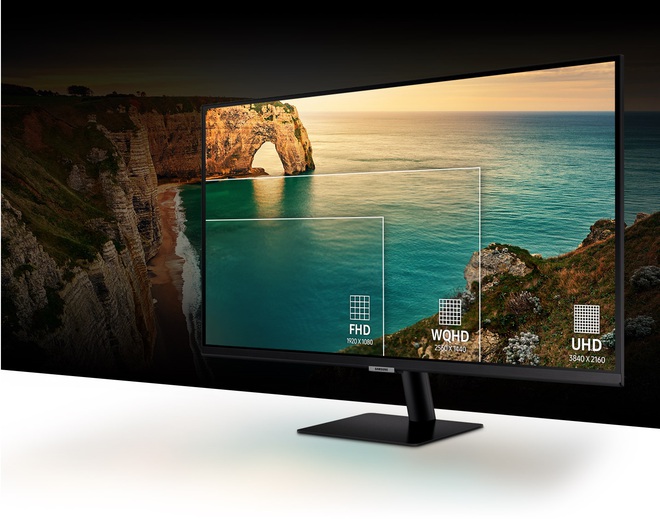 With traditional displays, Samsung introduces the upgraded Odyssey G9 with Quantum MiniLED display technology and gaming features. The product has a screen curvature of 1000R and this will be the latest member of the Samsung gaming monitor line.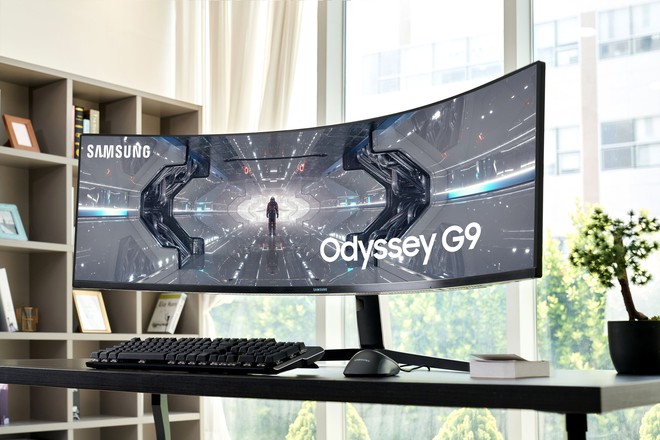 In addition, Samsung also introduced the 75-inch FLIP interactive screen. This is an electronic whiteboard that you can write, draw and edit on. Samsung Flip provides integrated learning and work connectivity features that help consumers achieve success in the classroom, office or at home. Optimize 4K image quality and display content clearly.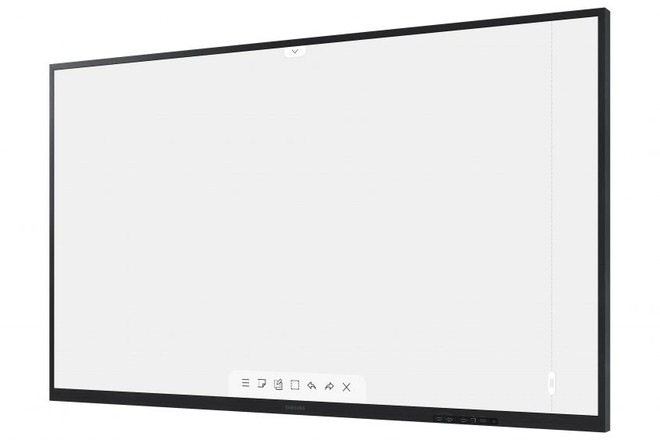 Q-series sound bar
In addition to the high-end Smart TVs, Samsung also launched the Q-Series sound bar with exclusive Q-Symphony technology that synchronizes the sound of the TV and the drivers on the Samsung sound speakers to deliver surround sound. 3-way bar. What's more, the Samsung sound bar measures your surroundings to deliver sound exactly where it's needed.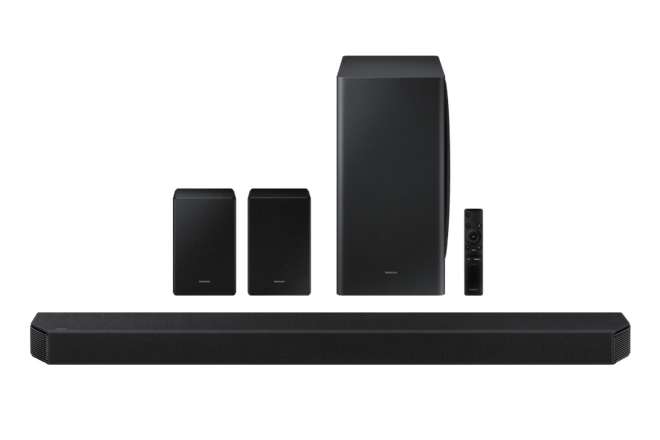 The Q950A series was launched with the first 11.1.4-channel sound system, accompanied by modes such as Bass Boost or Tap Sound with the ability to help users connect mobile devices to speakers. with just one touch.
Source : Genk