OPPO Reno4 Pro with 65W SuperVooc 2.0 is a genuine smartphone with the fastest charging technology in Vietnam today
SuperVOOC 2.0: fully charged in 36 minutes – the leading "weapon"

VOOC (Voltage Open Loop Multistep Constant-Current Charging) technology (Voltage Open Loop Multistep Constant-Current Charging) has been a typical feature of the No. 2 smartphone company in Vietnam. In 2016, OPPO officially introduced SuperVOOC technology with a capacity of 50W that appeared on the OPPO Find X Lamborghini Edition model. Four years after the release of SuperVOOC 2.0, OPPO continues to push the limit of charging capacity to a new ladder – 65W, the flagship pair OPPO Find X2 | Find X2 Pro and OPPO Reno4 Pro in the near-premium segment are representatives. first fitted.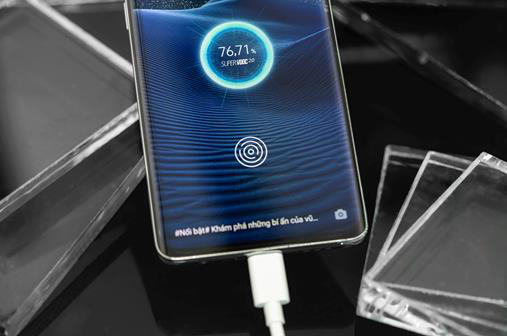 SuperVOOC always comes with OPPO's flagship as a highlight of technology leadership
True to the name associated with the word "super", this fast charging technology plays a role in demonstrating OPPO's technological leadership. Using the semiconductor Gallium Nitride (GaN) – the latest material to achieve high energy transfer efficiency as well as keep the charger bulb compact, SuperVOOC 2.0 easily reaches "unrivaled" speeds: full 4,000 mAh battery within 30 minutes. Looking at a genuine market in Vietnam today, the charging capacity present on Apple (18W), Samsung (45W) or Xiaomi (30W) products is still a significant gap with the 65W that OPPO flagship owned.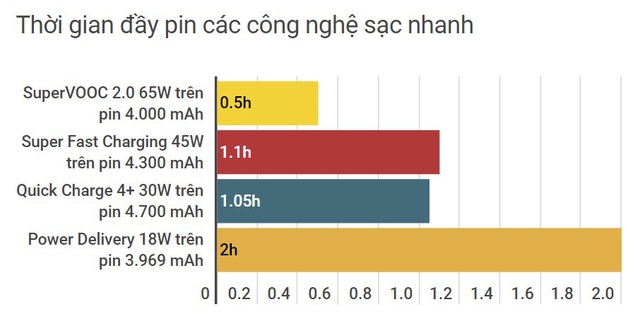 SuperVOOC 2.0 offers impressive charging speeds compared to other fast charging technologies available on genuine smartphones in Vietnam today.
Not only super fast charging but also safe
There are many different fast charging technologies used in smartphones, but manufacturers rarely mention safety features during use. And the point that makes users and fans deeply impressed with SuperVOOC 2.0 is not only in the super-fast charging time but also by the safety that OPPO is committed to in its technology.
Do not abuse the high voltage level like other fast charging technology, SuperVOOC 2.0 uses a voltage of 10V. Instead, the amperage is better utilized, pushing up to a maximum of 6.5A compared to only about 3A on rival technology. This balanced combination enables Ollie team smartphones to shorten charging time without heating the battery, prolonging the life of this part and above all, ensuring user safety.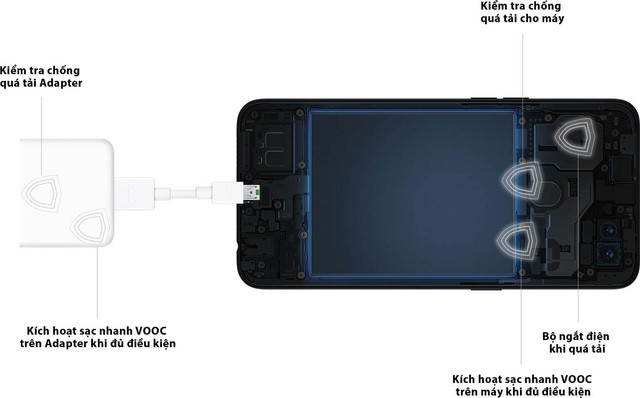 Besides charging speed, safety is also a remarkable highlight on OPPO's super-fast charging technology
In parallel, there are five layers of protection placed by OPPO in key positions, from the charger, the MCU switch circuit on the charger, the MCU circuit located on the charging port, a dedicated integrated circuit and a Mosfet semiconductor chip on the tablet. Battery, and finally the temperature and voltage sensors mounted on the battery. All create a closed charging process that is strictly managed, minimizing accidents while charging.
OPPO Reno4 Pro and pioneering role bring SuperVOOC 2.0 closer to users
The 4,000 mAh capacity battery of OPPO Reno4 Pro quickly reaches 27% after just 5 minutes of charging and is completely full after only half an hour of charging thanks to SuperVOOC 2.0 technology. It is no exaggeration to say that this will be the smartphone for the fastest charging time in the present time, outperforming many high-end phones today.
From another perspective, the 4th generation profile of the Reno Series equipped with SuperVOOC 2.0 once again clearly depicts the pioneering DNA of this product line. Not only asserting technology but also more humanistic and practical when the product brings flagship features to a large number of users. The phone is full of battery while sipping a cup of coffee, the experience of uninterrupted use is easier to reach than ever by young people with busy life.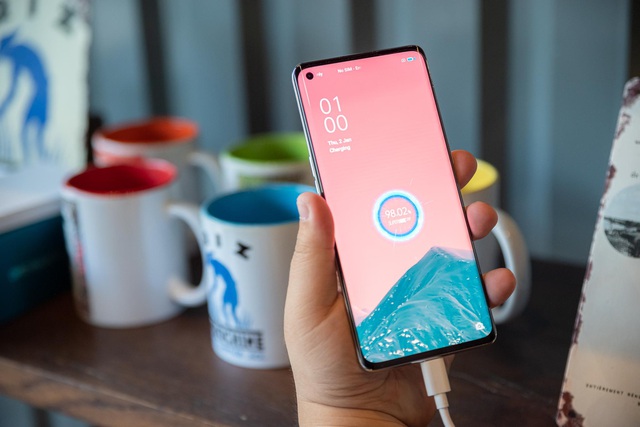 With SuperVOOC 2.0, OPPO Reno4 Pro demonstrates the pioneering mission of the Reno Series by bringing flagship feature to reach a large number of users.
Possessing the fastest charging technology today makes an impressive highlight for OPPO Reno4 Pro. This will be the fulcrum for users to fully enjoy other powerful upgrades on OPPO's new smartphones, for example, the AI ​​quad camera with AI Color Portrait mode, Night Portrait, AI Super Slow Motion Video 960fps and The impressive anti-vibration capabilities have been on the predecessor version upgraded to the 3.0 generation, … In addition to the 3D curved mole screen design, stylish color backside with powerful internal configuration with micro Snapdragon 720G processor is the other attractive changes.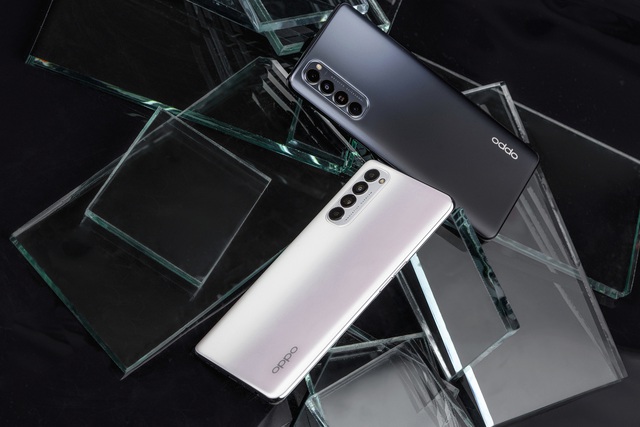 Super-fast charging will be the launch pad for users to experience better than other impressive upgrades on OPPO Reno4 Pro
Promising to be one of the genuine smartphones with the fastest charging technology in Vietnam in the near future, the OPPO Reno4 Pro with SuperVOOC 2.0 will create a new standard in the high-end segment. With new technologies and features, the smartphone offers a quality choice that matches the dynamic and creative lifestyle of Vietnamese youth.
The duo Reno4 and Reno4 Pro are designed thin and light with fashionable colors. Reno4 Pro impresses when equipped with 65 W Super VOOC 2.0 fast charging technology, fully recharges the battery in 36 minutes. Meanwhile, Reno4 equipped with VOOC 4.0 30 W fast charging. Both have cameras with AI color portrait photography and video recording, highlighting the subject in each scene and many interesting shooting modes. other. Readers see more
here
.
Source : Genk