Official: God of War (2018) landed on PC, available on Steam
Sony has put God of War on Steam, the image below was not edited with any tools. This is not a beautiful dream that makes you sad when you wake up, the journey of father and son Kratos and Atreus will officially land on PC in January 2022.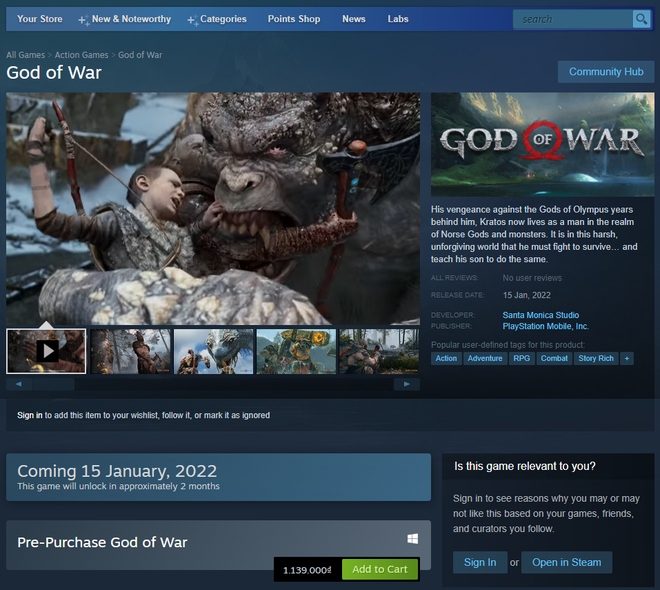 A photo of the God of War game section (2018 version on Steam).
The fact that Sony launched an exclusive game produced by its own studio on PC can be considered a move that surprised the gaming community, but it is completely financially justified. Accordingly, the PC game market is now as fertile as the console game market, bringing in significant revenue for many game publishers.
Sony itself, of course, understands this very well. The fact that PS4 exclusive games have been out for a few years like Days Gone, Horizon Zero Dawn are still quickly achieving good sales when launching on PC is the clearest proof that Sony's new strategy is right. Not to mention, this strategy may also help attract more users from PC to PS5, when the sequels of God of War and Horizon Zero Dawn are released in the near future.
As for God of War, like other PS4 exclusives ported to PC before, the game will also be upgraded in terms of graphics to take advantage of the power of top PC configurations. At the same time, the game will also support 4K resolution, no frame rate lock, DLSS and Reflex features for Nvidia users, support for screens with 21:9 aspect ratio, etc.. However, configuration God of War PC's minimum and required configuration have yet to be announced.
You can pre-register for God of War on Steam right now . The game is expected to be released on January 15, 2022.
Source : Genk