Less than 1 million to buy a safe backup charger
Speaking of mid-range technology accessories that are high quality, it is impossible not to mention iWALK. iWALK is a Korean technology accessory brand, founded in 2003 by Bernard Kim. In October 2019, the company launched the iWALK UBC10000PS Polymer backup battery with a capacity of 10,000 mAh and a total charger of 18W.
Li-Polymer core safe, non-explosion, reduce battery weight
Unlike traditional backup batteries that use the highly flammable Li-Ion (Lithium-Ion) core, the iWALK UBC10000PS Polymer backup battery uses a much safer Li-Polymer core. The Li-Ion core uses an organic solvent liquid as an electrolyte. This electrolyte is responsible for ion exchange between electrodes. This organic electrolyte is based on an extremely flammable solvent. Therefore, Li-Ion batteries are volatile, flammable or explode when used incorrectly. Not only that, Li-Ion batteries are usually encased in a hard metal case, so the weight is quite heavy.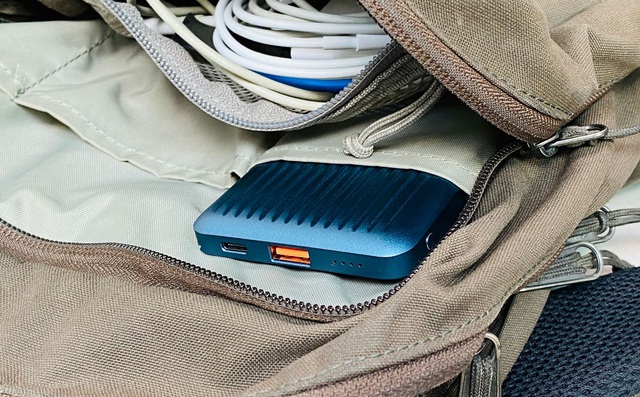 In contrast, the iWALK UBC10000PS Polymer backup battery uses the Li-Polymer / Li-Po (Lithium-Ion Polymer) battery core. Li-Po batteries do not use liquid electrolyte but instead use dry polymer, like a thin piece of plastic film. So manufacturers can reduce the size, weight, comfortable creating shapes for power banks. Li-Po batteries are safer, do not catch fire and are difficult to explode. Not only that but also possesses a high discharge current that provides continuous power for the charging device.
Super slim size, smart design
Because of its thin and light Li-Po core, the Polymer iWALK UBC10000PS power bank has an eye-catching design. The size of the product is just a little thicker than a mobile phone. Specific parameters are 13.5 cm long, 7 cm wide, 1.5 cm thick and weighing 240g. Users previously thought the Anker PowerCore A1263 backup charger product was very small, but now iWALK has officially overtaken the design. iWALK this time extremely "play" when put on its products anodized aluminum shell, extremely high durability. During the entire charging process, the aluminum cover keeps the product at a normal temperature, not as hot as plastic rechargeable batteries.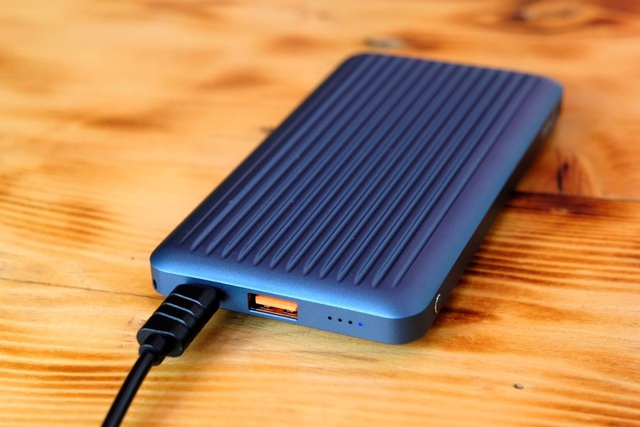 Polymer iWALK UBC10000PS is also equipped with small grooves on both sides to reduce slippery grip, as well as increase the aesthetics of the charger. The deep green, gentle, eye-catching and luxurious look is also a plus point to be mentioned.
Good battery capacity, support full fast charging
Compared to the nearly 1 million VND backup charger, Polymer iWALK UBC10000PS also has a huge capacity of 10,000mAh. The product can fully charge about 2 times for popular smartphones now with 65% efficiency. When charging out, the battery meets two charging ports, USB-C that supports Power Delivery 18W and USB-A with Quick Charge 3.0 also 18W. Right next to them are 4 small lights indicating battery capacity.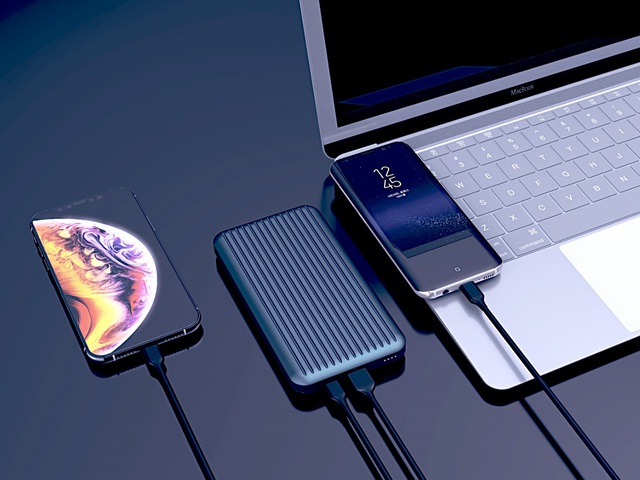 When it needs to be recharged, Power Delivery / Quick Chargre (PD / QC) technology with fast charging and USB Type-C charging port will help fully charge in 3-4 hours of charging using Adapter and cable supporting QC 3.0 / PD. Users can easily see this is the strength of Polymer iWALK UBC10000PS when the same product in the price range of Energizer 10,000 mAh QE10000GY takes from 10 to 11 hours to fully recharge the battery.
Reasonable price, worth thinking about in the backup charger segment from 9 hundred to 1 million
With so much technological innovation and design innovation, iWALK thought it would not be possible to offer a soft price for Polymer iWALK UBC10000PS. But it is surprising that when walking through a round of products in the price range from 900,000 to 1,000,000 VND, this can be said to be the "whole road" choice. If at this price, the giant Sony only meets 8,700mAh capacity, the iWALK is 10,000mAh. As for appearance, it is easy to see that there is hardly any opponent to surpass the sophistication and fashion of the Korean manufacturer.
Polymer iWALK UBC10000PS is the "brainchild" of iWALK with the desire to bring convenient charging equipment for users who meet the following criteria: Safety, high efficiency, compactness, beautiful design. Currently the product is being sold in Mobile World for VND 900,000.
Polymer backup battery 10,000mAh Type C PD QC3.0 iWALK UBC10000PS is a convenient charging product with durable anodized aluminum shell, not hot when in use, beautifully designed.

Polymer core safe for users as well as electronic devices. The charger has a capacity of 18W, a capacity of 10,000mAh, can charge approximately 2 times for modern smartphones. Supporting both USB-C and USB-A ports, Polymer iWALK UBC10000PS meets all technology devices.
Currently, this power bank is on sale in Mobile World for VND 900,000
Source : Trí Thức Trẻ