I used to consider dropping Apple to switch to Android, but the iPhone SE did the idea
Thinking carefully
Over the past 3 years, the bad experience on this iPhone 6 has always made me "freak out" about buying a new phone. On the one hand, like so many others, I enjoy buying high-end iPhones. Until 2020, I had never experienced Face ID, and still had to endure the 1GB RAM experience.
On the other hand, I shouldn't spend thousands to buy a new iPhone. Working in software field, I was granted Mac Mini and Surface Pro to work. My family also has 2 iPads for everyone to share. The more devices, the less I have to touch smartphones.
Before the iPhone SE, Android phones were the only option in the $ 10 million price bracket.
But every time I moved, the iPhone 6 made me want to change my phone more than before. Gradually, I began to think of another option: not to stay with Apple anymore. Android smartphones today have improved a lot better, even faster … devalued. As the information I just consulted, it only takes about 10 million VND to buy a "like new" Galaxy S10. Although not quite new, this smartphone will definitely bring a better experience than my old iPhone 6.
The only trade-off is that I will have to give up the familiar iOS space to switch to Android.
Put iPhone SE and Android smartphone on the scale
Then, Apple suddenly launched a new version of iPhone SE. Inside the case of the iPhone 8 (and also nearly the same shell as my iPhone 6), Tim Cook's company will bring the latest A13 chip experience and AI camera features.
My attention for Android therefore dissipated. If I bought a new phone, I would definitely choose the iPhone SE.
There is no denying that Android has so many advantages …
… but, as someone who works with code, I prefer to stay with Apple.
Why is that? First of all, I should say, I still know the superiority of the new Android smartphone. Like the "like new" Galaxy S10 I told you above, it has an AMOLED QHD + screen, has three cameras, and has full Samsung Pay service. Also can not ignore the "open" of the operating system, a strong point that Android has always overwhelmed before iOS.
But all of these strengths also come with tradeoffs. As a technology person, I need a stable, well supported and secure phone. An iPhone that completely surpasses Android smartphones in this respect. The A13 chip is also the most powerful chip on the market today.
Since everyone in the house is using an iPhone, switching to Android also means that I will lose convenient features. Receiving photos / videos or texting will now require a 3rd party application, which I don't want to do. Most importantly, many people in my company (working on software) also use Macs and iPhones. Switching to Android will make me more inconvenient in communicating with them everyday.
No longer bother
In the past, the only reason I was willing to sacrifice my comfortable life in the Apple ecosystem was because the new iPhones were too expensive. From iPhone X to iPhone 11 Pro, I followed it cravingly and then realized that their prices were equivalent to my monthly salary … And the iPhone XR and 11, though a bit cheaper, were actually less attractive. taking into account the cuts Apple has made to reduce prices.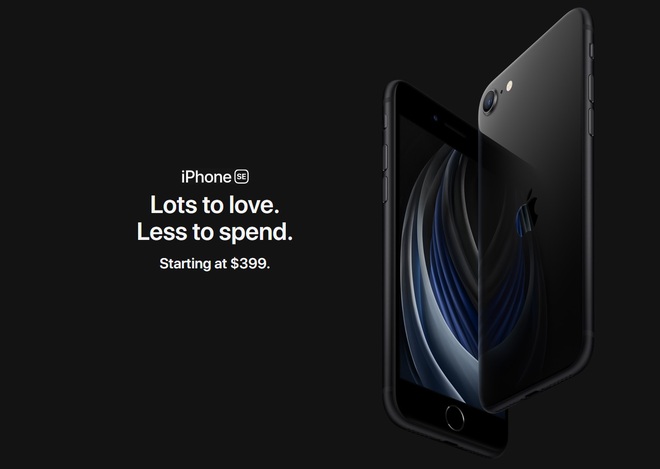 $ 400, iFan price so you don't need to think about Android smartphones anymore.
At $ 400, the iPhone SE brings a new path, an unprecedented direction on the market so far: I don't have to pay too high a price to stay in the Apple ecosystem, continue to Enjoy the eternal strengths of iPhone compared to Android smartphones. Of course, this is not the most coveted iPhone experience right now, but I've been in the Apple ecosystem for 10 years, including 4 years for the iPhone 6. With almost unchanged body In exchange, the iPhone SE will solve the only problem I'm really having on my iPhone – performance.
I believe many people will carry the same thoughts as me. When the XS / 11 Pro was too expensive, when the XR / 11 was still expensive for what it offered, the iPhone SE offered a new path for veteran iFans. They can stay in the Apple ecosystem for $ 400 , the lowest price ever for iPhones.
And because Apple will support the update within 4 years, this $ 400 will also open a very long, very economical journey. The advantage of a well-designed phone like the iPhone SE is that even broken components can be easily replaced. Calculated on both economic and emotional aspects, iPhone SE are superior to Android at the same level.
So, what are the reasons for iFan to consider switching to Android?
Source : Genk