Experience 8K video recording on Galaxy Note20: Excellent in every detail
In addition to impressive highlights such as high-end design, excellent screen, "divine" S Pen, there is one element that cannot be ignored every time a Note generation comes out, which is about performance. camera function. This year, the Galaxy Note20 and especially the Galaxy Note20 Ultra continues to be one of the best camera smartphones at the moment.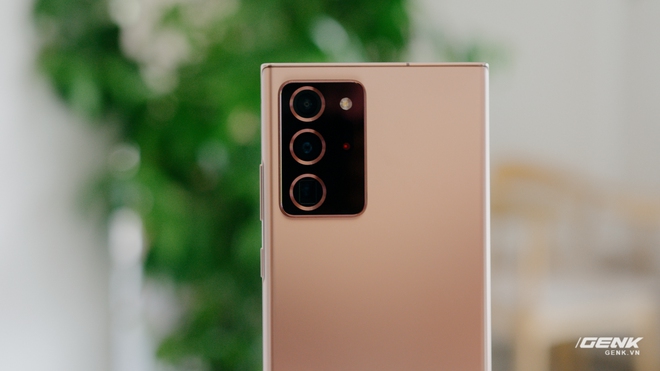 Galaxy Note20 Ultra – one of the best camera smartphones at the moment
With the super-huge main camera cluster with parameters up to 108MP on the Ultra line, this year's Galaxy Note excelled in both photography and video recording. Inheriting the previous Galaxy S20 series, while taking advantage of the high-resolution camera, the Galaxy Note20-series brings 8K video recording closer to everyone. Even in the new generation Note, Samsung has also improved its 8K video recording capabilities and added extremely useful features to help users master the camera's camera.
What is special about 8K video recording on the Galaxy Note20?
Remind a little bit about the camera parameters of the Galaxy Note20. Both the standard version and the Ultra version are equipped with 3 main cameras on the back but with different resolutions. In addition, the Ultra also integrates a laser focus sensor.
Galaxy Note20:
– 12MP , f / 1.8: Wide angle, 26mm convertible focal length, OIS
– 64MP , f / 2.0: 3x telephoto , 72mm convertible focal length, OIS
– 12MP , f / 2.2: Ultra wide angle, 120˚ viewing angle, 13mm focal length
Galaxy Note20 Ultra:
– 108MP , f / 1.8: Wide angle, 26mm convertible focal length, OIS
– 12MP , f / 3.0: Tele 5x, focal length 120mm, OIS, zoom 50x
– 12MP , f / 2.2: Ultra wide angle, 120˚ viewing angle, 13mm focal length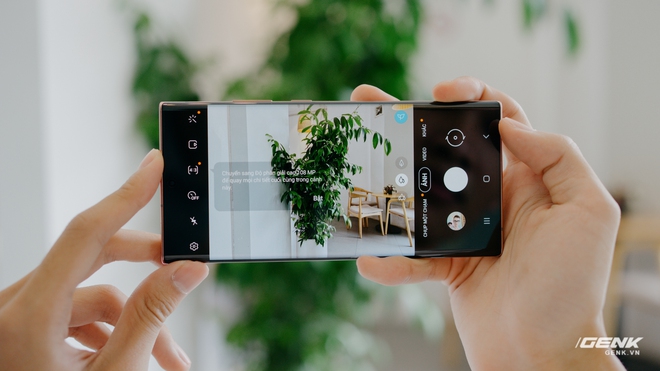 First of all, it must be confirmed that the 8K video recording mode on the Galaxy Note20 gives extremely sharp video quality in terms of detail. In this mode, the Galaxy Note20 will take advantage of the 64MP high resolution camera on the standard version and 108MP on the Ultra to get the most details.
To switch to 8K video recording mode, just go to the camera settings and choose the resolution / size for the video behind 16: 9 (8K) as shown. The Galaxy Note20 can capture 8K video at up to 24 frames.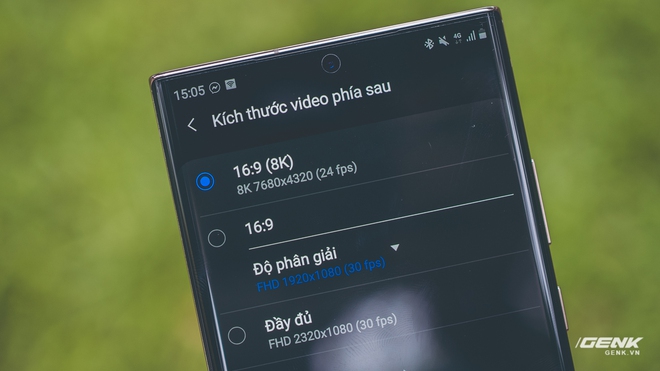 Rear video resizing settings on Galaxy Note20 Ultra
Now that it's set up, now, you just need a little creativity and know a little about the angles to create super beautiful 8K videos. Not to mention in Note20, Samsung also added the feature to record video in a cinema standard 21: 9 aspect ratio, allowing users to record videos that convey extreme emotions.
With 8K resolution, the details of each frame are very sharp. You can crop every frame of the video to turn it into a photo with 33MP resolution without any loss of quality.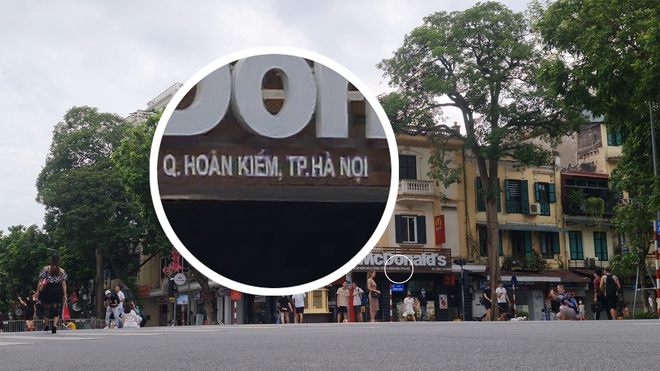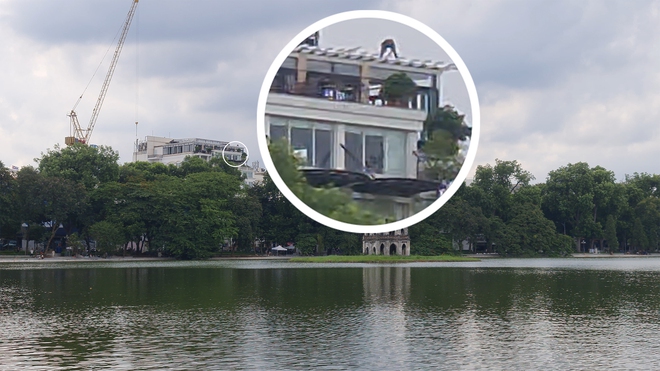 See details of each frame in 8K video (photo cut from video)
After capturing a satisfactory 8K video, Galaxy Note20 allows users to review and edit 8K videos directly on the smartphone. You can add some emojis or text directly to the video, and Samsung even provides a variety of color filters for you to make your 8K video more artistic and beautiful.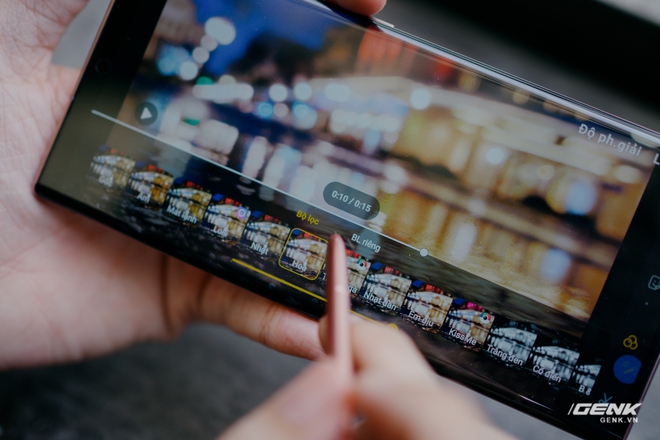 Watch and edit 8K videos directly on Galaxy Note20
Record slow motion videos
Slow motion and super slow motion are also a notable highlight when it comes to the camera on the Galaxy Note20. The machine has two slow-motion modes, in which with normal mode, the machine can record video at 120 frames and then slow down 5 times compared to reality. In super slow motion mode, the recorded video will have a frame rate up to 960, which is 40 times slower than reality.
Galaxy Note20 Ultra – Slow Motion – 960fps and 120fps
Of course, in slow motion mode, users will have to sacrifice a bit of video quality (Full HD at 120fps and HD at 960fps), however, the video will be extremely eye-catching, especially when you shoot high speed shots like splashing water, slow motion effect will make the video look very beautiful.
Stable zoom speed control
On this year's Galaxy Note, Samsung has integrated a new professional video recording mode. In this mode, users will be able to master almost all parameters, from shutter speed, ISO, EV custom, white balance, zoom speed control, …
Zoom control feature on Galaxy Note20
With the zoom speed control feature, we can fully take advantage of this feature to create some special effects like Dolly Zoom for example, it will look quite fancy!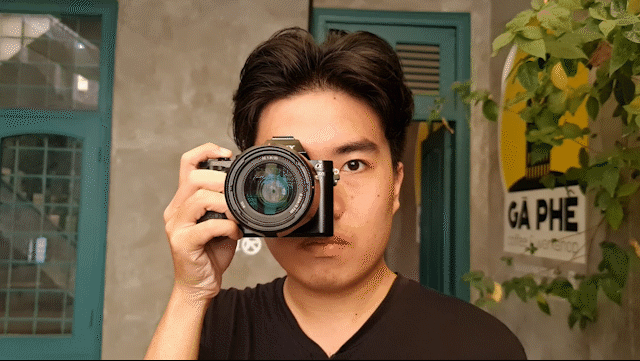 Of course, remember to use a tripod, slider or a gimbal for the most impressive Dolly Zoom effect!
Camera – Leading the trend
Not suddenly, Samsung is equipped with 8K video recording mode next to available modes such as 4K recording or super slow-motion recording on its high-end smartphones. The flagship Galaxy series has long been known as the product line that always brings the best experience and is the product line to catch up with the technology trend. With the remarkable development of the 4.0 period, the user needs are higher and more diverse and more diverse.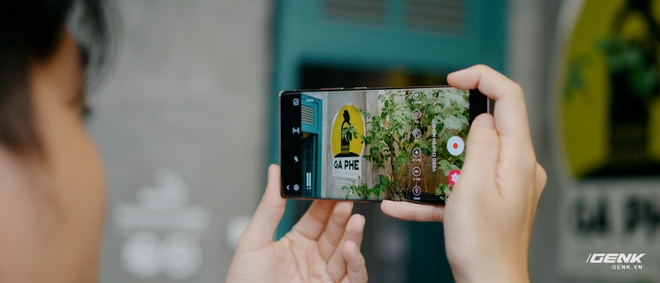 Therefore, equipped with the ability to record 8K video on the Galaxy Note20 is both to satisfy the needs of users, and to lead the technology trend, confirming Samsung's position in the market. smartphone school.
Source : Genk