Equipped with the second most powerful graphics card in the world, can 50 million gaming laptops be able to play great games at "max setting"?
Officially revealed at CES 2021, the ASUS ROG Strix G17 (2021) is the latest newly launched gaming laptop from the Taiwanese technology company, serving a group of hardcore gamers as well as technology enthusiasts. With a price in the Vietnamese market up to 50 million VND, ROG Strix G713QR-HG072T (full name) is equipped with an extremely powerful configuration, with the criteria of 'any money'. terrible image '.
Unlike previous versions of gaming laptops, this year ASUS decided to choose AMD as the CPU supplier for its Strix laptops. Accordingly, thanks to extremely impressive gaming performance and good energy saving capabilities, Ryzen 7 5800H is the chip of choice to replace CPU models like Intel's i7-10870H.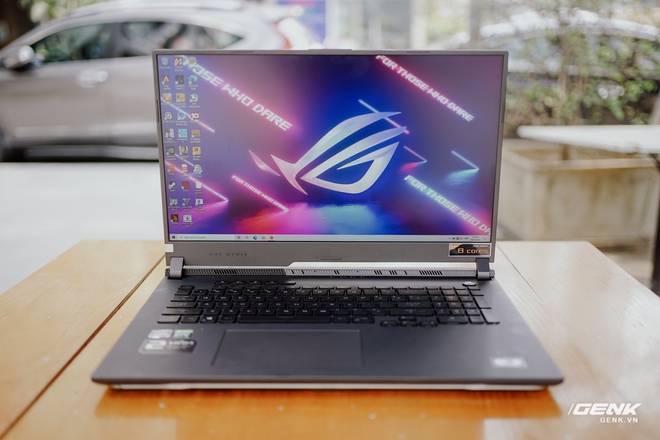 At the same time, Nvidia's latest RTX 3070 graphics card is also selected by Asus to integrate with the ROG Strix G713QR-HG072T. Compared to the PC version of RTX 3070, RTX 3070 Mobile has slightly reduced specifications, delivering about 15% less performance.
This is understandable, when Nvidia is forced to control the TDP of this video card model to better suit mobile devices. However, along with the RTX 3080 Mobile, the RTX 3070 Mobile is still the two most powerful graphics card models in the laptop segment at the moment.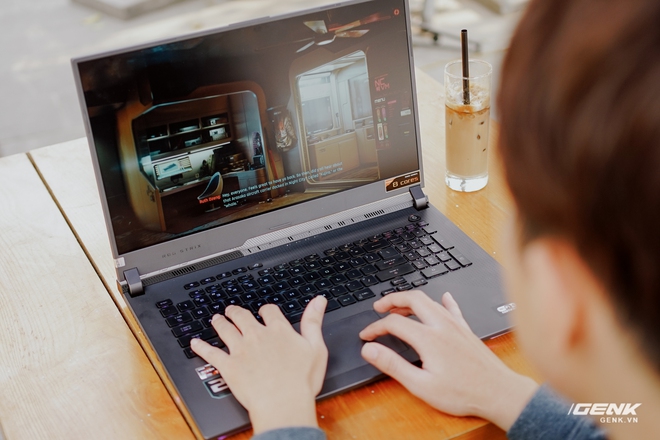 A question arises: With the most powerful GPU and CPU duo in the laptop segment today, with the same 'expensive' price, gamers can achieve 60 FPS or more in all titles. today's heaviest game (highest settings, including Ray Tracing)?
Below is the detailed configuration of ROG Strix G713QR-HG072T:
17.3 inch screen, Full HD resolution, maximum scanning frequency of 300Hz.
CPU: AMD Ryzen 7 5800H (8 cores / 16 threads)
Discrete graphics card: GeForce RTX 3070 8GB GDDR6X
RAM: DDR4 16 GB bus 3200 MHz (upgradeable to 32 GB).
SSD: 1 TB PCle.
The first game tested was Cyberpunk 2077 – one of the games with the most 'terrible' (and heaviest) graphics on PC today. In particular, when fully enabled with Ray Tracing graphics options, Cyberpunk 2077 can make even the most powerful graphics card models still have to 'work hard' to handle.
In fact, at the highest option Ray Tracing Ultra, the ASUS ROG Strix G17 with RTX 3070 only achieves 40 FPS in some heavy scenes, such as downtown Night City .. If DLSS is enabled (processing and interpolating images using AI, which increases performance), the FPS level immediately increases to about 55.
In case of turning off all the Ray Tracing option while leaving the remaining settings at Ultra, the performance will be around 68 FPS (if DLSS is disabled) and 88 (if DLSS is enabled – Quality level). Of course, the above numbers are for reference only, because the FPS achieved in the game depends on the scene in the game.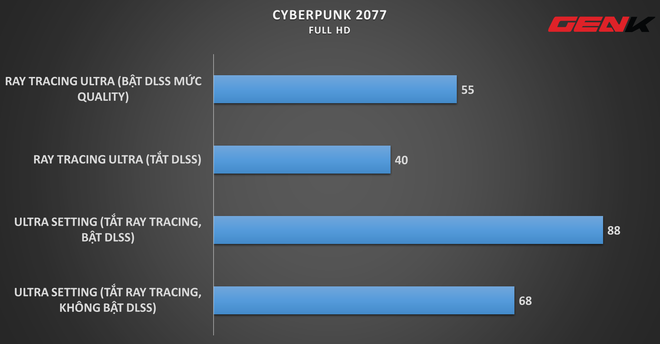 ROG Strix G713QR-HG072T performance when playing Cyberpunk 2077 at Full HD resolution, according to different settings
After Cyberpunk 2077, Control is another game that supports Ray Tracing technology. However, the performance ASUS ROG Strix G17 achieved while playing this game is much better than Cyberpunk 2077.
Specifically, when all graphics options are enabled at their highest level (including Ray Tracing), gamers can enjoy an average FPS of 63 FPS – very smooth. If you turn on the DLSS option (upscale images from 720p to 1080p), the performance reaches 90 FPS, helping gamers take advantage of the 300Hz refresh rate display.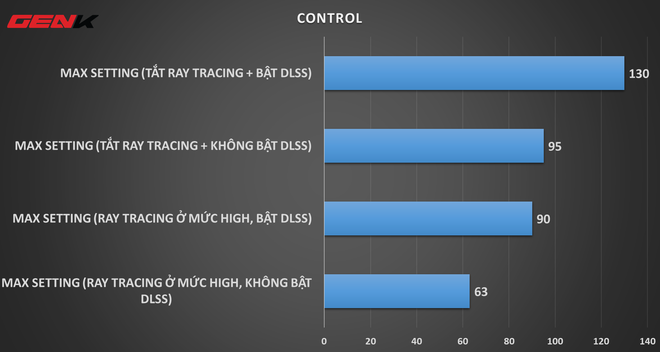 ROG Strix G713QR-HG072T performance when playing Control at Full HD resolution, by different settings
However, the ASUS ROG Strix G17 proved really drowsy when benchmarking the performance with Crysis Remastered. Once considered the 'hardware killer' for a while, the upgraded graphics version of Crysis adds the latest Ray Tracing effects, continuing to 'torment' the most powerful VGA models on the market today.
In fact, at the highest option (Can it run Crysis), the Ryzen 7 5800H and RTX 3070 pair only achieved an average FPS of about 30 FPS and continuously fluctuated. As soon as we lower the Very High option, the average FPS is only about 39 FPS.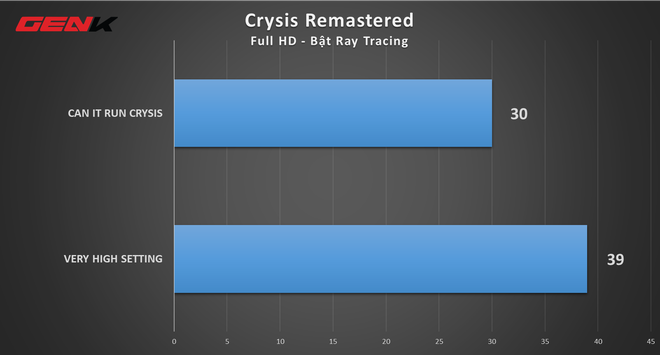 ROG Strix G713QR-HG072T performance when playing Crysis Remastered at Full HD resolution, subject to different settings
Of course, with the rest of the blockbuster AAA titles like Assasins Creed Vahalla, Shadow of Tomb Raider, GTA V, Mafia Definitive Edition or Horizon Zero Dawn, the FPS that ASUS ROG Strix G17 achieves at the Max setting option are all at extremely high (over 60 FPS) or higher, providing an extremely smooth gaming experience.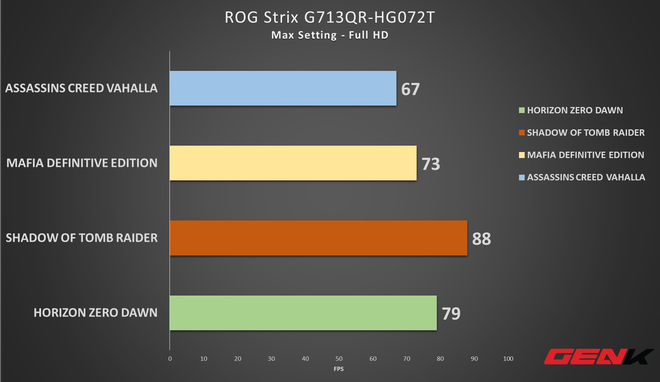 ROG Strix G713QR-HG072T performance when playing AAA games at Full HD resolution, highest setting
With only MOBA games like DOTA 2 or League of Legends, performance is always at 100 FPS or above. Similarly, with shooting games like Call of Duty Warzone, CS: GO or PUBG, the performance is also extremely good, helping gamers comfortably fight on 300Hz screen.
To sum it up, with the latest blockbuster titles that don't support Ray Tracing graphics, ASUS ROG Strix G17 perfectly balances the graphics at the highest levels. In contrast, with games that support Ray Tracing, players are forced to turn off / down some options on Medium level so that FPS can be smoother. In particular, turning on with the DLSS feature is almost a must if you want to achieve stable performance.
Source : Genk