Elon Musk is angry: 'Tesla will' immediately 'leave California after the Covid-19 epidemic ends.'
After a week of on-site orders stalling due to the Covid-19 epidemic, Tesla's main factory in California was shut down and unable to produce new cars. Elon Musk was angry and said the company might move the factory out of state.
"Tesla is filing a lawsuit against Alameda district immediately , " Elon Musk said on Twitter yesterday morning 9/5. Accompanying it is the message threatening to move Tesla headquarters outside the state.
"To be honest, this is the last straw [on the camel's back] , " he wrote. "Tesla will move its headquarters and future to Texas or Nevada immediately. If we even maintain the production of the Fremont plant, it will also depend on how Tesla is treated in the future. Tesla is the last remaining automaker in California. "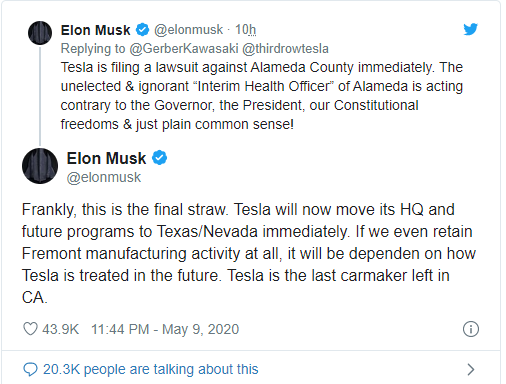 Elon Musk's powerful warning message.
It is not clear whether the case has been filed in court, or which court will be chosen by Tesla to file the lawsuit. On the contrary, most state and federal courts are closed on weekends and do not allow applications. In a later tweet, Musk also urged shareholders to file a class action lawsuit for damages caused by the government blockade.
Tesla's press relations department did not respond to requests for comment. Alameda County government representative also did not respond.
Alameda is a county in California, where the Tesla super factory is located in Fremont, about 50km southeast of the city of San Francisco. Local authorities did not allow Tesla to reopen the factory and all manufacturing operations were still banned.
Refer to Business Insider
Source : Genk