CMC Cloud – Cloud platform in Vietnam directly connected with 3 leading technology firms
CMC Multi-cloud is a Cloud platform in Vietnam that connects directly to AWS, Google Cloud and Microsoft

CMC Telecom is a provider in Vietnam that provides Multi Cloud solution which allows customers to use Portal CMC Cloud to directly start Cloud Server service and manage right on Amazon Web Service's resource infrastructure; Google Cloud and Microsoft Azure or Private Cloud are located at the customer's Data Center. In addition, CMC Telecom also provides private lines connecting these "clouds" through Google Cloud Interconnect, Microsoft Azure ExpressRoute and AWS Direct Connect to ensure low latency, high stability, safety and excellent security. for.
CMC Telecom's multi-cloud platform (CMC Multi-Cloud Platform) is an open platform, able to connect to other Cloud providers (cloud computing). Customers can experience using Cloud services from major companies in the world through a single administration page.
CMC Cloud has Elastic products – GPU specific for developing and operating AI and Big Data applications.
In 2017, CMC Telecom officially introduced Elastic Compute and Elastic GPU products suitable for many customer segments with different needs.
Elastic Compute enables the on-demand initialization of a range of virtual server resources including CPU, RAM, Storage capacity and Networks without having to invest in hardware equipment at the Data Center. Elastic GPU provides specialized needs for customers to handle and apply new technology.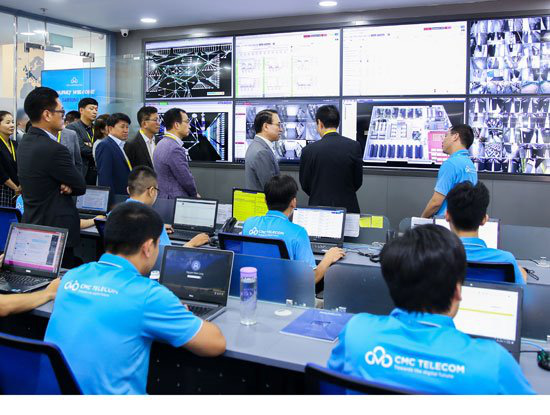 The system is located at 03 Data Centers meeting Tier 3 International standards of CMC Telecom
CMC Elastic Compute is built on the most modern genuine hardware system; KVM-OpenStack technology solution application has been recognized by Amazon, IBM and Alibaba. The system is located at 03 Data Centers in compliance with international Tier 3 standards of CMC Telecom with PCI DSS security certificate. PCI DSS is a mandatory standard that helps card issuers protect their data, prevent unauthorized access and will help businesses limit the risk and risk of information theft, enhance protection. Data stored on the card.
CMC Telecom has also introduced smart camera and big data solutions for retail chains, AI-enabled online marketing applications or IBM Cloud Private solutions for specific industries such as banks. goods, finance, insurance.
Sharing on the research and development direction of CMC Cloud packages, Mr. Le Anh Vu, Director of Value-Added Services of CMC Telecom said: "CMC Cloud is researched, developed and mastered by CMC Telecom. to transfer the most advanced skills and knowledge to help customers shorten time, safety and cost savings on the digital conversion path. Like the slogan of the service: It's not CMC Cloud, It's your Clouds "
CMC Telecom is a telecommunications infrastructure company with a foreign shareholder, TIME dotCom Berhad Group (the second largest telecommunications corporation in Malaysia). Together with TIME dotCom and its regional international telecom partners, CMC Telecom draws an infrastructure network connecting Asia without borders, connecting to continents through arterial cables AAE1, APG, Unity and Faster. The CVCS backbone route system of CMC Telecom extends over 5000km with a capacity of 9.6 Tbps, directly connected to Lien A network (A-Grid), making Vietnam an important hub connecting Asia to the globe.
At present, CMC Telecom is providing comprehensive services with specialized data transmission products for businesses such as Internet Leased Line, local Wan service; Inter-municipal; international, fiber optic Internet for businesses.
Awarded Top 10 leading Data Center Suppliers in Asia – Pacific
CMC Telecom has been honored at many major international awards including the Best Service Provider for Enterprises and the Top 10 Data Center Suppliers in Asia – Pacific by APAC CIO Magazine. Outlook voted.
CMC Telecom is a member of CMC Technology Group. In July 2019, Samsung SDS, a system developer and technology solution of Samsung, acquired a 25% stake in CMC Group.
Source : Trí Thức Trẻ