Why did Mobile World suddenly announce its complete withdrawal from Cambodia and focus on Indonesia?
An unexpected news shared at the investor meeting on February 16, 2023, Mobile World Investment Joint Stock Company (MWG) said that MWG will close the entire Bluetronics chain in Cambodia in the first quarter of 2023. .
Whereas before, MWG said that it has been converting this electronics chain in Cambodia, intends to open 10 more stores in 2022 and expects to reach breakeven point in June. Bluetronics is MWG's first step. Looking at the international market exploitation from 5 years ago, the original name was the BigPhone chain.
After 3 years of operation here, by the end of 2020, MWG has completely transformed from a phone chain to a electronics chain and changed its name to Bluetronics. By the end of 2021, although Cambodia was also heavily affected by the Covid-19 epidemic, Bluetronics according to MWG still surpassed and achieved the revenue target.
"Currently, the Bluetronics model in Cambodia is quite similar to the Dien May Xanh model in Vietnam, ie selling phones, electronics and other satellite products. The model in Cambodia is not a bad one, we even "customize" it to be more suitable for this market," said CEO Doan Van Hieu Em.
Why did MWG decide to withdraw completely in a short time?
According to Mr. Hieu Em, part of the reason is that Cambodia is a rather small market, while the tax policy there is very complicated. If the tax policy of that party is followed, then MWG must sell at a higher price of 10-15%, no longer competing. If you lower the price and accept the high tax rate, then Bluetronics is no longer effective.
Thus, stopping the Bluetronics chain is also a necessary step for MWG to focus resources for the Indonesian market. Because, in contrast to the Cambodian market, the market in Indonesia is much larger, even twice the size of the current Vietnamese market. And the shopping needs of Indonesians are quite similar to Vietnamese people.
"We see an opportunity in the Indonesian market"
"We see an opportunity in the Indonesian market. There is a disparity between the phone line and the mobile phone. For example, in Vietnam, if the overall market size is 10 billion USD, then electronics account for 5 billion USD and similar phones are about 5 billion USD. While the number in Indonesia is 80% of phones and only 20% of phones, " said Mr. Hieu Em.
Phones are quite similar to Vietnam, while the electronics market in Indonesia is much smaller than in Vietnam. The question arises, why is the electronics market underdeveloped in Indonesia?
According to MWG, this is due to a power problem on this side, and has now been fixed. Not to mention, the electrical service in Indonesia is still very poor. Specifically, the seller only sells the product, the rest of the logistics service is done by the manufacturer, not on the role of a retailer.
Thus, by bringing the completed business model from Vietnam to Indonesia, MWG will provide all services from sales to installation, maintenance…. With such a difference, Mr. Hieu Em emphasized that Era Blue's first store was very well received by Indonesian consumers.
It is known that at the end of November 2022, MWG opened the first Era Bule store in Indonesia. In particular, Era Blue is a brand of PT Era Blue Elektronic joint venture (Era Blue brand) – MWG in cooperation with local unit PT Erafone Artha Retailindo (Erafone), a subsidiary of Erajaya Group.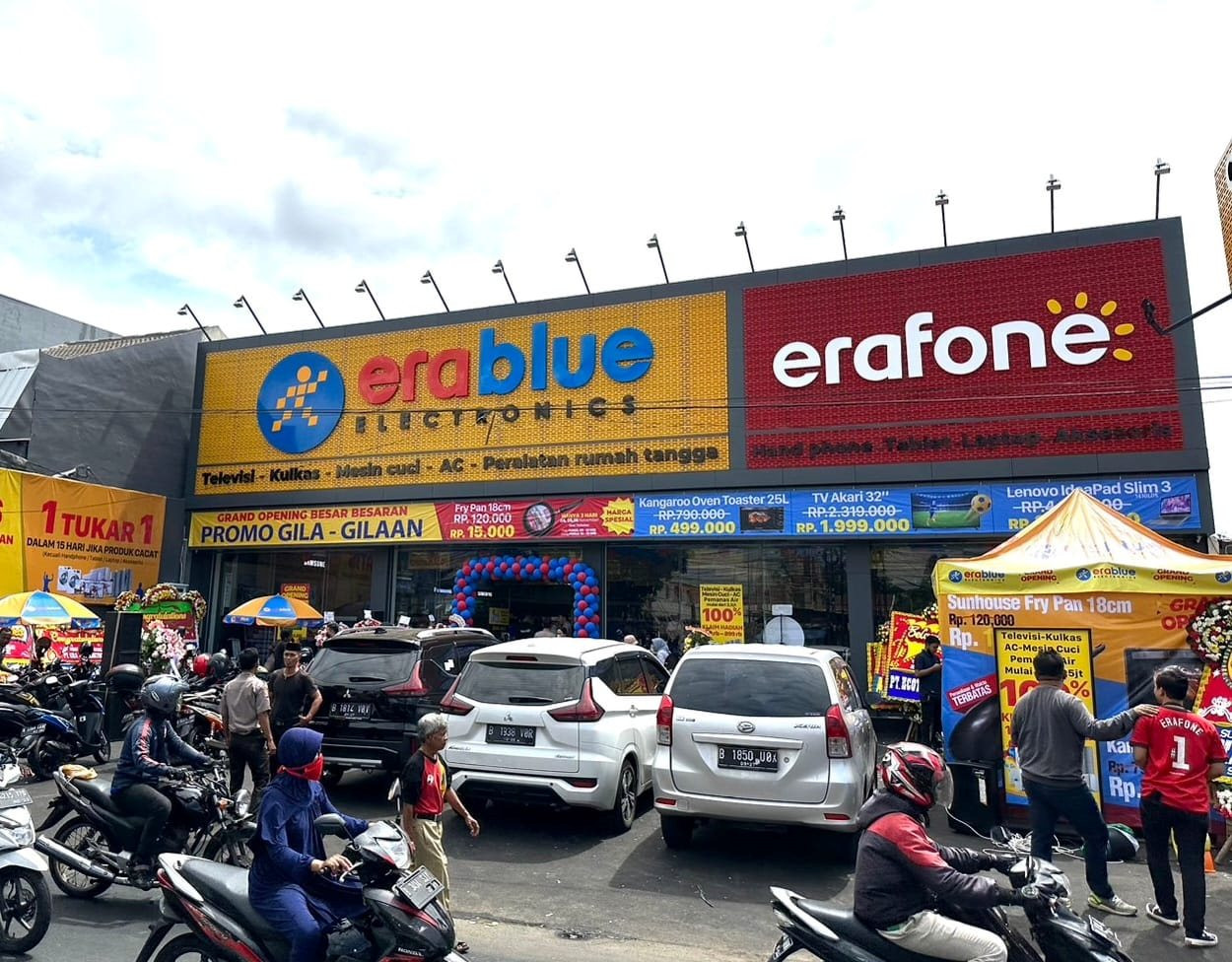 "Up to now, if counting the business period of 1 month, an Era Blue shop is collecting 5 billion VND for a 40m2 store. This revenue is similar to Vietnam today. If in Vietnam, this level of revenue corresponds to a profitable store, but in Indonesia, because it initially spent a lot of costs, there was no profit. I believe that MWG will not spend much time completing the large store and scaling it up, thereby entering the acceleration phase," added the CEO.
Regarding the selling price, compared with the two big local retailers that MWG observes and considers as a counterweight, the price of Era Blue is the same and a little lower. It is also emphasized that, despite being a large retailer, the scale of these two competitors only stops at more than 60 stores.
In contrast, compared to other traditional channels, the selling price of MWG here is somewhat higher. But this number according to Mr. Hieu Em is normal. Because, the traditional channel in Indonesia is very bad, like the small shops in the west, even their televisions are covered with plastic bags. So when MWG brings an interesting shopping experience model, selling at that price is normal.
According to the plan, MWG's electronics stores will be concentrated in some major cities of Indonesia. 5 year target MWG will open a certain number. Although it is not possible to reveal the name and specific plan, the CEO said that it may not only be the goal of store size, revenue … MWG also has a strategy to go public.
Source : Genk