VinFast was licensed to test self-propelled electric cars in California, USA
At the same time, on the website of the California Vehicle Administration (www.dmv.ca.gov) put the name Vingroup USA on the list of units allowed to test vehicles in the state of California.
As usual in the US, before being commercialized in the US market, electric vehicles with autonomous technology features are required to go through the procedures and be granted an Autonomous Test Certificate. Test Vehicle Permit, abbreviated: ATVP) by the California Vehicle Administration.
According to Der Letzte, Vietnam's VinFast is the 57th company to be licensed. In the list, there are many "giants" in the automotive and technology fields such as Apple, Tesla, BMW, Volkswagen …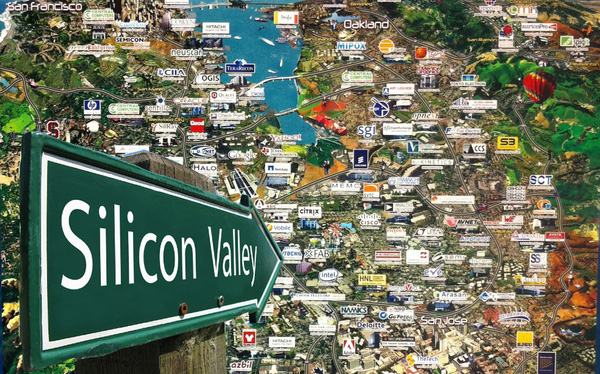 The reason car manufacturers often choose California to conduct testing of cars with modern technology features is because California is the capital of high quality technology companies and personnel.
In addition, California also has Silicon Valley (Silicon Valley), one of the richest places in the world, known as a global technology innovation hub.
"This is the ideal place for companies to develop self-driving car technology by bringing together all the essentials," said BuildinSF expert Olivia McClure, who lives in the heart of Silicon Valley. : complete policy, diverse testing environment and the world's largest technology community. "
With the establishment of an R&D Institute in the US and licensed to test vehicles here, VinFast quickly realized the strategy of bringing smart electric models with Vietnamese brand to dock in this most demanding market.
Perhaps, VinFast now not only stands on the shoulder of a giant like three years ago but is sitting on the same tray with the world's leading empires in Silicon Valley to bring proud miracles to Vietnam at the international arena. .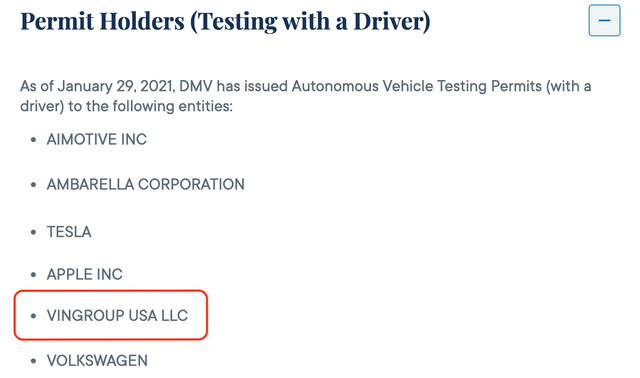 "Vingroup USA LLC" is on the list of self-driving test certificates on January 29, 2021.
Recently, VinFast announced and successfully researched and developed the first three smart cars, VF31, VF32, VF33, of which VF31 is a mid-size SUV (segment C) and only one electric car version. , VF32 is a mid-size SUV (segment D), VF33 is a large-sized SUV (segment E). VF32 and VF33 each have 2 electric and gasoline versions. All 3 models have level 2-3 autonomous features, with 30 intelligent features divided into 7 groups, including: intelligent driver assistance system, adaptive lane control system, cruise control system active, multi-point collision warning system, comprehensive collision mitigation system, intelligent automatic parking system and driver monitoring system.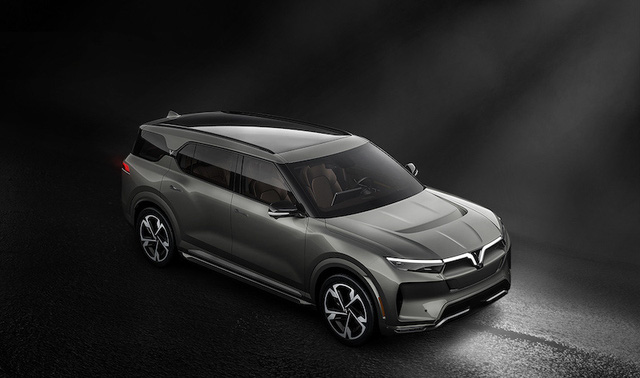 VinFast VF33 – The SUV model in segment E is expected to reach US consumers in the second quarter of 2022.
In particular, the two models VF32 and VF33 electric version will be sold in the US, Canada and Europe markets from 2022. The launch of high-tech electric vehicles, including electric scooters, electric buses and private electric cars are included in VinFast's predetermined roadmap since joining the auto market 3 years ago.
In Vietnam, the Vietnamese car company also started to install electric car charging stations at commercial centers in Vinhomes Ocean Park, Vincom Long Bien (Hanoi) … to serve the first electric cars produced. , is expected to be sold in 2021 in the Vietnamese market.
synthetic

Source : Genk