Viettel IDC changes its brand identity: Ready to break out in the digital era
The new logo design of Viettel IDC is a cloud image made up of rectangular blocks, a symbol of server blocks containing billions of data stored and protected by Viettel IDC. The cloud is composed of 2 arrays of 6 and 8 rectangular bars, representing the prosperity that Viettel IDC aims to bring to its customers.
Viettel IDC's new logo is designed in a youthful, modern direction, inheriting and developing the color of the logo of the parent corporation – Viettel: blue of trust, sustainability and orange of creativity. enthusiasm. The two-color combination represents Viettel IDC's goal of bringing more reliable services to help customers feel secure to create and develop in the field of operations of customers, as the meaning that Viettel's new slogan wants. show.

New logo and slogan of Viettel IDC
The slogan "More Trust. More Creativity" is Viettel IDC's commitment, always providing reliable solutions for breakthrough creativity of customers. The trust that Viettel IDC talks about stems from the solidity and safety of its IT infrastructure that meets international standards of Viettel IDC, and the prestigious inheritance from Viettel parent brand. Viettel IDC, with its service security as well as the reputation of the brand, will do its best so that customers can always feel secure to focus on creating their own success.
Mr. Hoang Van Ngoc – Director of Viettel IDC company shared: "Changing appearance, Viettel IDC wants to renew itself after 12 years of development. We are still a pioneering Viettel IDC technology, but in a spirit. fresher, more breakthrough to always be the number one choice in the Vietnamese market.In this new stage of development, Viettel IDC is continuing to research and launch pioneering products applying advanced technologies. advancing around the world, bringing green technology (Green Data Center) into the system of tourism markets and expanding tourism markets according to the scale of large data centers (Hyperscale), continuing to invest heavily to enrich the cloud ecosystem, and realize Targeting: to be the foundation for digital society in Vietnam. "
Launching a new brand identity, Viettel IDC simultaneously announced to officially sell two high-end products in the cloud computing ecosystem: Viettel Kubernetes and Next Generation Firewall. On this occasion, Viettel IDC was honored to receive the prestigious award: Vietnam Data Center Services Provider of the Year 2020 (2020 Vietnam Data Center Services Provider of the Year) by the leading market research and analysis organization. Frost & Sullivan voted.
"All our strategies and actions are derived from the needs of customers and towards customers. As a service business, we are deeply aware that: The sustainable success of Viettel IDC comes from itself. Customer's success Serving customers is the mission that Viettel IDC is always pursuing. " Mr. Ngoc confirmed.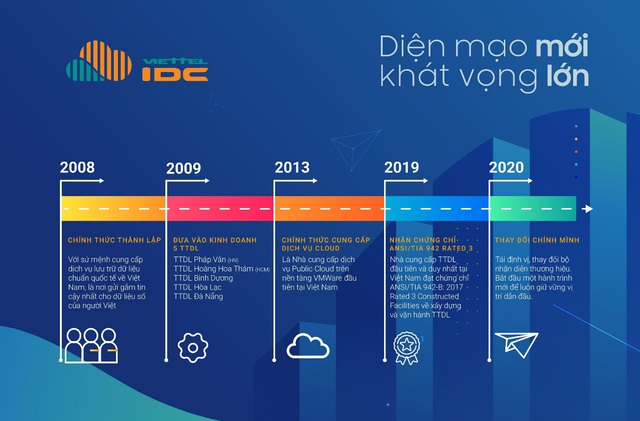 Viettel IDC was established in 2008 with the goal of bringing data storage services of international standards to Vietnam, becoming the leading reliable sender for digital data of Vietnamese people. Through more than 12 years of efforts, Viettel IDC has always been the leading provider in the Data Center and Cloud Computing market in Vietnam, accounting for 40% market share of the Data center industry and 30% of all Cloud industry (IaaS). Particularly in 2019, Viettel IDC achieved an impressive growth rate: 100% for the Cloud segment.
Currently, Viettel IDC is a supplier that owns the largest 5 data centers in the country (25,000m2 of engine room floor) and is a pioneer in Vietnam with Rated Data Center. 3 – TIA 942 on construction and operation.
Source : Genk