Vietnamese founders who created apps for 1 billion downloads: "While the world out there is trying to magnify their game, Amanotes is going the opposite way!"
Amanotes is a real force in the gaming world, especially in the music game segment. In March 2020, Amanotes game downloads increased by 30% and added 2.7 million new players. In addition, in the first quarter of 2020, Amanotes also won the title of the number 1 entertainment application publisher in Australia and Southeast Asia. Amanotes games also hit 1 billion downloads by May 2020.
However, what makes people respect Amanotes is not the aforementioned achievements, but rather the growing sustainability and success against the harsh rules of elimination of the game industry. It sounds simple to say, but to get to this day, Amanotes has come up with a lot of unusual development strategies, which at the beginning many thought it was impractical.
During more than 1 hour talking with us, Mr. Vo Tuan Binh – Founder of Amanotes many times emphasized: Your business is not a simple game developer but a company specializing in music and technology, The ultimate goal is to build an ecosystem of interactive music apps, from entertainment to education.

* When meeting Nguyen Tuan Cuong and working together to build Amanotes, do you imagine what Amanotes will be like 6 years later?
Mr. Vo Tuan Binh – Founder Amanotes : Actually, our early vision, if we look at the results of this moment, are basically pretty standard! My ambition at that time was that Amanotes would become a world leading technology – music company and bring musical experiences to billions of users. Currently, Amanotes has done what I set out to be at the beginning of departure. Of course, the picture will be more and more complete. At first, the vision of a music ecosystem, from entertainment to education, has not been concretized.
In the beginning, of course, I shared that vision with my team and co-founder. Poor startup, must 'sell' their vision to recruit talent!
For the people I've interviewed, hearing my vision, usually at first they don't believe. Because my dream is too big. But every year, when the year-end target was achieved at the end of the year, people thought "this goal must be realistic".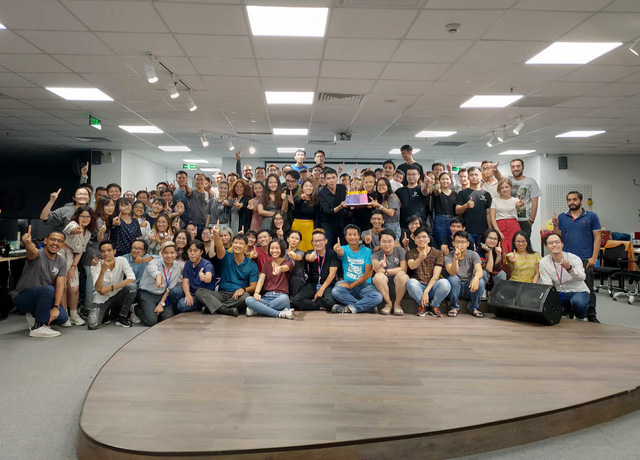 * Amanotes is your 2nd startup?
Amanotes is my fourth start-up and the last three have been music related. Actually, my vision of combining technology – music dates back 16 years, it's just not as clear as it is now. But the dream of "bringing music to everyone in the world through technology" was long ago.
So, the previous startups were all related to this vision: how everyone could play music! The direction is still the combination of music and technology, but the expression is not correct.
The first time I hit solo – one horse alone, making a very simple piano simulation music app, playing the piano on the computer keyboard. The second time I started a company, also working on music games, on PC, not mobile, the product was massive and grandiose – but the business model was not good.
The third time, I completely switched to making games for mobile, but it's not really related to music. Mainly because I understand how well the mobile application market and the international market are, I want to give it a try. In previous times, I mainly made products for PC and for the Vietnamese market.
At that time, I felt that the mobile market was very potential, but I did not know what to do to successfully exploit that potential market. The 3rd time basically still has a team, but I don't work fulltime but still run another company, and then at night or on weekends we gather everyone to work together.
During my fourth start-up with Amanotes, I have identified Amanotes's game in the global market and focusing solely on mobile.

* What do you think of successful people from the very first start-up?
There are many types of startup success in the market, but often many fail. According to my observations, those who used to be big businesses or 'unicorn' startups, when starting a business, the probability of success is higher than others and that audience is more likely to succeed the first time!
As for the very young startups who succeed immediately, maybe people have not seen the previous failures or they don't speak; The second type is having certain luck that should be successful. But it is true that when I do not have a certain level of experience, I will not take advantage of the opportunity to succeed, to develop into a sustainable business. From having your first luck, to having a sustainable business are two more stories.
* If you look at the development progress of Amanotes over the past 6 years, in your opinion, what are the 3 important milestones that make up the corporate image like now?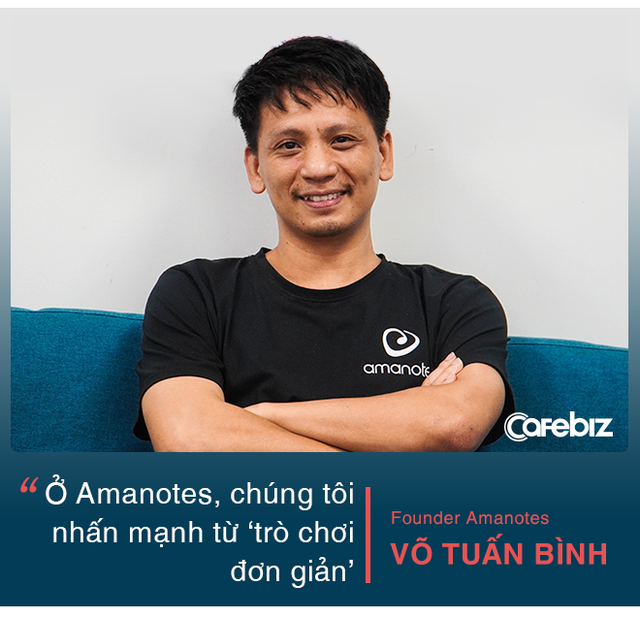 First, it was the first product success, Magic Tiles 3.
Second, Amanotes is relatively pioneering and successful in bringing the music experience to users through simple games; In 2018, we have proven our direction is right and make the business more sustainable. If I succeed based on only 1 product, then that success is not sustainable.
Third is this year, when the company has 200 young and talented people, from about 10 different countries – Europe and Asia, all with the same vision and ambition.
At Amanotes, we emphasize the word 'simple game'. Because only when the music is performed through simple games, it will make users more receptive and easier to attract them, everyone can play. Even when a game has a fun element, it is easy to attract users, but if the game has a complex structure, only a few people can play. Simple to be accessible! As a result, Amanotes can reach billions of users around the world.
It can be said that from the start our approach to the game was very different! While the world out there is trying to make it big with their game, we go against it. Because for Amanotes, games are still just a means of expression – the ultimate goal is to bring music to as many people as possible, but somehow it doesn't matter!

* We have heard that, at first, Amanotes followed a famous music game company in China while making products, then slowly got their own path and surpassed them….
Actually everything has to go step by step, immediately winning them is impossible. They were huge while I started out with nothing. All in all, there are a lot of new combinations that make it possible for us to beat them.
At the start of our journey, we weren't determined to beat that company yet. At that time, we simply saw that this was a fairly trending product line, easy to attract users. Initially, it was not without a strategy to compete, just the insufficient resources to make the differences. At first, I also suggested that I have to have these functions – services different from them to beat them, but I can't say that I can do it right away because I don't have enough resources. The fastest way is to follow them.
Some time later, as we understood the market and had more resources, we began to implement the differences, drawn from previous failures. In the past, since we made a lot of music products, we had a know-how to understand what customers wanted, what functions and experiences they needed. At that time, the Amanotes new stage of differentiation began. Since then, we gradually took over the market and gradually defeated our competitors.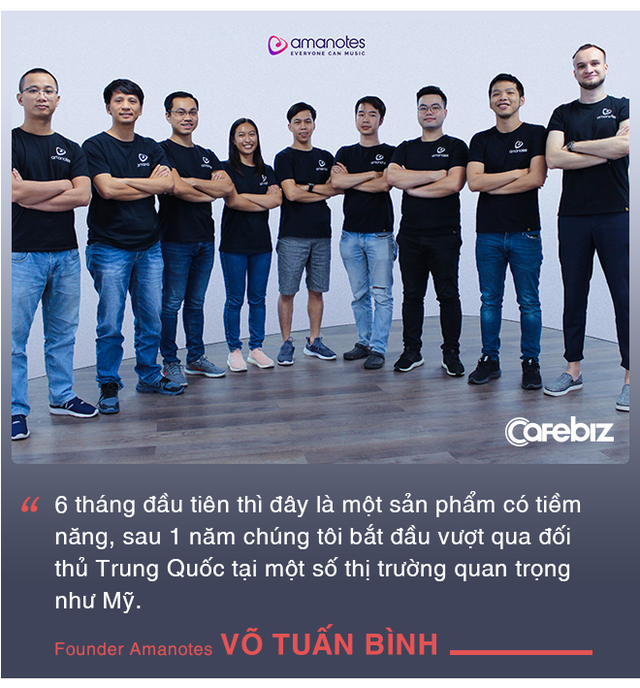 In the first 6 months, this is a potential product, after 1 year we started to surpass Chinese competitors in some important markets like the US. Over the next year and a half to the next 2 years, the Amanotes game began to dominate the competition in many other markets, and hold its position in the global music game rankings.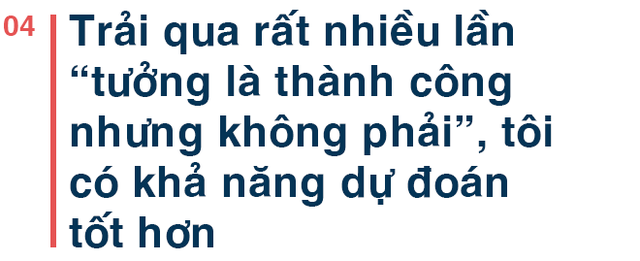 * When Magic Tiles 3 climbed to the top, did you feel surprised?
In my normal situation, I am not surprised that Magic Tiles 3 is so successful. Since I've failed so many, know what will work! Six months before I started releasing this game, I told you "it's going to be a hit, a hit".
The nature of prediction I used to make a lot of false predictions, but the more I fail, the more lessons I have and the better understanding of what a client needs; That gradually helps me to be very confident in predicting.
When developing new products, coupled with a limited understanding of the customer, often leads to me believing this is successful but it turns out not and vice versa. At some point, having gone through this process so many times, we were able to predict better!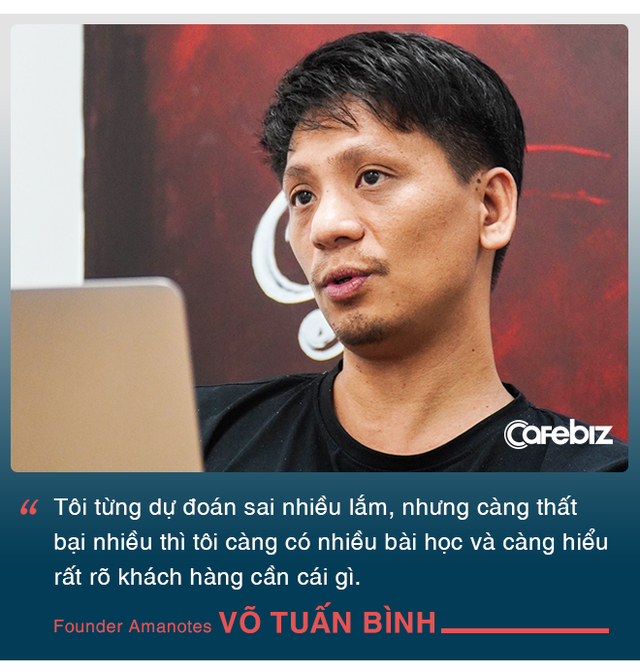 * In your opinion, what specific outstanding aspect helps Magic Tiles 3 be so successful?
In terms of Magic Tiles 3 products, the biggest difference is the customer experience (UX) section, specifically the musical interactive experience. This is a simple product, on the market there are hundreds of thousands of similar ones, the experience here includes simulation experience like playing the piano or the feeling of music, part of the experience is about listening – listening to music while playing game. Those experiences, we are more optimized than the competition.
In addition, Amanotes has also invested in building a methodical data analysis system. On the surface, all products are the same, but underneath Magic Tiles is a data analysis system – user behavior, thereby helping us to better understand the user and improve the functionality. better. Many functions in the game look similar, different only in the user experience – different UX. As a result, Magic Tiles 3 always gives users the best experience.
A few other points more or less also affect the competitiveness of this product such as the social – interaction part. Amanotes's game is the first of its kind to combine play with friends and with other people.
With games like many other tech products, we win because of a differentiated customer experience!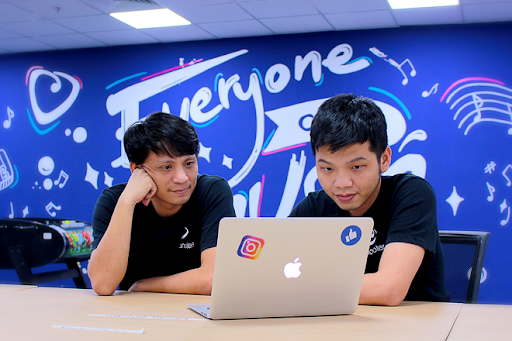 * Every startup has a "unicorn" dream, what about Amanotes? Do you have a specific milestone to achieve that goal?
To tell the truth, of course, startups, especially about technology, everyone has a "unicorn" dream. However, that wasn't the most important thing for the Amanotes right now. Our most important goal remains "anyone can play and learn music in the easiest and most fun ways".
When the next "unicorn" milestone will come!
* What will the big picture of Amanotes look like over the next 5 years?
In the next 5 years, Amanotes will remain attached to the music field, which is the ecosystem of music and interactive applications, from entertainment to education. In addition to the current entertainment-oriented part, education will be an important part of the next 5 years.
In terms of strategy, to build a music ecosystem, in addition to music education apps independent of current entertainment applications, we will have the so-called platform – the only platform. music service. On that platform may have many different educational – music entertainment applications. Various developers around the world can partner with Amanotes to bring their apps to our platform.
In addition, that platform will have more interactive elements between users and friends or music lovers, it will play the role of connecting music lovers around the world. Platform strategy is an important part of the Amanotes.
There is also a "personalization" strategy. Right now, Amanotes has this DNA, but I want it to go a notch higher. Specifically: depending on the taste of music, ability to learn music, music playing skills … Amanotes will provide a product portfolio that best suits the needs of each customer. The element of "personalization" will affect the overall Amanotes product.
* Is there a music platform in the world like you just described?
If you talk about platforms, there are lots of platforms – social interaction is too many, but not for music specific platforms. There is an American company that has a similar idea to Amanotes, but that company is not as strong as us. It can be said, if we are successful, this is a fairly pioneering product in the world.
Spotify or Apple Music, inclined to listen to music but less interactive, to be clear, current users only "passively" listen to music, and what Amanotes can give them, is to "actively" interact with music. .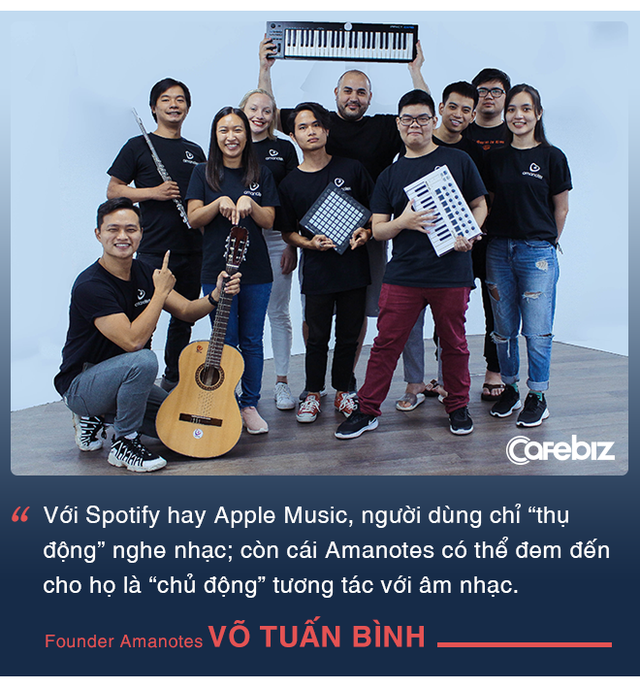 * What do you think about the possibility of eliminating horror in the game industry, when there are so many game companies that only have one product to live and die?
In the game industry, the essence is that "if this product succeeds, the following products will not succeed" – Hit on big type. There are quite a few similarities between the gaming industry and the film industry, with one business having its first successful, but the next, possibly failing. Even the big movie studios, because both games and movies have elements of art.
To have a sustainable business in the game industry, we have to have a different strategy, either publish it in conjunction with many game developers or have a mechanism – the recipe for success or success. certain hit.
Amanotes has its own formulations. Amanotes is not positioning itself as a gaming company, so we will have different strategies for making it sustainable.
* Thank you!
Source : Genk