The painful hidden corner of billionaire "playback" Elon Musk: Obsessed with work, facing mental illness and a lonely life
Billionaire Elon Musk has just achieved a new achievement when the space company SpaceX is valued at $ 100 billion, becoming the second largest private company in the world. Elon Musk also set a record of becoming the person to simultaneously steer two companies over 100 billion USD. According to Forbes, Musk's current net worth is $151 billion, making him the second-richest billionaire in the world, after Amazon founder Jeff Bezos.
Relentless efforts and ambition in his career have brought Elon Musk to the top, but there are trade-offs to achieving that success. To run two giant companies and many other startups at the same time, Elon Musk is obsessed with work. This directly affects his family life and his own health.
Success comes from relentless efforts
In 1995, at the age of 24, Musk entered the prestigious Stanford University to study for a PhD in Applied Physics. However, after only two days, Musk dropped out of school and together with his brother Kimbal founded the first company called Zip2, a website that provides travel guides for newspapers. Four years later, Zip2 was acquired by Compaq for $340 million.
In 1999, Elon Musk founded X.com online bank, specializing in providing electronic payment methods and a number of financial services. A year later, X.com quickly merged with Confinity to become PayPal.
The combination of the two companies helped perfect the PayPal electronic transfer and payment service that is famous to this day. In 2002, eBay acquired PayPal for $1.5 billion. By the time eBay bought PayPal, Musk had "pocketed" $165 million from that acquisition.
After leaving PayPal, Elon Musk co-founded private space technology company SpaceX, electric car maker Tesla and later SolarCity, a company providing solar energy systems. The success of these companies helps Musk to enter the list of world billionaires.
With the success achieved in investing, Elon Musk's fortune increased dramatically and made him one of the richest people in the world. According to Forbes, Musk's current net worth is $151 billion.
With his achievements, Elon Musk is one of the most influential people in the world. Elon Musk is in the top 100 most powerful people in the world in 2021 in terms of innovation and creativity voted by TIME magazine. Besides, Elon Musk also has countless large and small awards related to the field of space and aviation.
Obsessive workaholic
Standing on the peak of success and wealth, this billionaire's life still has hidden corners. Elon Musk is known to be a workaholic.
Musk almost lived in the office when he first started with Zip2. He ate, drank, bathed and slept there all the time. Until Tesla was founded, he sometimes worked up to 120 hours a week, or 17 hours a day.
Later, despite reducing that number, the billionaire still spends 80-90 hours a week at work. This significantly affects the life and health of the 49-year-old billionaire.
Because of his passion for work, Elon Musk also accepts to sacrifice both marriage and love to spend time with his companies. Elon Musk also just broke up with his latest girlfriend, who gave him a son with the special name X Æ A-Xii. In fact, Musk's marriage has broken down many times and perhaps, finding a middle ground between work and family happiness is an impossible task for this billionaire. He was always obsessed with cars, rockets and new projects.
In an interview with the New York Times, Elon Musk, CEO of Tesla, admitted: "It's not really great. There are times when I don't leave the factory for 3-4 days." He also said he never took more than a week off work, except for the 2001 malaria outbreak.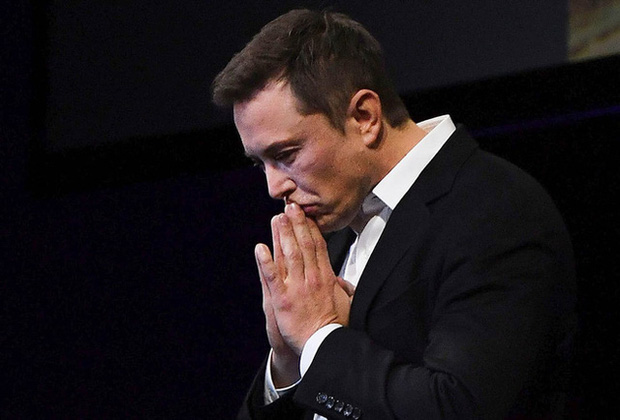 Behind a genius brain
Elon Musk once had a very peaceful childhood when his parents divorced and was bullied by his friends until he was seriously injured. The mental obsession lasted until later and was only relieved when he learned about computers and business.
Answering a question from CEO Stolen Couch Games on Twitter about the ups and downs of life, Elon Musk also revealed little-known hidden corners.
"Actually, sometimes it's great, but sometimes I feel terrible, it's always stressful. I don't think people want to hear about the last two," he said. Although not yet diagnosed, Elon Musk said he may have bipolar disorder (severe depression).
Bipolar affective disorder is a mental disorder that causes unstable emotions. Inside the patient, there are mixed emotions of excitement and depression, which are difficult to control. People with this disorder are at high risk of suicide. This is a common type of mental illness in modern society due to the stressful living and working environment.
In addition to revealing that he is at risk of bipolar disorder from past events and work pressures, the tech billionaire also once admitted that he has Asperger's autism syndrome, also known as Autism. "genius autism syndrome".
Billionaire Elon Musk once hosted the popular TV show Saturday Night Live (SNL). Musk's introduction as soon as he appeared caused a lot of controversy when he announced that he had Asperger's syndrome.
Having Asperger's syndrome, this billionaire constantly shares controversial opinions and comments on social networks. Sometimes, though, Musk doesn't mean to create controversy.
The tech billionaire regularly posts comments and status lines on his Twitter account, which has tens of millions of followers, greatly influencing the cryptocurrency market and stock prices. Elon Musk has even been fined by US authorities for "market manipulation" comments on social networks.
Source : Genk