The irresistible attraction from the old "blockbuster" to get new from Vietnamese car company
Considered to be one of the most popular car brands today, not only because of its Vietnamese spirit but also thanks to its German, charming Italian design, VinFast is really the dream of many people, especially for those who are trying to change cars. But many barriers are preventing them from coming to VinFast, such as selling used cars to avoid price pressure, how to deal with financial difficulties …
Therefore, the program of exchanging used cars for new VinFast cars with unprecedented policies on the market is considered an irresistible magnet for these customers. Not only does it completely eliminate the hassle for customers, helps them "handle" used cars quickly, and completely free of charge, the appeal of the program also comes from the "preferential husband incentives" that VinFast offers. for customers.
The big incentives that customers receive when participating in this program are: immediately get 10 – 30 – 50 million when buying Fadil, Lux A2.0 or Lux SA2.0 (except directly in the car price); can borrow up to 70% of new car value with 0% interest rate support in the first 2 years. With this form of installment, customers only have to pay from 4 million VND / month to own a Fadil, 7.5 million VND / month when buying Lux A2.0 or 11 million VND / month can "take home" "A Lux SA2.0 … Notably, if the old car is worth more than the new car, customers will get back the difference in cash.
In particular, with the only "super promotion" program in May 2020, if paying 100% immediately, customers will be able to buy two cars Lux A2.0 and Lux ​​SA2.0 with prices from VND 896,100,000 and VND 1,322,000,000. With Fadil, the one-time payment price is only from 373,410,000 VND.
With the continuous implementation of "huge" incentive programs for customers, VinFast shows its determination and bold steps in spreading the Vietnamese car brand, helping more and more people to have the opportunity. own and experience Vietnamese European automotive products.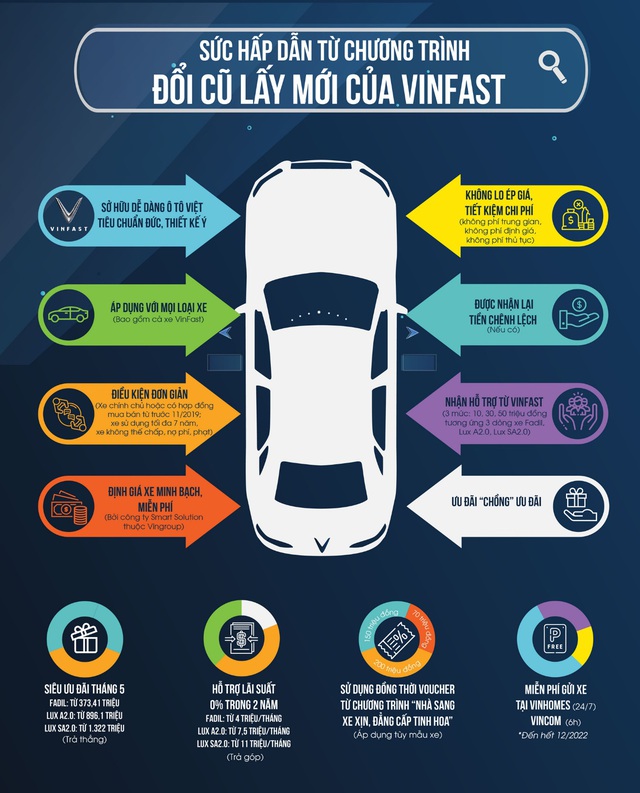 The program "Exchanging old for new" of VinFast has been implemented since May 8, 2020. Customers can go to Smart Solution supermarket 1 facility at Vinhomes Ocean Park (Hanoi) to register, or contact the hotline 1900.23.23.89 for assistance. The next Smart Solution facilities will soon be available in Ho Chi Minh City and other provinces.
Source : Genk