TGDD announced TopZone – a chain specializing in selling Apple products in Vietnam, expecting revenue of 2-10 billion per store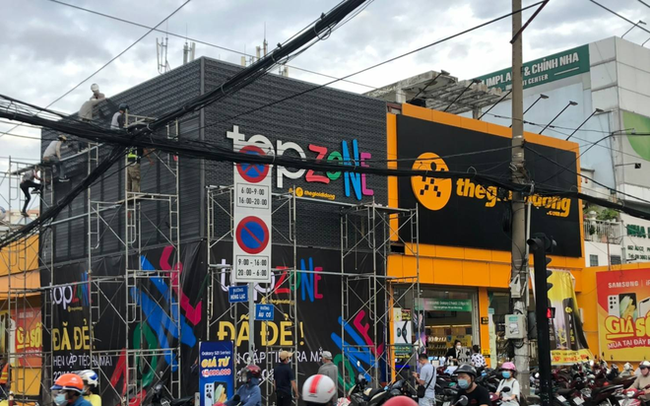 On October 16, the CEO of Mobile World – Mr. Doan Van Hieu Em announced information about the TopZone project, which has received a lot of speculation recently. Accordingly, TopZone will be a chain of stores specializing in selling Apple products of TGDD. TGDD will officially open 4 TopZone stores in Hanoi and Ho Chi Minh City on October 22.
According to Mr. Hieu Em, TopZone will include 2 models: AAR (Apple Authorized Reseller) store, with a compact size of about 100-120 m2, next to the existing Mobile World and Dien May Xanh stores. When viewed from the outside, users will see 2 logos including the logo of Topzone and TGDD or DMX.
The second model is APR (Apple Premium Reseller) with a larger area, about 180-220 m2, located independently outside Dien May Xanh store, Mobile World.
Sharing about the reason for opening the TopZone chain, even though it is currently the leading iPhone distributor and retailer in Vietnam, Mr. Hieu Em said that all major markets have chains of stores specializing in selling Apple products such as Apple. Store or Apple Center while Vietnam does not have such high-end chains. TGDD expects TopZone to bring a more professional and luxurious shopping space to Vietnamese consumers. In addition, this retailer also wishes to bring back to Vietnam products that have never appeared in Vietnam before through the TopZone chain.
In the first time, The Gioi Di Dong is expected to achieve revenue of about 2-3 billion/month for each AAR store and 8-10 billion for APR store. Regarding the expansion plan, it is expected that at the end of November and the beginning of December, this retailer will open 2 more APR stores. By the first quarter of 2022, they will open 50 AAR stores and 10 APR stores. Thus, TGDD still keeps its extremely fast chain opening speed with TopZone.
The chain of stores specializing in selling Apple products is the target of many retailers in Vietnam. Before TGDD, FPT Shop also opened the F-Studio chain, but the new opening speed was not as expected. In addition, some other retailers also have Apple product business chains but have not reached the necessary coverage.
In recent years, sales of Apple products in Vietnam have continuously increased, including iPhones, MacBooks, accessory products such as AirPods, etc. There have been reports that Apple is increasingly interested in the Vietnamese market. . One proof for this is that iPhone 13 was brought to Vietnam from October 22, a month earlier than in previous years.
However, industry insiders believe that it will be a long time before an Apple Store appears in Vietnam. Therefore, the opportunity for chains specializing in Apple products is huge.
Source : Genk