Series of Xiaomi products reduced to 2.5 million at FPT Shop during the event "Smart living standard"
As one of the pioneering technology brands, Xiaomi always strives to research constantly to create smart devices that suit the needs and tastes of customers. Accordingly, in the program "Shopping Festival – Smart Living Standard", Xiaomi has introduced a series of products belonging to a multi-layer – multimedia connection ecosystem to improve convenience and enhance the experience. Smart living of consumers around the globe.
Accordingly, from today to August 8, 2021, choose to buy Mi Eco products – IoT smart products of the Xiaomi ecosystem, customers will receive a discount of up to 2,500,000 VND, installment option 0 % interest rate. On this occasion, customers who choose to buy online can also own many 'hot' technology products at preferential prices with many practical gifts.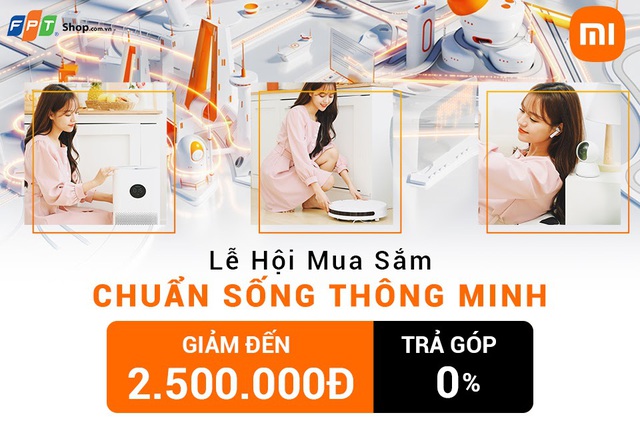 Air purifiers reduced to VND 2,500,000, price from VND 2,990,000: Xiaomi air purifier products score points thanks to their luxurious design and can be easily connected to smartphones via the Mi Home application. At the same time, the device integrates a HEPA filter core, which helps to remove dust, pollen, pet hair, PM2.5 fine dust and bacteria in the air.
Smart, multi-functional robot vacuum cleaner up to 2,000,000 VND with 0% interest installment option. Notably, the Mi Vacuum Mop P device has a shock reduction of VND 2,000,000, the price is VND 7,990,000. With a strong suction system of up to 2100 Pa, the Xiaomi vacuum cleaner can suck and clean a variety of dust with different sizes. With a modern design and many smart modes, the product not only brings a comfortable living space but also helps you and your family enjoy a better quality of life.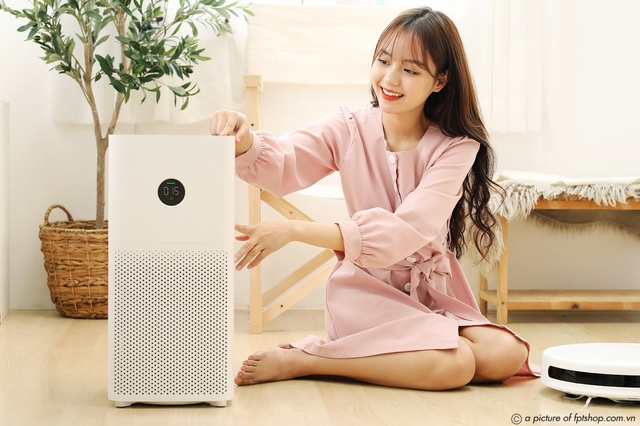 Choose to buy products of Xiaomi ecosystem at FPT Shop, you can be completely assured because 100% are genuine products, delivery to your place.
Mi Band 6 wearable device immediately reduced by 300,000 VND, the price is 990,000 VND. The product stands out for its ability to track physical activity and health, especially equipped with an SpO2 sensor, which helps monitor blood oxygen levels. In addition, Mi Smart Band 6 helps to continuously monitor and warn heart rate, advanced sleep monitoring, record short breaks, sleep cycles including REM and sleep breath quality, detect stress, guide deep breathing, monitor women's health and promptly detect abnormalities in the body.
In addition, the Xiaomi Mi Watch Lite, security camera devices and smart scales also have preferential prices from only VND 1,490,000, VND 590,000 and VND 290,000, respectively.
Equally practical, for customers who want to own these products but are still wondering about financial problems, FPT Shop has an immediate offer of 0% interest installment installment with a very simple procedure to support. . With only 2 basic documents, identity card and driver's license (or household registration book) and 15 minutes of approval, you can bring home genuine products. You even get remote support and don't need to go to the store.
In addition, customers can easily choose to shop on the website, fanpage of FPT Shop or call the toll-free hotline – 18006601 for detailed product advice, free and fast delivery. Moreover, you can choose to pay directly when receiving goods or pay online via card, limiting contact with cash to avoid infection.
To receive all the above offers, you just need to order at more than 700 FPT Shop stores or order online here .
There are 4 reasons you should choose to buy Xiaomi smart products at FPT Shop:
Firstly, you can come to FPT Shop to freely experience, 'touch with your hands, see with your own eyes' and choose to buy products when you feel satisfied, no need to order, wait for delivery from abroad. In addition, the system has more than 700 stores across 63 provinces and cities and has a free home delivery program, making it easy to purchase and warrant products during use.
Secondly, you also get a genuine 1 to 1 to 12 month warranty (depending on the product).
Third, FPT Shop commits that all products are 100% new and genuine and have clear invoices so that you can be completely assured of the product's origin.
Fourth, FPT Shop always offers many attractive incentives to customers. Typically, a discount program of up to 2,500,000 VND for many products on the occasion of the program "Shopping festival – Smart standard".
With these practical incentives, FPT Shop wishes to become a prestigious technology destination for Vietnamese users to experience and own quality products at the most reasonable prices.
Source : Genk