Schoolbus – Applying Vietnam cloud computing technology to become the leading online educational platform
At present, the epidemic has passed, the economy gradually stands up, the trend of online learning is maintained, students do not need to go to class but all teaching and learning activities are still normal. This is an opportunity for online organizations to expand their online classes and grow in size. Schoolbus is one of the organizations that have succeeded in maintaining and evolving during these difficult times with the support of cloud computing technology.
Schoolbus – A leading online learning platform for cloud computing applications
Schoolbus is a product of the future online education joint stock company (Schoolbus.inc) – the modern, effective online education technology platform for teaching and learning in the easiest way. Schoolbus's online product range is diverse including: Website, mobile web and third-party applications (such as Facebook app, Google app) …
For traditional non-interactive way of learning, learners can only look to pre-prepared video clips and have many difficulties in acquiring, no teachers answer questions, no have friends to exchange with, even if these available video clips are not necessarily content suitable for the viewing audience …
Technology is the key to helping Schoolbus create outstanding points to become the leading platform in Vietnam in the field of online education, bringing a perfect experience for both teachers and students.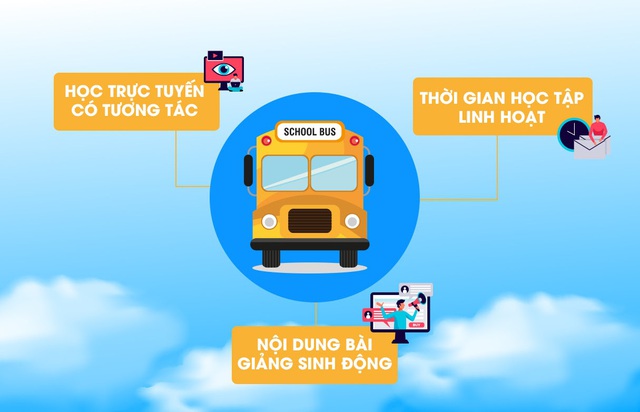 With more than 6 years of operation in the field of online education, Schoolbus has helped hundreds of thousands of students overcome these difficulties, making learning more engaging, interesting and easier to understand.
During the Covid-19 period, when offline schools were closed, Schoolbus also provided free of charge to use the platform for schools to support students studying at home while ensuring knowledge at the same time. social spacing. The organization has accomplished its dual mission of reducing operational costs while maintaining its growth goals despite the difficult situation of the Covid-19 epidemic.
What technology platform has been applied to bring about sustainable success for Schoolbus?
"Schoolbus has been using Cloud Server services since the early days, cloud computing technology has been developed to help save costs, and make the deployment of online teaching platform more convenient and scalable. also easier. " – Representative of Schoolbus shared.
The characteristic of classes at Schoolbus is that students will access massively at a given time. These are peak and stressful periods for the system, requiring a lot of resources and strong handling capabilities. In addition to these times, the system is in a "resting" state – it needs to be narrowed so as not to waste bandwidth and data transfer.
In this case, Auto-Scaling has made Schoolbus flexible to meet the increased traffic for online learning and teaching, while the cost of full-time IT personnel is also cut.
When there are too many online learning visits on the website, Load Balancer plays the role of distributing traffic to many different servers, always ensuring the service provided to users smoothly and uninterrupted when Unfortunately, some cloud server has a problem.
Expanding resources at times when classes take place, and automatically narrowing resources later with Auto-Scaling, automatically balancing the load when peak access with Load Balancer is the technology that Schoolbus has applied to solve the above problems quickly and economically.
BizFly Cloud – Made-in-Vietnam cloud provider behind Schoolbus's powerful technology platform
After evaluating domestic service providers with the criteria of availability, reliability, scalability and cost …, Schoolbus chose BizFly Cloud Server.
"We appreciate the provider's flexible scalability. The increasing number of students and lessons makes the amount of data also increase exponentially, requiring the powerful processing power of our suppliers. BizFly Cloud Server provides scalability almost instantly, helping the system from being overloaded "- Schoolbus representative said.
The difference of Schoolbus online education organization is the interaction experience between learners and teachers, among students; Lessons are archived, serving the revision of knowledge; and the ability to personalize highly when delivering lessons tailored to each student … To perfect the quality of education with such high standards, BizFly Cloud's cloud has contributed greatly in the past. Query process, storage, data security of each student.
Finally, the advice that Schoolbus online education representatives give businesses of the same industry is: "The problem of both cost and quality for technology will have a reasonable solution if the educational institution co-operates. partner with a reputable cloud provider, capable of in-depth understanding of enterprise difficulties. "
BizFly Cloud is a cloud computing ecosystem developed and owned by Vietnam, operated by VCCorp – a leading company in the field of communication and high technology.
For interested readers can access at: https://bizflycloud.vn/
Source : Genk