Realme – Brand "chameleon" in smartphone industry
Starting in Vietnam market with Realme 2 and Realme C1. To date, the company is about to launch the Realme 5 series. Looking back at nearly a year to see how Realme's designs have evolved?
Elegant monolithic and monochrome design
Realme C1 is inspired by the shimmering light reflected from the water, combined with a special design made from 12 seamless nano shells, creating beautiful lighting effects.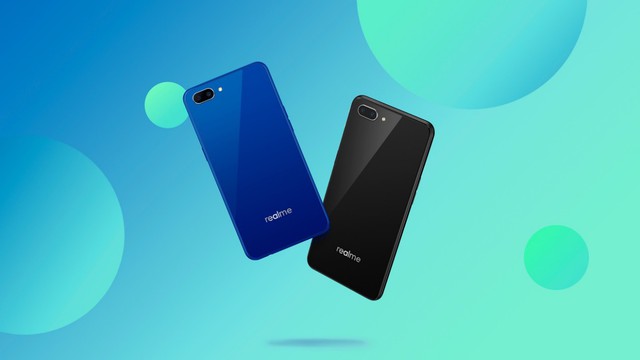 Realme C1 is simple and elegant in blue and black
Meanwhile, Realme 2 impresses by using fake plastic material with luxurious diamond-patterned motifs to create a sparkling effect when changing the viewing angle, creating a sense of firm grip and no fingerprints. In addition to two colors are "Black Diamond" and "Blue Diamond". Realme 2 also has an extraordinarily fancy red version at the end of last year.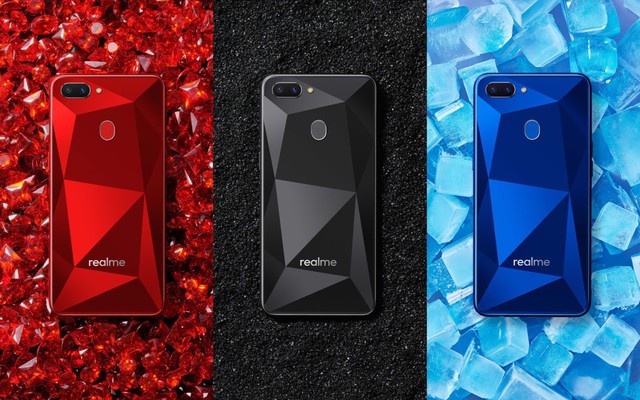 Realme 2 impresses with its distinctive dot-shaped pattern
For Realme 2 Pro, the company does not use diamond motifs but uniform colors, bringing a modern, elegant look. It is noteworthy that the "Blue Ice Lake" was inspired by the cold ice sheets in the Arctic Ocean, a relatively new color version in the mobile phone village at that time.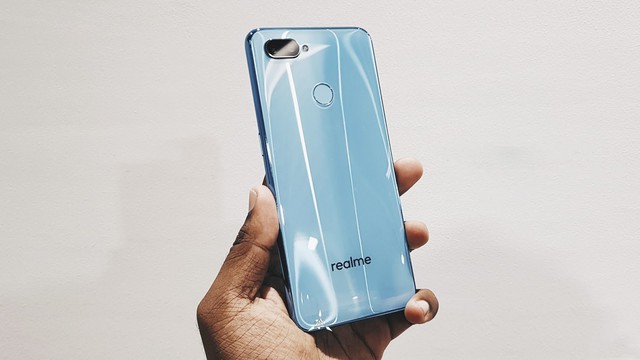 Impressive color motion effects
In March 2019, Realme launched Realme 3 to follow the trend of the era with a unique gradient back design, changing colors according to each angle of view.

Realme 3 with two colors, Strong Black and Blue Destroyer, has made its mark
The next product, Realme C2, features a smooth back surface and a luxurious, eye-catching 3D texture and texture to help the machine have a grip, firm grip and less fingerprint grip.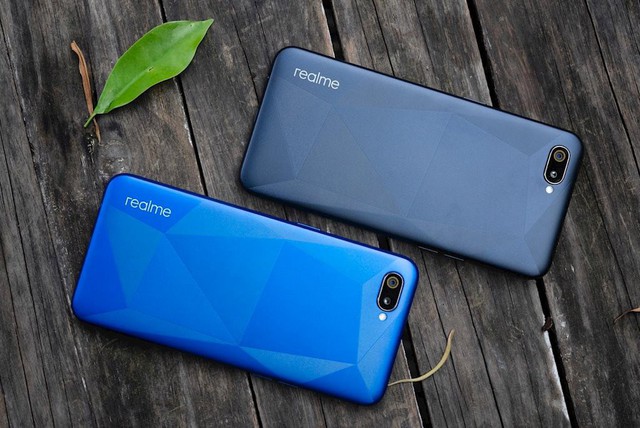 Compared to "early life", Realme C2 has a more attractive appearance
Also the diamond pattern is "hot", Realme 3 "Pink Diamond" also incorporates special color-shifting effects that are not available in the market. This "pink diamond" stands out with a matte style (translucent, lumpy skin) and a more impressive gradient color with a pink top, bottom blue, connected by a light purple in the middle.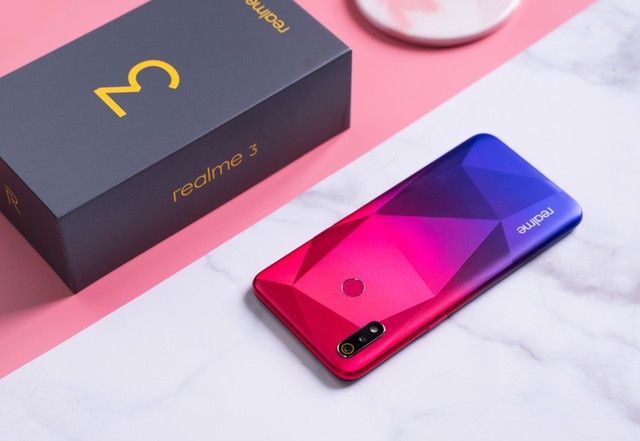 Realme 3 unique "Diamond Pink" version is rare
In the more advanced version of Realme 3 Pro, the company upgraded the look with subtle S lines, helping the color to curve with this S. This design language was inspired by the legendary Le Mans racetrack.
With 3 outstanding advantages: beautiful design, strong configuration and good price, Realme 3/3 Pro has reached the top of the best-selling smartphones (at the time of launch), according to a survey by CRM MICI (CRM Mobile Industry). Consumer Insight).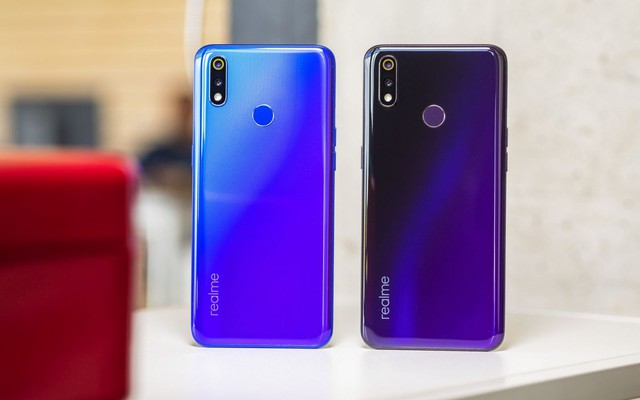 Realme 3 Pro with unique "Sharp purple" and "Blue Nebula" colors
Realme continues to launch Realme X, the smartphone that gives us a new perspective on mid-range phones. Realme X has a dorsal face with gradient colors including white and blue tones. Although there is no "S" stripe running as long as Realme 3 Pro, but this smartphone still scores thanks to the additional color option "Pearl White" (Pearl White) beautiful spotless.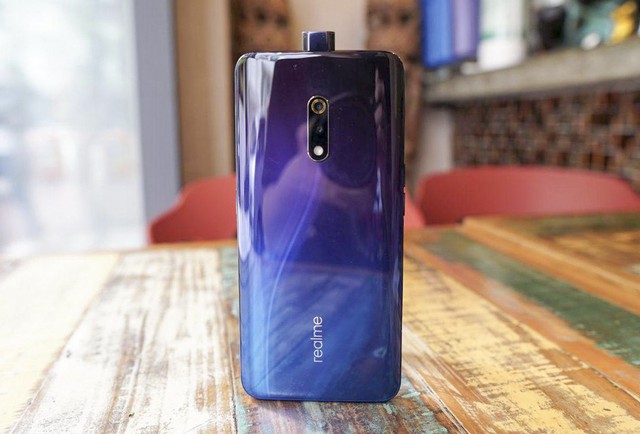 Made from many translucent color coatings, with different shades and overlapping, the back of Realme X Pearl White also creates a reflective effect, eye-catching in many angles.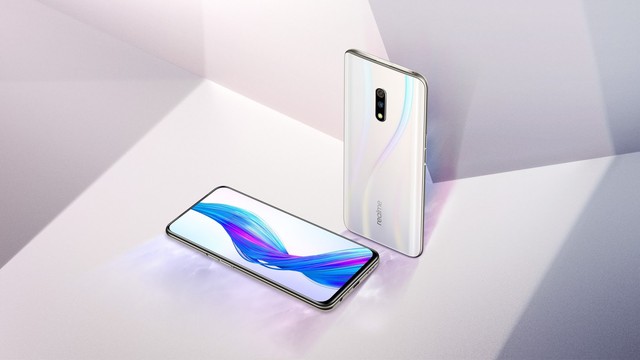 Realme X "White pearl" with beautiful appearance, regardless of the opponent
In addition to the above two colors, Realme X also has a version of Realme X Master Edition named garlic (Onion) and onion (Garlic version) with a unique design with two colors gray and orange. The back of the gradient is replaced by a white back, with a bright stripe like a bulb of onions and garlic. It's no exaggeration to say this is 'the top beautiful onion, garlic bulb of all time'. Next to the camera is the words "realme DESIGNED BY Naoto Fukasawa" with the signature of Naoto Fukasawa – Japanese designer famous for its streamlined but elegant and extremely elegant designs.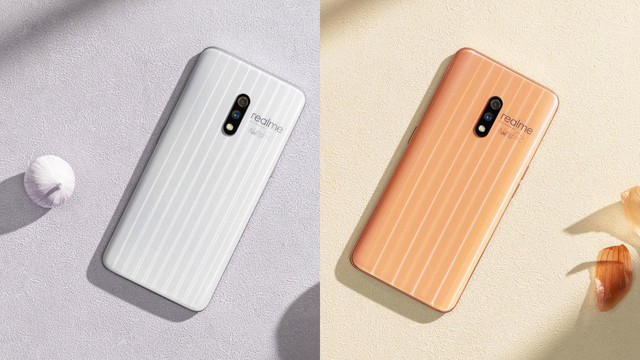 Realme X Master Edition Garlic version (Onion version) and onion (Garlic version)
Perfect approach with Realme 5 and 5 Pro
Recently, Realme continues to make technology lovers swear with the Realme 5 and 5 Pro duo. Realme used the "standard" mirror coating process on each nanoparticle and created a beautiful crystal cut back with a color effect from the finely detailed cuts with 133 honing. Realme 5 and 5 Pro have not been launched in Vietnam, which has attracted all eyes with delicate color effects and diamond pattern.
Realme's new smartphone duo impresses with its powerful performance and many outstanding features, thereby providing users with high-end experience with outstanding productivity compared to other products in the price range. . The Realme 5 has a Qualcomm Snapdragon 665 processor, while the Realme 5 Pro has Qualcomm Snapdragon 712. Both are equipped with a cluster of four outstanding cameras.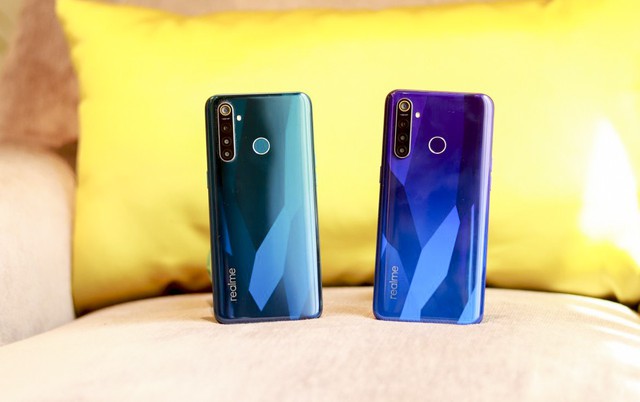 The Realme 5 Series features a dorsal surface with a striking crystal profile design
With the continuous release of unique color versions, Realme shows that it always listens to the opinions of users, because for most users today, a smartphone is not merely a listening device. but also a trendy accessory, proving a personal level.
Source : Trí Thức Trẻ