Outline of VinFast's Giga 'superfactory': The scale is no less than Tesla, a springboard for Vietnamese cars to go global
To know what a Giga factory is, we need to go back to November 2013, when Tesla CEO Elon Musk mentioned the term Giga factory. At that time, they were planning to build the first Giga factory on the same scale as all other lithium-ion battery factories in the world.
The term "Giga factory"
Giga is a unit of measurement, representing billions. For example, 1 Gigabyte is equal to 1 billion bytes. Giga also comes from the Greek word gigas, which means giant. From there comes a bold marketing term through the clever head of Elon Musk: Giga factory, or simply "giant factory".
The Giga Factory is at the heart of what Elon Musk calls "the machine that makes the machine". Of course, there have been many factories making Lithium-ion batteries for electric vehicles, but before Tesla's Giga 1 in Nevada, USA, no battery factory has achieved "huge" scale, equivalent to the capacity of the entire industry. industries of Japan, Korea and China at that time combined.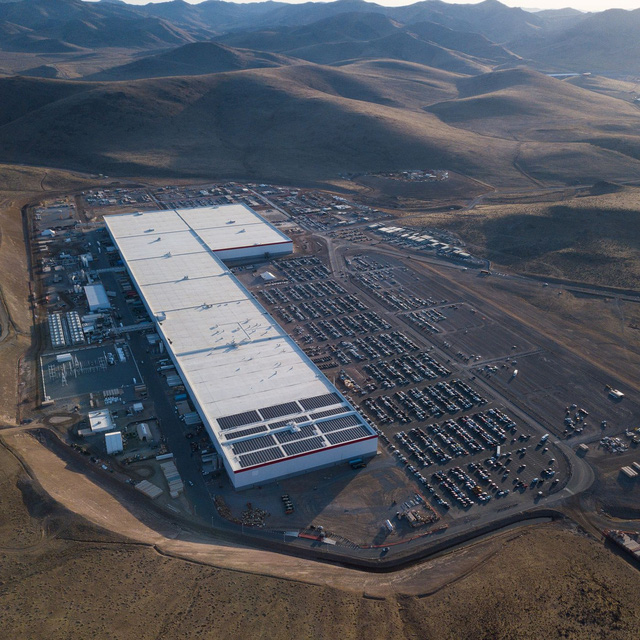 Tesla's Giga Factory 1 in Nevada, USA
The second factory is in Buffalo, New York. The third factory is in Shanghai, China. Then the Giga factory 4 in Berlin, Germany. And the latest is the Giga 5 plant in Austin, which will produce batteries, and Cybertruck, Tesla's new pickup truck, among other cars.
How majestic is the Giga factory?
Let's look at the first Giga factory in Nevada, USA for easy visualization. When completed, it became the largest building in the world by area and the second largest by volume. Unfortunately, up to now, the new factory has been built on more than 176,000m2, only 30% of the design (500,000m2, 5 floors). Even so, it has since become the home of motors and batteries for the Tesla Model 3, as well as the Powerwall and Powerpac energy storage products.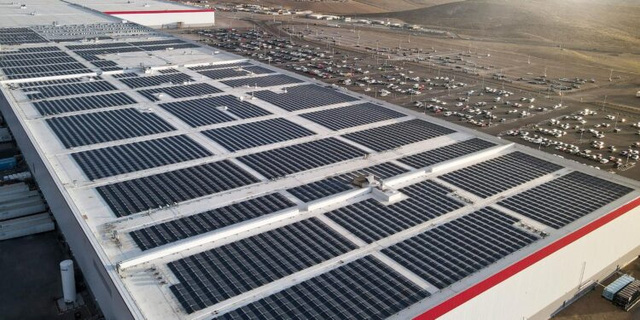 Tesla will completely cover the Giga Nevada plant in solar panels by the end of 2022, making the facility the most "sustainable" building in the world. Although it has become the largest battery factory in the world, this factory is still not complete as Elon Musk set out.
Elon Musk has called the Giga factory "the machine that makes the machine". It's a factory of the ideal size that can make anything Tesla sells – batteries, solar cells, home energy storage solutions and of course, electric cars – all under one roof. home. Raw materials come in at one end, and finished products come out at the other end.
After only two years of operation, by 2018, the Giga factory had produced more than 20 GWh of batteries and quickly reached the 35 GWh mark, accounting for about 60% of the lithium-ion batteries produced in the world, earlier than planned in 2020. The company produces millions of battery cells every day.
Giga factory becomes a trend
At first, everyone laughed at Elon Musk. They think the project is too "heavenly" even for a madman like Musk. But now people are starting to "crazy" according to Elon Musk.
Many other car manufacturers also announced the construction of Giga factories, such as PSA Corporation. Peugeot and Citron have announced plans to build two Giga factories in Europe, one in France and one in Germany. Taken together, the two Giga plants will generate 48 GWh of batteries per year at full capacity.
And while other companies don't fully admit to using the phrase "Giga factory," they're certainly building them, too. Northvolts, a Swedish battery company founded by a former Tesla executive, promises to create the largest EV battery factory in Europe. Companies like LG Chem already operate a Giga factory in Poland and SK Innovation operates a Giga factory in Hungary. Germany plans to become the hub of Giga factories with a capacity of 200GWh. It is expected that by 2030, Europe will become the world's second largest Giga factory center with 16 factories with an annual production capacity of 446 GWh.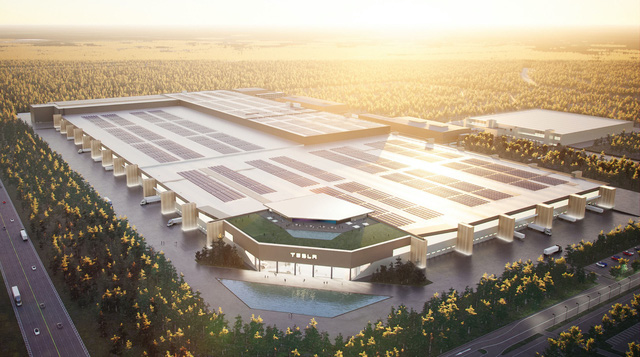 Expected image of Tesla's Giga 4 factory in Germany after being completed. Giga factories are trending around the world, regardless of whether people use the term that Tesla CEO coined or not.
The largest Giga factory center is in China, accounting for 70%. With current projects, by the end of this decade, Giga factories here can produce batteries with a capacity of nearly 2,000 GWh.
Leading in battery production capacity are Panasonic and CATL. Gotion High-Tech, a unit that cooperates with VinFast, ranks fifth, specializing in the production of electric vehicle batteries, power storage devices, power transmission and distribution equipment. In addition, it is also the leading supplier of raw materials for battery factories.
What will VinFast's Giga factory look like?
The Giga factory not only produces batteries for electric vehicles, they are also central to the future of renewable energy, because if you want to store renewable energy for use when there is no available supply, then it is necessary to store it. power somewhere, for which batteries are the perfect solution.
There is currently no specific information about VinFast's Giga factory. But based on the concept initiated by Elon Musk, VinFast's Giga factory will have a very large scale, producing everything related to electric vehicles, at least enough to fulfill the goal of selling 160,000-180,000 VinFast electric cars in Vietnam. America every year.
Then where will become the "Giga center" of Vietnam? There is not much information available on this matter. The construction of the factory is expected to take time because the parties involved will have to go through many rounds of negotiations.
Previously, Ha Tinh Provincial People's Committee had announced to welcome VinFast to open a 2,000ha car factory combined with a seaport in Vung Ang Economic Zone, not far from VinFast's main assembly and production plant. located in Cat Hai, Hai Phong.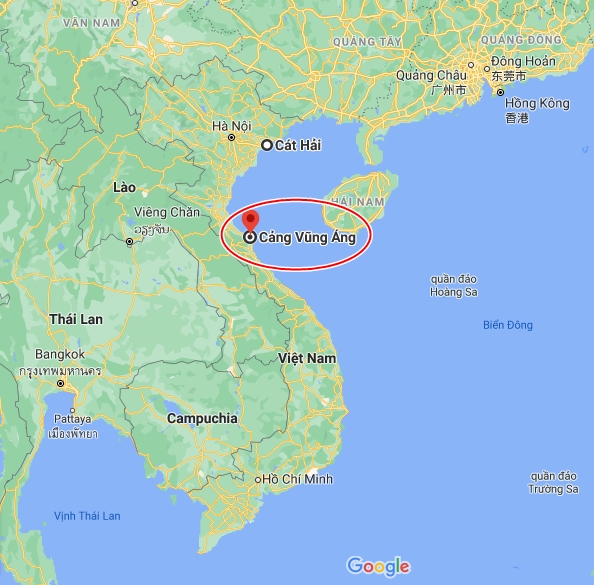 Vung Ang has a "golden" position in the international maritime corridor, with conditions to develop into a major logistics center.
Not only that, this place is also in the center of the North Central region with the advantage of a deep-water port, easy to transship goods to the whole country as well as the East-West economic corridor connecting with international maritime routes, has can become a gateway to import and export goods by sea for Laos and the whole Northeast region of Thailand.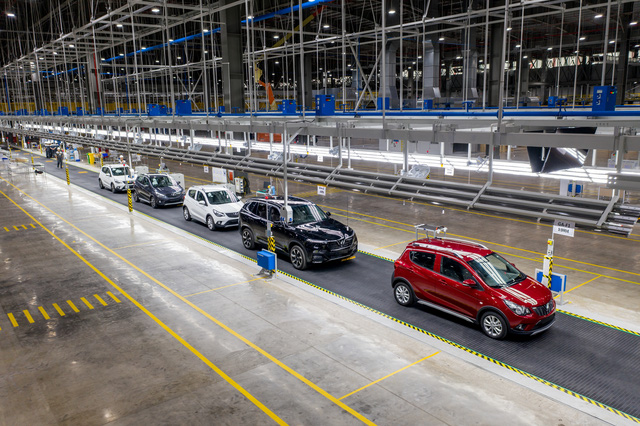 VinFast factory in Hai Phong.
According to the plan, the scale of the car factory complex combined with the seaport will be on an area of ​​2,000 hectares. It is expected that phase 1 will be built within 2 years from the date of issuance of the construction permit, phase 2 will be built after 3-5 years of operation of phase 1.
Source : Genk