OnCustomer launches 2 pioneering customer experience management applications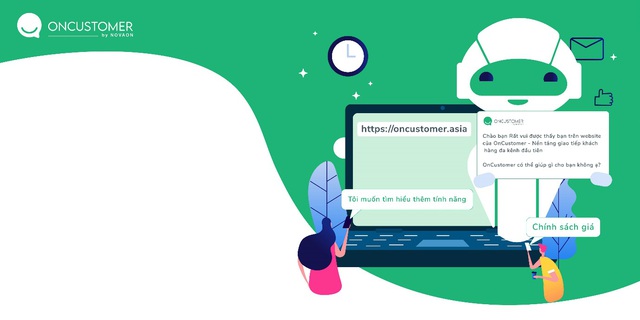 The Covid-19 translation had a great impact and changed the buying behavior of consumers. According to statistics, the proportion of online shopping in the US skyrocketed from 15% to over 30% of total retail sales in the first 6 months of 2020. In Vietnam, the Government sets a target to have 55% of the population by 2025. Join online shopping. Facing that trend, businesses need to have a breakthrough solution to help customers have the best experience, especially the touch points on the online shopping journey. OnCustomer is a multi-channel communication platform that helps businesses personalize communication to increase customer experience and sales rate. Last September, OnCustomer confirmed its position as a leading platform in customer experience management with the launch of two groundbreaking applications: OnCustomer Live and OnCustomer Webbot.
OnCustomer Live allows sales staff to actively grasp the characteristics and needs of customers as soon as customers visit the website, without waiting for customers to ask for advice. The system uses smart algorithms to help online sales consultants actively identify psychology and buying needs before customers actively ask. For example, OnCustomer Live helps online sales consultants identify customers who are in high demand for a particular product, files of customers considering buying, files of customers who have searched for a product. And in the online store, the customer files are trying to exit the store …, from which the sales consultant will be able to interact quickly and in the right context to help customers have an interesting experience and increase the possibilities. consulting function and order closing.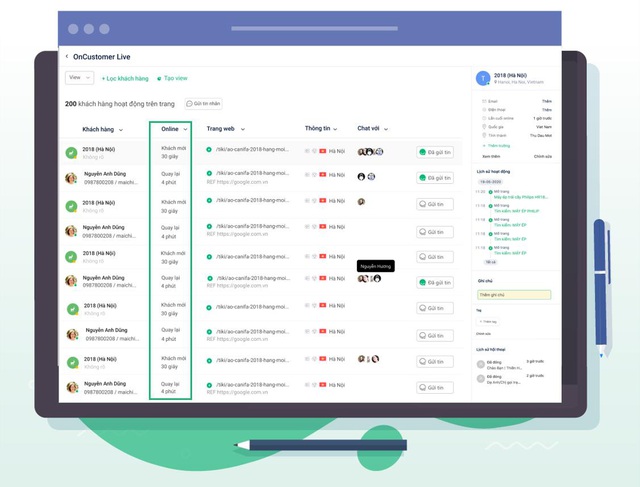 OnCustomer Live interface
OnCustomer Webbot is the leading Chatbot on a website in Vietnam, Chatbot is easily customized based on popular scenarios available, allowing businesses to automatically advise when customers visit the website. OnCustomer Webbot has a bunch of smart features such as: automatic script detection and activation; automatically assigning conversations to appropriate staff; automatically tagging, automatically closing conversations, automatically collecting comments from customers, … With the ability to give automatic conversations with emotions, right messages and at the right time, Chatbot will have impact and drive buying behavior.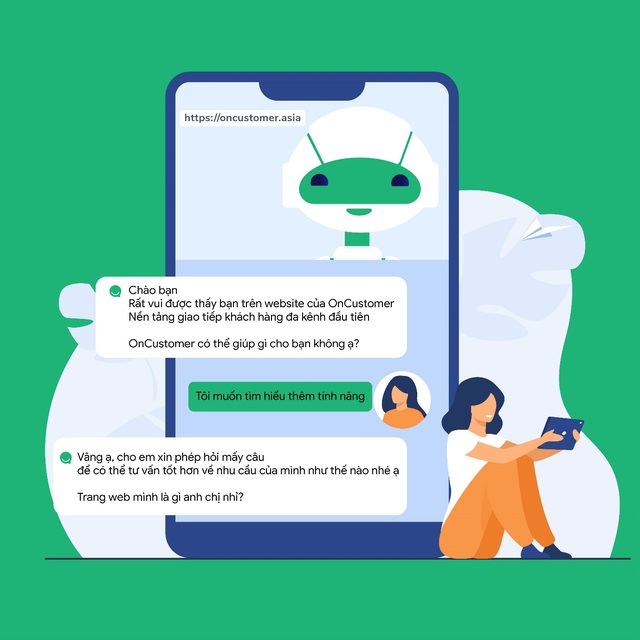 The leading chatbot website appears in Vietnam on the OnCustomer platform
Automated customer communication, understanding customers, sending messages at the right time and on demand make it easy to close orders while customers are online. This is especially meaningful for businesses during overtime, weekend or peak, crowded hours.
OnCustomer is a product of the Novaon Group. Through 14 years of development, from Digital Marketing, Novaon is strongly transforming into a leading technology corporation with a digital ecosystem of 10 digital platforms "Make in Vietnam" serving more than 87,000 businesses. NOVAON is also a technology corporation in the top 10 fastest growing enterprises in Vietnam (Fast500) in 2020.
Official Website: https://oncustomer.asia/
Source : Genk