More than 170,000 Vietnamese videos were removed by YouTube in the third quarter of 2020
As usual, Google releases a quarterly transparency report listing the number of videos and channels that have been removed on YouTube due to a violation of community standards. In the third quarter, Vietnam had 173,247 videos removed, down 28.3% compared to the second quarter of the same year, but increased 3 places from 12 to 9 in the world.
This is because, in the last quarter, the number of videos removed from YouTube worldwide has decreased sharply compared to the previous quarter, down from 11.4 million to 7.8 million videos removed. However, the number of channels deleted in the last two quarters did not change significantly, at nearly 2 million and 1.8 million channels, respectively.
Most notably, the number of comments removed has decreased sharply from 2.1 billion to only 1.1 billion in the third quarter of 2020. And most comments or videos that violate community standards are discovered and deleted by artificial intelligence (AI).
Despite being removed, YouTube still offers channel owners the opportunity to appeal within 30 days of receiving the citation. Accordingly, in the quarter, there were 209,926 videos appealing, but only 82,144 videos were successfully recovered.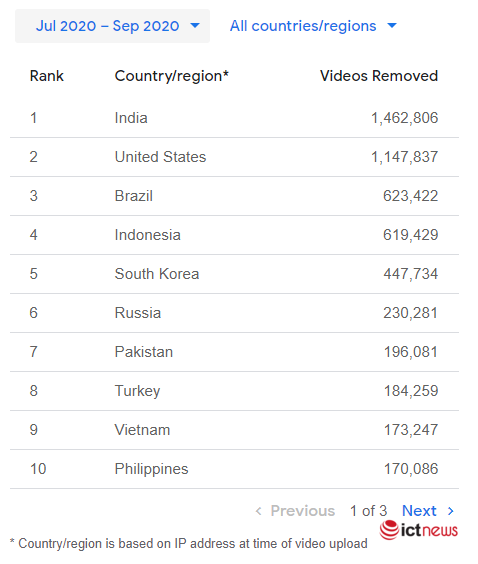 India and the US are still in the top two countries in terms of number of videos removed due to violations of community standards.
In addition to operating based on AI, YouTube also has a flagging system (report) to help filter malicious content. However, Vietnam has twice missed the Top 10 of the world's most flagged countries. The last time we got on this ranking was the first quarter of this year.
According to the Ministry of Information and Communications, Vietnam has about 15,000 YouTube channels that have turned on to make money, including about 350 channels with large revenue from 1 million subscribers or more. However, there are only 5,000 channels under the management of the multichannel network (MCN) in Vietnam. In the coming time, the ministry will continue to work to ask YouTube to remove channels with malicious content as well as request Google to ask YouTube channels to turn on the button to make money into Vietnam's MCN to ensure management.
Source : Genk