Lasso, the Facebook clone of TikTok, is about to close
Facebook is closing down on Lasso, the almost completely knockoff video app TikTok was launched in 2018. CNN correspondent Kerry Flynn discovered the closure announcement was sent to users, said the app. will no longer be available after July 10, and recommends users to download the videos they want to keep.
Former TechCrunch editor Josh Constine notes that Facebook appears to be closing Lasso as their focus shifts to Instagram's Reels feature.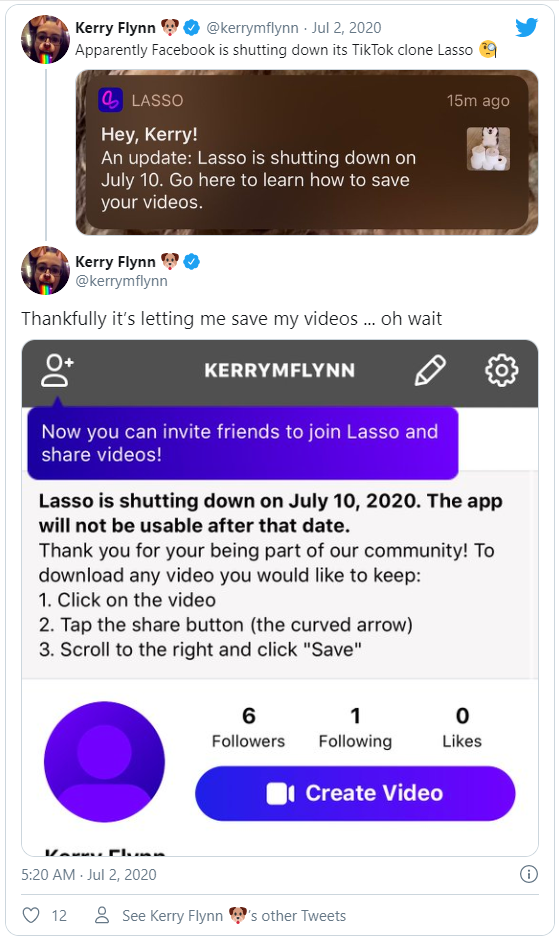 Reels is a video editing tool that allows users to record and edit TikTok videos so they can post them on Instagram Stories, send them via the Instagram DM messaging feature, and post them on a a new area of ​​the Explore tab called Top Reels. According to TechCrunch, the feature was launched in Brazil last year and expanded to France and Germany last week.
Lasso has only appeared in select markets worldwide. The TechCrunch report shows that the app only appeared in the US, Colombia, Mexico, Argentina, Chile, Peru, Panama, Costa Rica, El Salvador, Ecuador and Uruguay in February.
Lasso is not the only Facebook service to be closed on July 10. TechCrunch's report said that on July 10, Facebook also shut down another service called Hobbi, an application designed similar to Pinterest to help people record their personal projects. Hobbi is the work of the new Product Experience group of Facebook, and has only been launched since February of this year.
Refer to The Verge
Source : Genk