Huawei Y9s – new star in the popular smartphone segment
Smartphone segment is considered the most active segment in Vietnam market with the participation of a series of brands. With the amount of 4 to 6 million, users have more than 25 different phone options, but in fact users are still waiting for more than the value that these products bring.
FullView full screen display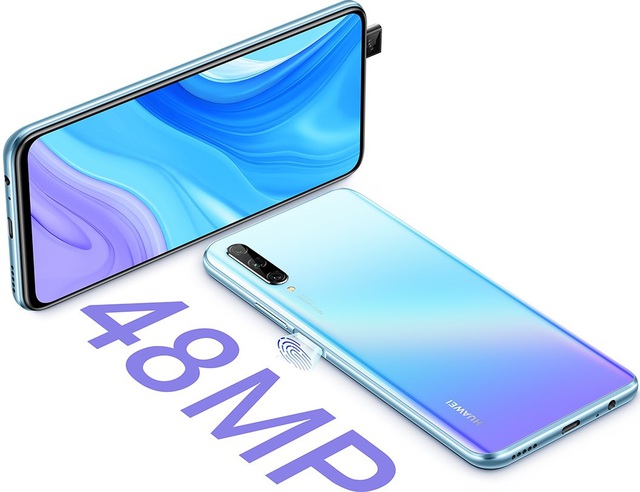 6inch overflow design, for all gaming experience, more comfortable entertainment.
The appearance of Huawei Y9s with a thin, non-defective bezel makes Huawei Y9s the top choice in the segment, especially for people who like to watch online videos or play mobile games when the device has a FullView full-screen display. Size 6.59inch for spacious experience space, while IPS panel resolution 2,340×1,080 FHD + is rated to display sharp, vibrant colors.
The pop-up selfie camera automatically turns on
To keep the screen free from "notch" or "water droplets," Huawei has made a pop-up selfie camera with a test that pops up and slides 100,000 times, withstands a force of about 15kg, and it will automatically retract the camera when played. Currently the phone is dropped thanks to an integrated sensor. This is a rare feature in the popular smartphone segment because this design requires a complicated and expensive structure.
Three AI cameras – taking the lead in the segment
For young people, the camera is a special feature when choosing smartphones. Smartphones in the mainstream are often limited by the number of sensors and lenses and have fewer features than high-end phones.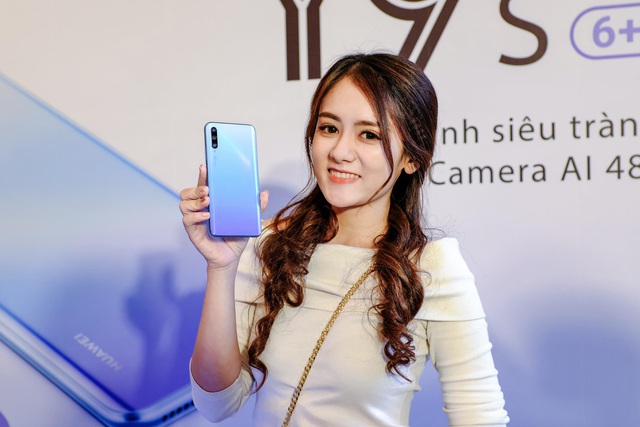 Cluster of 3 AI cameras for superior image quality. (Source: Khang Pham)
Huawei pioneered in bringing the premium phones' equipment to the lower segment. On the Y9s, users have a triple rear camera cluster, including the 48MP main camera, 8MP ultra wide-angle camera, and 2MP depth camera. 6-lens wool with 1/2 inch sensor for superior image quality, while the 120-degree lens is much wider than conventional lenses, which are only 78 degrees.
Huawei's powerful AI algorithms deliver smart features, including 3D Portrait Light, Beautify Portrait AI, AI Scene Recognition, as well as Handheld Night Mode to allow exposure shooting up to 6 seconds. Before Huawei Y9s, these features especially night shooting are only available on flagship phones like Huawei's P and Mate series.
General phones, high-end configuration
Huawei Y9s uses Kirin 710F chip with high performance, energy saving. Compared to the previous generation Kirin 659, the Kirin 710F processor has 75% more powerful single-core performance and 68% more multi-core performance. Whereas the graphics processing power of the new chip gives a performance increase of 1.3 times. However, the power consumption of the Kirin 710F is reduced by 30%, making it cooler for heavy tasks or gaming.
These advanced equipment along with EMUI 9.1 operating system helps Huawei Y9s bring a smooth experience for users. Meanwhile, the 4,000 mAh battery for all day use, especially suitable for young people when the need to use and online continuously.
Y9s is one of the products demonstrating the growth of Huawei – the world's second largest smartphone manufacturer. "Huawei has grown very strongly with 28.5% over the same period last year," Counter Point Research wrote in the report for the third quarter of 2019 on the global smartphone market.
"Huawei is the only manufacturer in the global top 5 to achieve double-digit growth in the smartphone market in the third quarter of 2019. Huawei's performance in the Chinese market is the main driver of growth. global smartphone sales, "analyst Gartner reported.
Y9s approach to bring advanced features to popular products has won the hearts of customers. In contrast, Vietnamese users also have the opportunity to own good products, many features at attractive prices.
With two colors Black and Blue, Huawei Y9s will be sold in Vietnam from December 22, 2019 at a price of 6,490,000 VND for 6GB RAM version, 128 GB memory. However, from 12 to 21 December 2019, customers can order Y9s products at retail systems such as Mobile World, CellphoneS, Hoang Ha Mobile, Lazada and e-commerce websites. Experience Huawei shop with many attractive deals, get up to 500,000 VND cashback with 0% installment plan.
Source : Trí Thức Trẻ