Ho Chi Minh City teachers teach physical education online
Ho Chi Minh City allows students to stop going to school and study online from February 2. Besides other traditional subjects, students also have to learn physical education online.
Sitting in his home office, Mr. Nguyen Phu Cuong (Nguyen Thai Binh Secondary School, Binh Hung, Binh Chanh, Ho Chi Minh City) gazed at the computer screen, exclaiming for a long time: "Jump even higher!", "Put your hands over your head!", …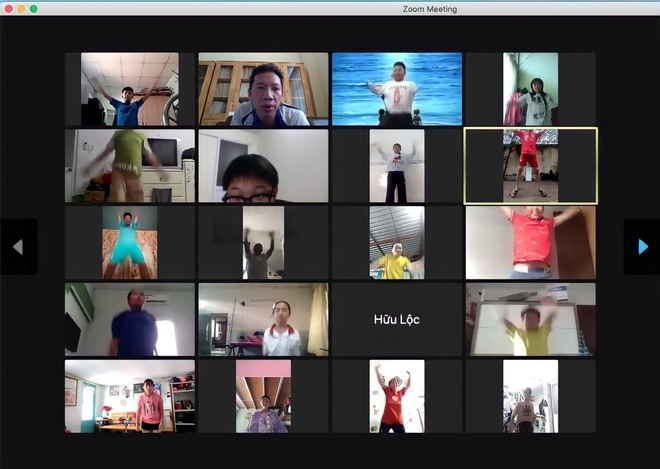 One hour of online physical training at Nguyen Thai Binh Secondary School (Binh Hung, Binh Chanh, Ho Chi Minh City). (Photo: Phu Cuong)
On the screen, several dozen students at Nguyen Thai Binh School, each at a different location, were practicing according to the movements he requested. Due to being at home, each student wears his or her own style comfortably, not wearing the usual gym uniform. Each student stands in front of the screen of his laptop or phone, practicing some basic movements for the teacher to monitor and evaluate.
"I teach them to practice exercises such as raising thighs, running small steps, … which are easy to perform at home, without complicated instructions," said Mr. Cuong.
In the video, students often practice indoors, some in the yard. Some children even know the background setting of the application to look more professional.
Ms. Loan (District 2, Ho Chi Minh City) was quite surprised when the sport was also posted online. Her child has been studying at home using the app since last year's outbreak. "But in my mind I only think of subjects like Math, Literature, English, … Never thought of learning physical education online. Obviously teachers are too creative. I find it interesting. Such high season health is very important, "said Loan.
Nguyen Van Linh Secondary School (Binh Chanh) also allows students to study online from February 2. Teacher Luan, a gymnastics teacher, said most of the children are familiar with the form of online learning due to the last year's epidemic that the school has deployed distance learning.
"Some children who live in a small house or stay in a inn will find it more difficult to mobilize. In addition, when examining, teachers have to watch videos of each child for evaluation, so it is a bit extreme", Mr. Luan stated some difficulties when teaching online.
In addition, when teaching over the Internet, both teachers and students depend on the quality of the Internet connection. Exiting a student from the classroom is quite frequent. Even the teacher who initiated the class sometimes gets dropped from the application.
Ms. Nguyen Thi Ngoc Linh, Rector of Nguyen Thai Binh Secondary School, said the school immediately deployed online learning right after the decision of the People's Committee of Ho Chi Minh City earlier this week.
"Due to the experience in implementing from the previous year, this year the school's technology department set up very quickly. The teachers also have experience, so the teaching and learning online is very synchronous," said Ms. Linh.
Most schools in Ho Chi Minh City are accustomed to distance learning, but in some places until now, both teachers and students have to get used to the new form of learning.
At the same time, some students in difficult circumstances also do not have smartphones or laptops to study online, then teachers have to give homework in other forms to have a basis for assessment.
Source : Genk