From a game addict to a game company director
Andrew Day, from his experience, is fully aware of how addictive some games can be.
"I'm the one who has the bad habit every time I open a new game to find it. I can sit and play for dozens of hours, "Andrew said.
"Back in 2013, when I was on a short holiday, I was lying by the pool and had nothing to do. So I picked up my phone and played Candy Crush. "
"It's June. And I promised myself the next New Year after that to give up this bad habit. It took me too much time to play games. Yes, I would have to be a little more careful." .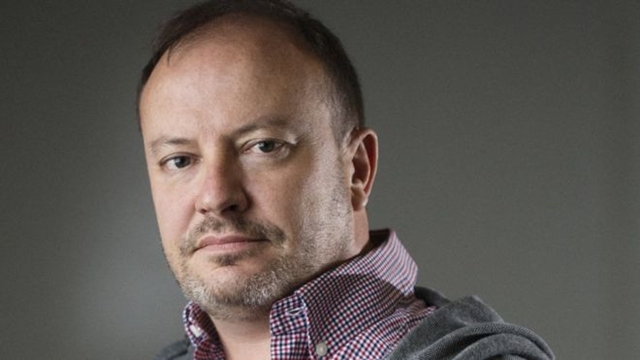 Andrew Day used to be addicted to the game before becoming a boss of a company. Photo: Sara Lando.
Andrew is currently the CEO of Keywords Studios. Even if you are a game enthusiast, you may not have heard of the name of this company based in Dublin, Ireland.
Keywords Studios contributes to the creation of popular games around the world, from Call of Duty to World of Warcraft, Fortnite, Clash of Clans, League of Legends, Assassin's Creed and Candy Crush.
"The number of games the company is involved in building is a lot," Andrew said.
Keywords is the workplace of 7,500 employees, 59 offices around the world, from Montreal to Tokyo. In 2019, the company's revenue reached 326 million euros ($ 369 million).
The company's name is not so popular because Keywords does not launch game products by itself. Instead, the major game publishers in the world hire Keywords to develop their products.
Or the company will be in charge of designing and building graphics for the game, everything you see, such as characters, buildings or weapons. "All of the above are digital assets, they were created by artists. We are currently the largest game graphics service provider in the world, "according to Andrew.
Keywords is the workplace of 7,500 employees, 59 offices around the world. Photo: Keywords Studios.
In addition, Andrew also provides testing services for the upcoming games, to ensure that the game works perfectly. The company also owns a recording department, where the actors, including celebrities, record audio for games. This is also where the music and sound effects were created.
The company is also the largest game translation service provider in the world, capable of providing translation services in more than 50 different languages.
And after a game is released, Keywords also has a dedicated customer support team under the publisher's name. Therefore, if you call a game company for support, you may be talking to a Keywords employee.
Keywords is a big business that Andrew is responsible for driving. Normally, he "spends half of his working time traveling around the world," but the Covid-19 epidemic has made it harder to do.
At the moment, Keywords have grown a lot more than in the early days of the company just established in 1998. Giorgio Guastalla, a friend of Andrew, founded a small company in Dublin specializing in translation services. for enterprise software vendors. The company grew very slowly until Andrew was invited to join the business operation in 2009.
"He asked me to join the company for many years. He thinks I can help businesses grow and make a mark in the marketplace, "Andrew said. "At the time, the company had only about 50 employees working at the Dublin office."
Andrew was born and raised in South Africa. He and his family moved to England when he was 16, and lived in an area adjacent to London. After graduating with a bachelor's degree in management from Bradford University, he held a wide variety of jobs and responsibilities.
He started working for the Rothmans tobacco company before engaging in several mergers and acquisitions. Eventually, he moved into technology.
The plan Andrew outlined for Keywords is the rapid development, through his experience of acquiring other businesses, that allows the company to expand the services it provides to game publishers. His involvement in this business has contributed to the popularity of many titles over the past decade.
In order to realize that plan, in 2013, Andrew officially listed Keywords stock on AIM market of London Stock Exchange, thereby helping the company to collect 30 million pounds.
"It is a rare example of taking advantage of opportunities, building a strategic vision, creating a rigorous business plan and adjusting its implementation," according to Andrew.
Keywords Studios' name is not so popular because the company does not launch its own game products. Photo: Getty Images.
"Day is of paramount importance to Keywords," said Patrick O'Donnell, a technology analyst at Goodbody Securities.
"Keywords make up to 40 sales since Andrew took over. Currently, the company has 23 customers in the top 25 largest game publishers in the world. All companies are in the top 10 global game developers are also customers of the company, "he said.
"The aforementioned big businesses rely on Keywords because the plan to hire another business to take on the role of developing a game helps them save costs as well as be much more convenient than hiring people for themselves. "If game companies use their own employees, by the end of each project, they will have nothing to do."
Andrew said the Keywords have no plans to release the game themselves. Instead, he thinks Keywords can grow to $ 1 billion, as the company's demand for services is growing, with the gaming industry totaling $ 159 billion a year.
However, he still seemed quite concerned about his gaming habits.
"I find it very difficult to stop playing games. I want to complete a stage or level up in the game. Or I want to be able to work faster, be more proficient so that I can earn more than the ordinary parts. The game really appealed to me ".
Source : Genk