Flying colors for more than 1 month, "King of stubbornness" Phimmoi is back with a new interface?
On the evening of September 25, on the forums, netizens spread to each other that a website with the domain name ****mmoi.net has the same interface and movie division as the old website. Along with the name Phimmoi.net, many people believe that this is the return of his "stubborn king".
This incident immediately sparked controversy in the online community. Besides the objection, many people said that they were too used to Phimmoi constantly changing the domain name because this website provided a huge stock of pirated movies, so it was constantly copyrighted and reported many times to the point of fading. Each time it was banned, Phimmoi continuously changed its domain name from Phimmoi.net to Phimmoiz.net or Phimmoizz.net and most recently to Phimmoiplus. Basically, the new names have the same interface as the original.
Besides, according to the reporter's research, the latest website address of Phimmoi is https://phimmoiplus.net, which has now changed the domain name to https://****chill.net and the interface is also different from with the old interface of Phimmoi.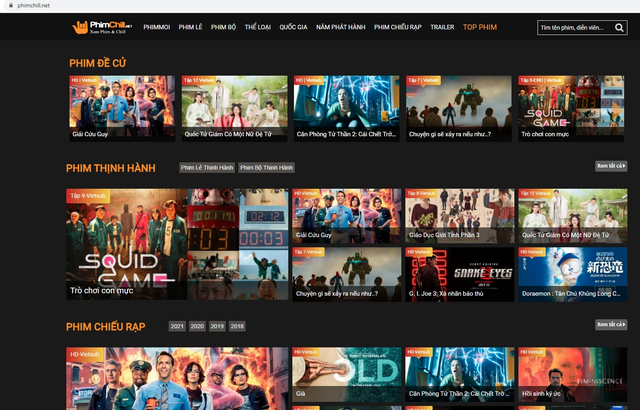 Currently, it is not clear if these websites are really Phimmoi.net, or just a movie page set up to click and post banner ads, but it is also causing a huge stir in the online community.
Previously, on August 19, the Ho Chi Minh City Public Security Investigation Agency said that it was investigating a case of infringement of copyright and related rights according to the decision to prosecute a criminal case related to the website: Phimmoi.net happened in HCMC.
According to the Ho Chi Minh City Police, since 2014, Mr. NTT (from Lam Dong) built a website to show movies online for free on the internet. Mr. T. has hired 2 people with high technical skills in information technology in Dong Nai to program, administer and operate the website: www.phimmoi.net .
Mr. T's group exploited, copied, used, displayed and communicated cinematographic works to the public without permission of the right holder and did business in advertising illegal products and services on the films. copyrighted, in order to gain illicit profits of particularly large sums.
In addition, the police also asked Mr. NTT and individuals related to the Board of Management, Operation and Transactions of the website: www.phimmoi.net to go to PC03 Team 9 to clarify, the relevant incident.
Source : Genk