Discounts, free phones, 500 Vsmart TVs are ordered in 3 days
According to Vingroup, 500 Vsmart smart TVs have been ordered within 3 days from the time of announcing the new price with a promotion program for Vsmart Joy 3 phones.
Specifically, from August 1, the first 500 customers who pre-order the 4K TV smart TV line – 50KD6800 (VND 9.49 million / unit) will be given a Vsmart Joy 3 phone worth 3.29 million VND.
However, according to the distributors, because all promotional products have been sold out in just 3 days, in fact, even though the promotion ended on August 8, buyers have no longer had a chance. phone donation from 3/8.
At the present time, all 5 Vsmart TV products have been sold at new prices, cheaper than when the product was launched in December 2019. According to the new price, Vsmart's most expensive smart TV is priced at less than 15.5 million while the lowest one is sold for 7.49 million.
According to the manufacturer's specifications, all 5 Vsmart brand smart TVs, including the one with a listed price of 7.49 million, support 4K resolution, use Android operating system and are integrated. virtual assistant Google Assistant with 3-domain voice recognition.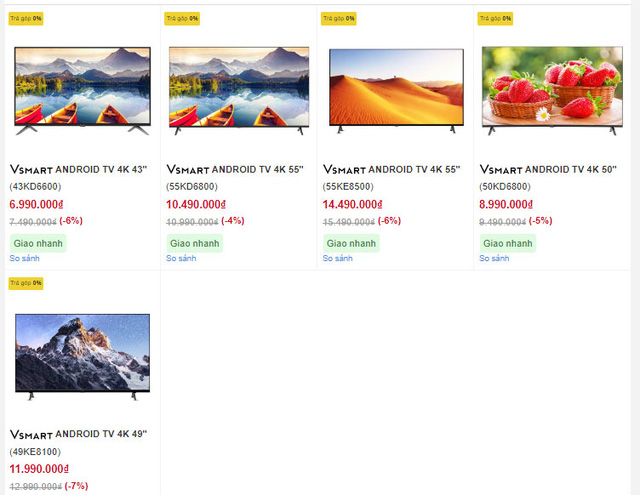 However, on a system of electronics supermarkets, Vsmart's smart TVs are also sold at a more preferential price from 500,000 to 1 million VND / unit compared to the listed price of the manufacturer. Specifically, both models of the Vsmart KE series are sold by Dien May Xanh for 1 million cheaper than the listed price while 3 models of KD series are reduced by 500,000 VND. Vsmart KE with ultra-thin metal bezel, is considered a higher class than KD.
With the introduction of a new price, Vsmart has made more fierce competition in the Vietnamese TV market, which has the presence of giants like Samsung, LG, Sony or new players like Xiaomi, Casper … . Besides the traditional form of sales, e-commerce channels are making this competition more fierce.
Source : Genk