Criticized "ki bo", Apple was forced to please programmers
In June, at WWDC 2020 for programmers, Apple announced that it would stop using Intel chips on its Mac computers to switch to Apple-designed chips.
Apple's chip is based on the ARM architecture, which is completely different from the x86 architecture of the Intel chip found in earlier Macs. Because it's a brand new platform, developers will need to tweak their apps to work well on Macs with Apple chips.
To prepare for this, Apple has released a prototype for programmers called "Developer Transistion Kit" (DTK). Taking the shape of a Mac mini, however, DTK has a built-in A12Z Bionic chip similar to the iPad Pro.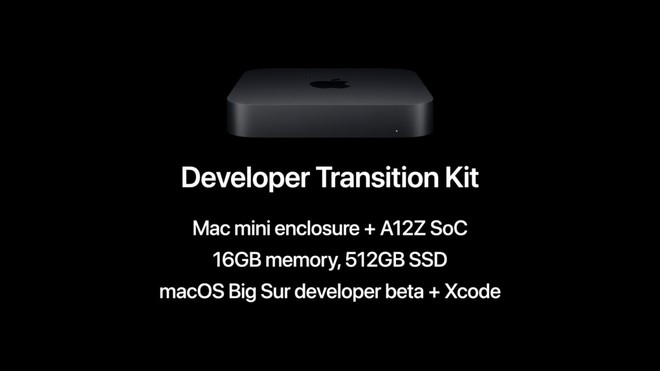 "Developer Transistion Kit" (DTK)
DTK is a very special product. Ordinary users cannot buy it, and even Apple's target audience is programmers can not "buy off" this machine. Developer will only be allowed to hire DTK, and at a certain point, Apple will withdraw it and the developer will be forced to return it. The amount of money that the programmer will have to spend to hire DTK is 500 USD.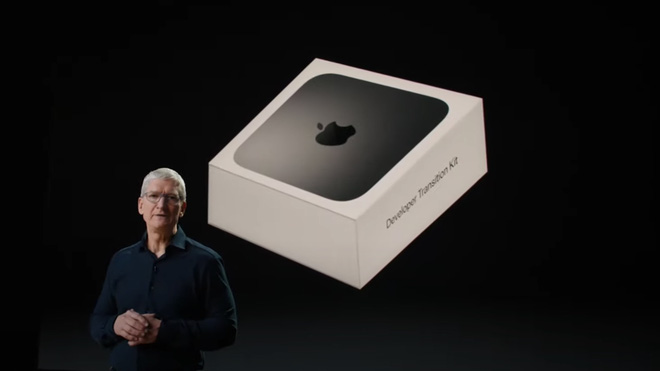 DTK is a product leased by Apple
And earlier this week, after 7 months from the time DTK arrived at the programmer's hands, Apple started sending emails asking the programmer to return these machines. When returning the DTK, the programmer will receive a $ 200 "voucher". This $ 200 stash can be used to buy any Mac M1 from now until May 2021.
After the announcement of Apple, the developer community has been very disappointed. Most people think that Apple's $ 200 return is too low for what they had to spend, especially considering Apple's "trillion" position, as well as the importance of app developers. during the transfer of the platform.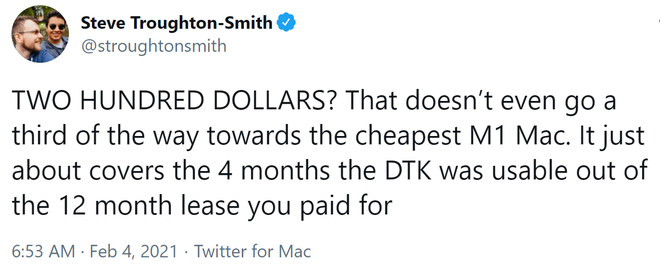 "200 dollars? That's not enough money to buy 1/3 of the cheapest Mac M1"
In fact, many programmers are also frustrated by the fact that the ARM-based DTK model is not stable, making it difficult for them to work. The $ 500 money spent to hire DTK does not bring much value, when they do not have a stable working environment. Especially when only 4 months later, commercial Mac models with Apple M1 chip are released to the market with much higher stability than DTK.
The May deadline also makes developers feel uncomfortable. Because, May is the time near the WWDC 2021 event, where Apple is likely to launch new and more powerful Mac models. Therefore, programmers do not have much choice to "spend" the amount of 200 USD in addition to three models of MacBook Air, MacBook Pro 13 "and Mac mini.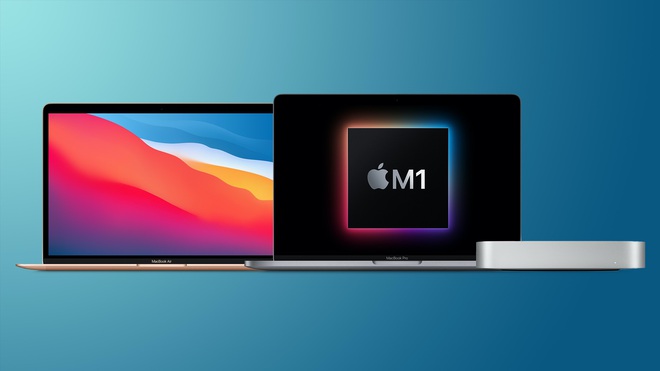 The MacBook Air, MacBook Pro 13 "and Mac mini are the first three Mac models to use a chip platform manufactured by Apple
Also, another reason for the programmer's negative reaction has to do with Apple's past story. In 2006, when Apple shifted from the PowerPC architecture to Intel, Apple also leased DTK to its programmers for $ 999. Then, when retrieving the DTK from the programmer, Apple gave them a new iMac for free (worth more than $ 999 at the time). Therefore, in this transition, many programmers have expected themselves to get a "good deal" when returning DTK.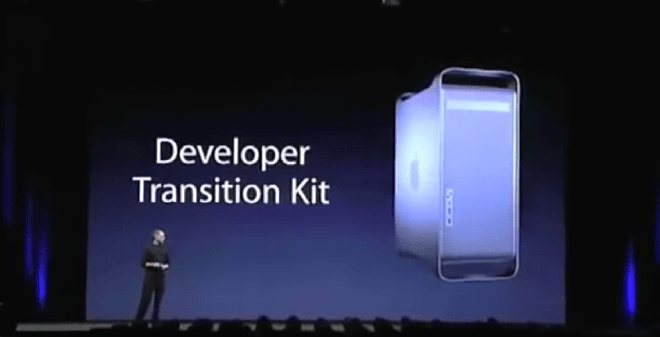 During the transition from PowerPC to Intel in 2005, Apple also hired DTK to developers
Apple is forced to please the programmer
After a series of mixed reactions from programmers, recently, Apple has officially announced it will raise the refund from $ 200 to $ 500.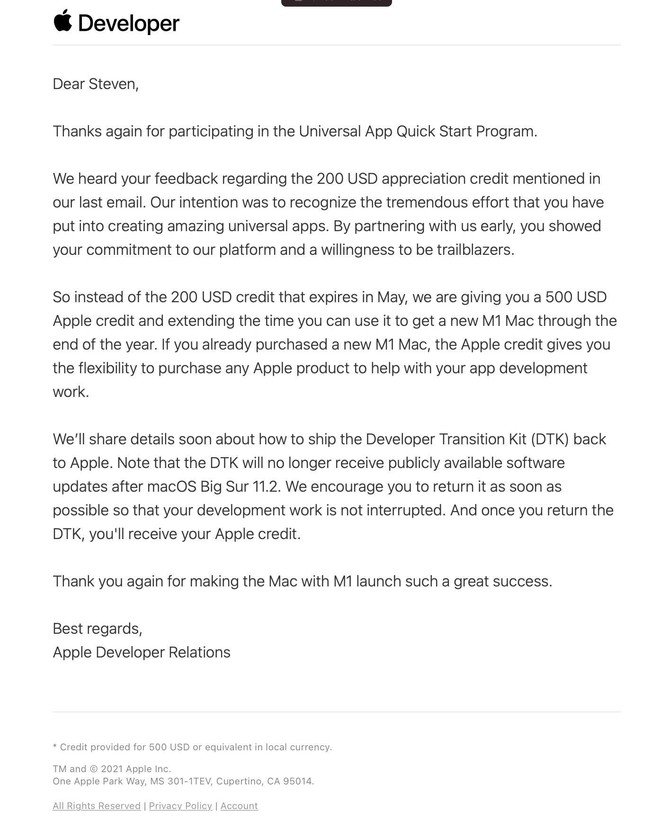 Email sent by Apple to the developer writes:
"We listened to your feedback on $ 200 in the previous email. We acknowledge the great effort you put into creating great apps. By collaborating early, you can. shows your commitment to our platform and is ready to become a pioneer.
So instead of $ 200 that expires in May, we'll send you $ 500 and extend the time you can buy a Mac M1 for the rest of the year. If you have purchased a Mac M1, you can also use this money to buy any other Apple product to support your application development. "
With a refund of 500 USD is equivalent to the amount that the developer has to spend to hire DTK, it can be said that the developer has had a chance to experience DTK completely free. In addition, extending the money-to-life through the end of the year also allows them to buy newer Mac models. Some rumors suggest that this year Apple will release new iMac models and 16 "/ 14" MacBook Pro, and that seems to be the target for many programmers.
This change of Apple has caused the opinion of the developer community to completely reverse. Programmers who had previously criticized Apple have now agreed with the new policy.
"Some battles are worth fighting, I think Apple probably doesn't fully understand the difficulties we have been going through," said Steve Troughton-Smith, one of the first programmers. This is happy to announce on Twitter.
Source : Genk