Chinese village buys 40 Tesla electric cars to go to street vendors
Panzhiga, a remote mountain village in China's Yunan province, is nicknamed "Tesla Village" because of the unusual number of Tesla electric cars owned by locals.
The worldwide popularity of electric cars is growing at an unprecedented rate, but many skeptics say the rapid adoption of electric vehicles is hampered by infrastructure problems. While fast charging stations are built in cities, along busy roads, the use of electric cars in remote areas is considered inefficient. However, that theory no longer seems to hold true in a small mountain village in China, where Tesla is by far the most popular car brand.
Recently, a video of Panzhiga village, dubbed China's "Tesla village" has just been shared on Weibo by Tesla's account in China and became popular. It's basically a promotional film for the company, but according to OddityCentral , considering the village's coverage on Chinese social media and media over the past two weeks, Panzhiga's fascination with Tesla seems to be real. Despite its remote location, far from urban centers, the village has people who own 40 cars of this brand.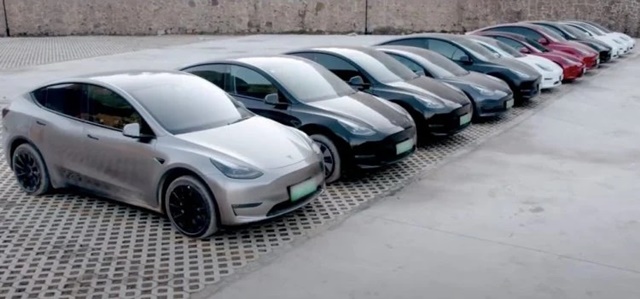 Tesla cars are owned by villagers. Screenshots
Cai Run, a villager who left the village to go to school at the age of 12, and has worked in various cities in China, was the one who introduced the village to Tesla. Although he works far away, he has always kept an eye on the development of his hometown, and with the completion of the highway in the area in 2016, he sees many opportunities to exploit his village. me.
Last May, Cai Run bought his first Tesla and since then has been trying to explain to the villagers the benefits of electric cars. It's not easy, because many people don't know about electric cars or think it can't replace combustion engine cars, especially in a place like Panzhiga.
But Cai Run took the locals to drive around the steep roads around the village, showing them that functions such as parking, kinetic energy recovery can better control the car and save battery. Plus the introduction of the car's features, soon the neighbors of Cai Run started buying cars of this brand.
As the number of Tesla cars in the village increased, so did the company's managers know and be impressed. "Tesla Village" has a supercharger that was approved by Elon Musk himself to build.
The village has a total of 40 Tesla cars. Screenshots
The popularity of the village has attracted tourists, but it still lacks facilities to accommodate visitors. Therefore, the owners of Tesla cars in the village used their cars to camp with a rubber mattress inside. But tourism is not the only new thing, the villagers also use cars to go hawking and take advantage of Tesla's sound feature to attract buyers.
As for Cai Run, he owns no less than 6 different Tesla cars. Panzhiga village has a total of 40 electric vehicles, with five Tesla Model Ys to be delivered in the coming weeks.
Source : Genk