CEO & CMO Summit 2023: A world-class conference for leaders
CEO & CMO Summit 2023 is an event organized by MMA Global in Vietnam, bringing together senior leaders, marketing directors, industry experts from multinational corporations, businesses and companies. leading technology and startups in Vietnam.
After 5 years of organization, the CEO & CMO Summit Vietnam conference has affirmed its position and it is expected that the event of 2023 will attract the participation of more than 700 companies, VIP guests and leaders. from Ho Chi Minh City and Hanoi Capital.
Summit to discuss "hot" issues in the current marketing market
2023 is predicted to be an extremely volatile and bumpy year for the world economy, creating numerous challenges for businesses. So what do businesses need to do, prepare to stand firm in the midst of the "storm" of the economic downturn? That is the big question that will be discussed at the CEO & CMO Summit 2023 with the guidance and "scheming" by C-levels speakers from Coca Cola, Google, Grab, Heineken, Nestle, Sabeco, TikTok , Unilever, etc.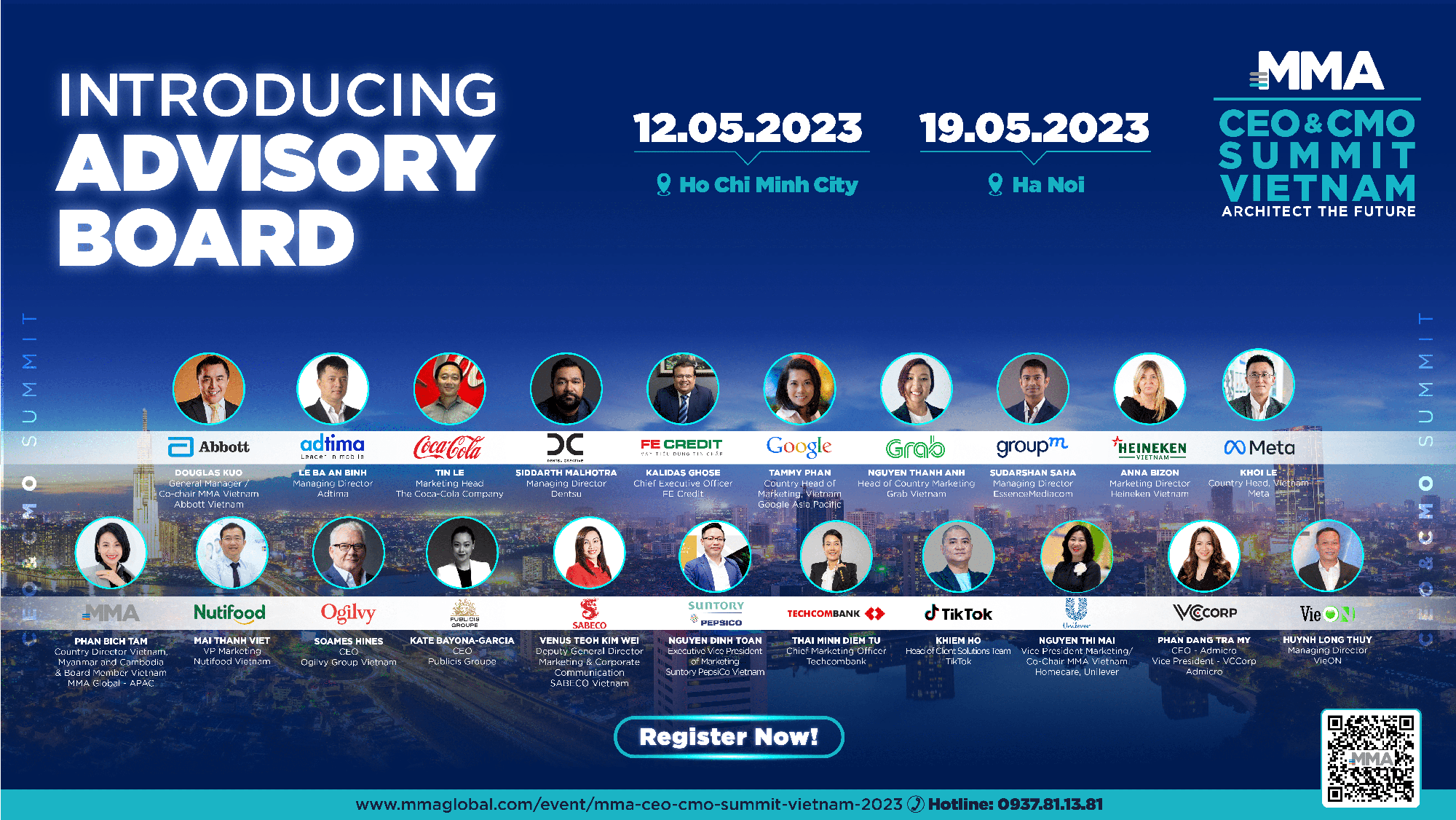 Content Advisory Board CEO & CMO Summit 2023 Image: Content Advisory Board CEO & CMO Summit 2023
To answer that question, this conference will focus on discussing "hot" issues in the field of marketing with the big theme of "Business impact in difficult times". The topics discussed at the conference will revolve around the story of "Marketing and Communication," "Business and Society," "Technology and Innovation." These topics will discuss and answer important questions about the impact and changes in the way businesses approach and interact with customers.
The CEO & CMO Conference not only provides participants with insight on topics such as "Data Analytics", "Consumer Touchpoints" optimization, "Branding & Advertising". reporting", building a "Customer & Experience Hub", but also providing the right knowledge, skills and strategies for "Impact & Purpose" and "Social and Economic Trends" to sustain during the current world economic downturn. In particular, with the participation of leading experts in the field of marketing, CEO & CMO Summit 2023 promises to be a destination for participants to learn and update the "Technology and e-commerce trends". ," "AI & Marketing Automation," "CDP/DMP" technologies from leaders from multinational corporations, while helping businesses reorient their marketing strategies and Find new ways to increase revenue and grow your business.
Looking forward to other exciting activities of MMA Global in Vietnam this year
In this 2023, MMA Global in Vietnam will bring many world-class events with the desire to bring a lot of value to the marketing industry in Vietnam. Pursuing that mission, in early March 2023, MMA Vietnam made a strong mark in the market with the success of Agency Day 2023 with the participation of more than 350 guests, 30 top speakers and more than 20 partners. .
Following that success, MMA Vietnam will continue to "storm" with a series of events and content exclusively for member companies of MMA Global's network in Vietnam.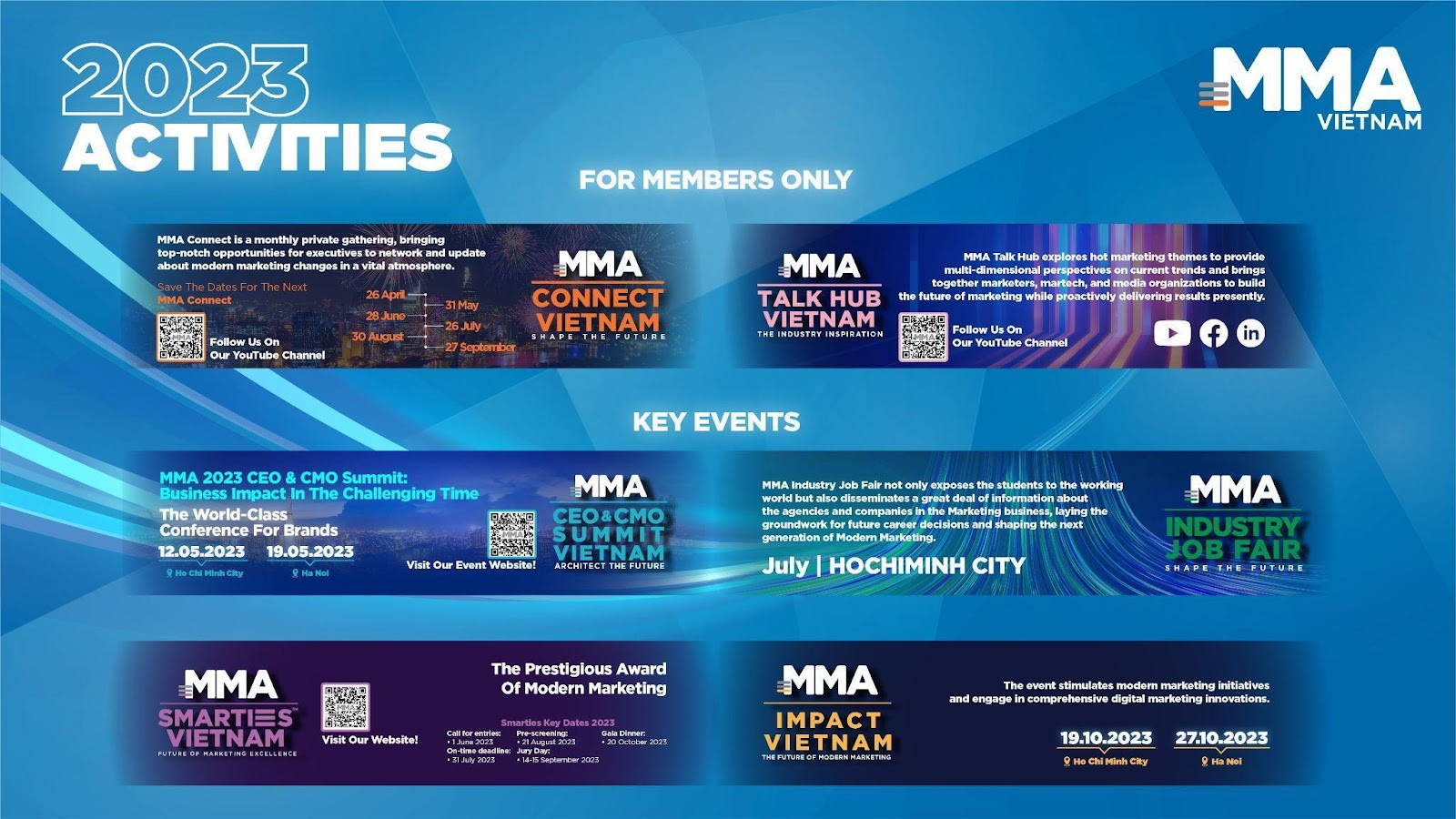 Contents of activities in 2023 of MMA Global in Vietnam
MMA Smarties 2023 – A prestigious marketing award for advertising media and brands from MMA Global in Vietnam, an important event honoring efforts and successful advertising campaigns in the marketing industry in Vietnam. Vietnam and the Asia Pacific region – APAC is welcomed by hundreds of brands and agencies, expected to launch in June 2023.
MMA Industry Job Fair – Event for 3rd – 4th year students majoring in economics and marketing and advertising, aiming to help develop human resources for the marketing industry in Vietnam. The event will be coordinated with the top universities in Ho Chi Minh City and large enterprises in Vietnam, belonging to the member network of MMA Global in Vietnam such as Abbott, Admicro, CocaCola, Dentsu Group, Grab, GroupM, Heineken, Momo, Ogilvy Group Vietnam, Publicis Group, Suntory Pepsico, TikTok, Unilever, etc.
MMA Impact 2023 – Part of a series of annual international events organized by MMA Global in many different countries around the world, for C-levels, senior managers from major brands and Marketing Agencies in the world. national and international. MMA Impact 2023 is expected to be held in two big cities, Ho Chi Minh City and Hanoi, promising to attract more than 700 attendees.
MMA Talk Hub – A shared, conversational podcast content series that explores compelling topics to provide a multi-dimensional perspective on current trends and brings together marketers, martechs, and media organizations to build building the future of the advertising industry, where speakers are members of MMA Global in Vietnam.
MMA Connect – A networking event exclusively for MMA Members and guests, providing many opportunities for executives to network and stay up to date with modern marketing changes in a chic and cozy atmosphere .
Additional information:
For more information about MMA, please visit www.mmaglobal.com
Source : Genk