Celebrate Tet with great promotions for Sony speakers and headphones
Particularly for Bluetooth speakers and headphones, the promotion is even more special with a preferential value of up to 3,700,000 VND, in order to bring young people a vibrant and bustling Tet space and have their own moments. self.
Welcome Sony Bluetooth speaker – Exciting sound, more exciting Tet
Sony bluetooth speaker is a great choice to spread bustling, bustling sound anywhere, creating a Tet atmosphere and helping people to be more excited than ever. Whether it's the moments of house cleaning to welcome Tet or exciting year-end/new-year parties; music will always appear to fill everyone with joy with family and friends.
In particular, Sony's X-series Bluetooth speakers are designed to help young people enjoy music experiences from private to with friends. Compact but playable, you can place the speaker in your own space to immerse yourself in your own music world. When needed, you can use the Stereo Pair feature that allows you to combine 2 speakers of the same type to help spread lively sound when having a small party or picnic with friends.
During the program "Vibrant Sound – Exciting New Year" from December 12, 2022 to January 22, 2023, customers who buy Sony Bluetooth speakers will receive a discount with a value of up to to more than 2 million. Specifically, the SRS-XE200 speaker is reduced to 460,000 VND, the SRS-XE300 speaker is reduced to 900,000 VND, the SRS-XG300 speaker has a discount of up to 1,000,000 VND. In particular, customers who buy a super convenient Karaoke set including SRS-XG300 speakers and 2 microphones will receive a discount of VND 2,178,000.
Pick up Sony Karaoke speakers – Karaoke let loose, Tet is more exciting
It can be said that singing together has become a special Tet holiday for many families, and what is more wonderful when singing is raised to a new level thanks to the karaoke feature of Sony speakers. Sony's party speakers such as SRS-XV900, SRS-XP500, MHC-V43D and GTK-PG10 are all integrated with karaoke features, supporting up to 2 microphones. Low microphone delay combined with Echo (echo) adjustment, adjust the tone of the music to help the voice become clearer and more vibrating, giving users the freedom to sing their favorite songs. Powerful volume, warm sound helps to bring exciting atmosphere into family and friends parties.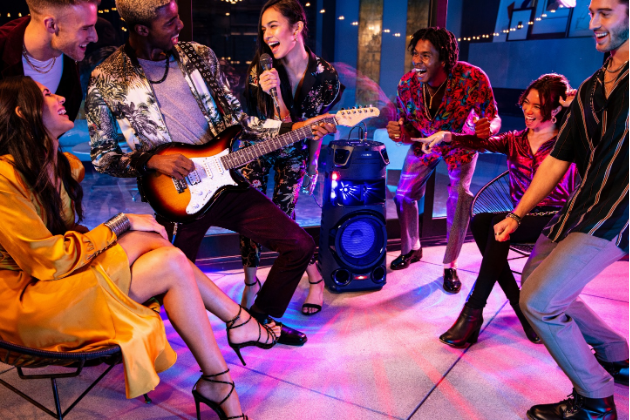 On the occasion of Tet, with the program "Karaoke relax – Tet is more exciting", Sony also offers special incentives for customers who buy these product lines will be given a microphone worth up to 2,500,000 VND for each customer. speakers SRS-XV900, SRS-XP500 and MHC-V43D. In particular, the SRS-XP500 speaker also has an additional discount of up to 1,200,000 VND and the MHC-V43D speaker has a discount of up to 1,000,000 VND. At the same time, you will also receive a discount of up to VND 1,700,000 for GTK-PG10 speakers and VND 500,000 for MHC-V13 speakers, in addition, both speakers will receive an additional microphone gift worth VND 970,000.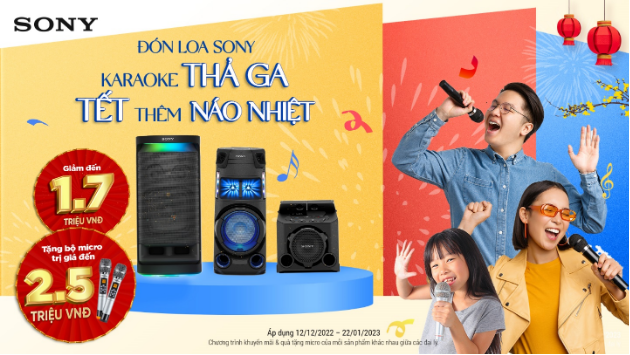 "Chill has good sound quality, adds personality" with Sony headphones
As Sony's special promotion program for headphones, "Chill with good sound quality – Add a personality bag" takes place from now until January 29, 2023 with many direct discounts on products up to 2,500. 000 dong. Specifically, customers who buy WH-1000XM5 – Sony's most advanced line of noise-cancelling headphones will receive an immediate discount of VND 1,400,000, with the WF-1000XM4 a discount of VND 1,300,000, while Linkbuds S will also be reduced to 2,000,000. VND and WF-C500 has a decrease of 420,000 VND.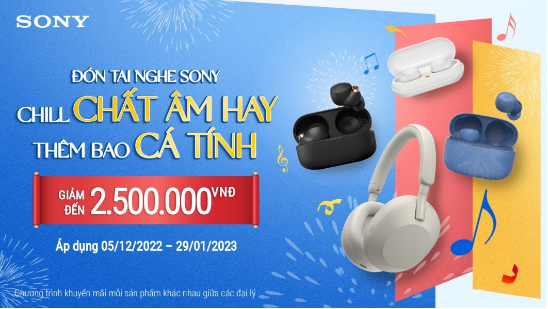 With a trendy design, Sony's "hottest" Sony headphones such as WH-1000XM5, WF-1000XM4, Linkbuds S… are the perfect choice for personal entertainment, helping you not to miss the shows that you don't want to miss. I love it even on busy Tet days. Restore your mental health with your favorite music, top games or maintain a healthy body with home gym exercises; All will be more perfect when combined with excellent sound quality from Sony. In particular, the journey home or the first trip of the year will never be boring with Sony headphones. Just turn on the noise canceling mode, young people can immerse themselves in their favorite tunes while traveling by plane, train or waiting for the bus, creating a space to completely relax and remove fatigue.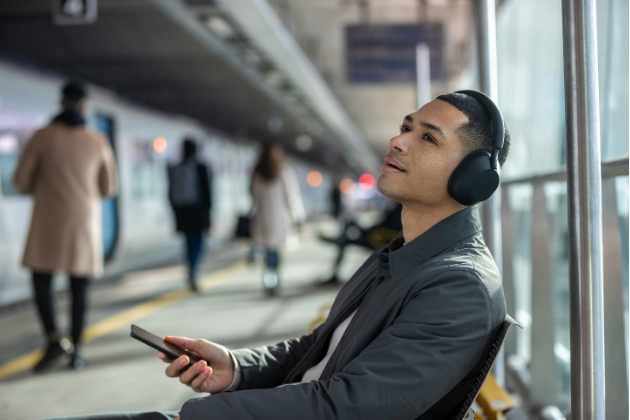 Besides, thanks to outstanding sound quality and clear conversation quality, Sony headphones help you connect with friends, wish New Year to relatives even if they are not close together. Tet away from home of young people is only a physical distance, but the soul is always close to loved ones.
For more information, please visit: https://promotion.sony.com.vn/
*Promotions for each product vary from dealer to dealer and are subject to change depending on the actual situation.
Source : Genk