Adtimin – Google Domain Email Solution "Improve work performance"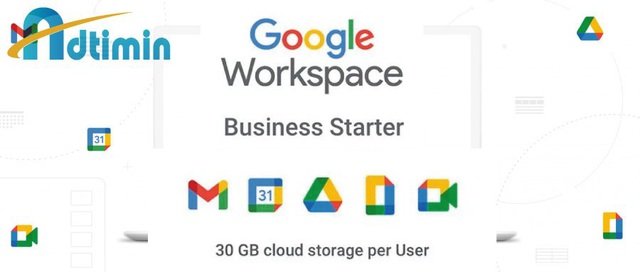 Gmail by Domain – What is Google Workspace?
Google Workspace is a suite of cloud productivity applications and collaboration and software tools offered by Google on a subscription basis. It includes popular Google web applications such as Gmail, Google Drive, Google Hangouts, Google Calendar, and Google Docs. With these features, more than 5 million organizations worldwide are now using Google Apps.
Let's find out what the features of Google Workspace bring to businesses!
Features and powers on the Google Workspace plan

Secure email for business and more like Google Meet secure video meetings for your business, Google Chat simplifies private and group messaging, Built-in online Calendar designed For teams, Drive stores, accesses, and shares your files in one safe place. Google Docs word processing documents for teams, Google Sheets collaborative, intelligent, secure spreadsheets for fast-paced organizations. Plus, Google Slides helps you create beautiful presentations. Google Forms makes it easy to create surveys and forms for everyone. Sites makes it easy to create high-impact team sites. Keep captures what's important and gets more done. Apps Script optimizes the way you work. And finally Cloud Search has the information you need right away.
With 13 features and benefits brought from the Google domain gmail service for businesses, it is very necessary and stable. Compared to using an email server with a lower cost but having a lot of problems during use such as email errors, full capacity, spam messages, hacked mail system … the use of Google Workspace to Using higher stable translation, larger data storage is essential. And moreover, Google's Gmail can also be used and synchronized on many devices, meeting the work or travel needs of today's companies.
Price list for Google Workspace service at Addimin
Versions of Google Workspace are more optimized for users in many different types of businesses, specifically, there will be 2 main groups: a business group suitable for businesses in the SMBs segment and Enterprise for LCSs.
Business group: For customers in the Business group, Google provides 3 application packages, including: Business Starter, Business Standard and Business Plus. Accordingly, the features are upgraded gradually according to each level, suitable for each size and usage needs of each business in the SMBs segment.
Enterprise group: For the larger enterprise group in the LCSs segment, Google Workspace has 3 options and is also classified by advanced features according to packages from Enterprise Essentials, Enterprise Standard to Enterprise Plus. At each level, Google will optimize in accordance with each development goal of the business. Most importantly, users on the Enterprise plans will receive 24/7 support from Google. Below is a specific price list of Google Workspace services: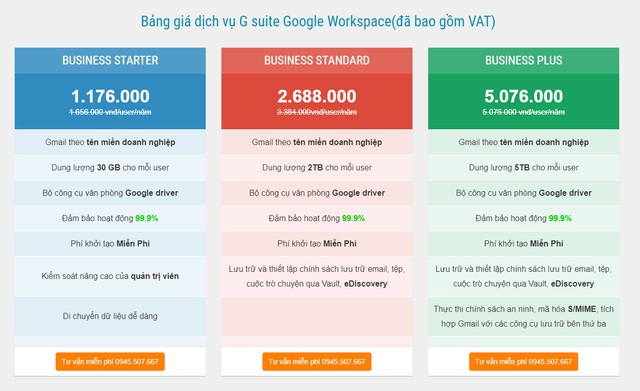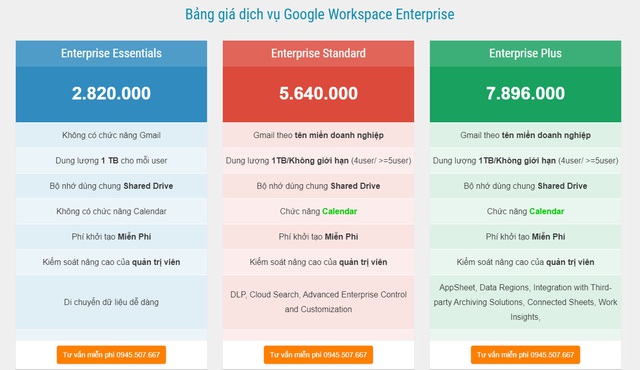 How to register for Google Workspace service
Method 1: Register directly with Google and pay via Visa at the link: https://workspace.google.com/intl/en/ . This way, you will have to work directly with Google and have to manually configure the domain to send and receive emails, as well as handle related issues when using the service. If it's a corporate role, you can't get financial invoices from Google
Option 2: Sign up for Adtimin – the official partner of Google Workspace services in Vietnam with a preferential price and you are also supported with package registration as well as full red invoice.
In addition, Adtimin Media Company also provides Google Ads keyword advertising services, professional website design on demand, hosting services, etc. the highest online business efficiency for customers.
Adtimin – Reseller of Google Clouds Vietnam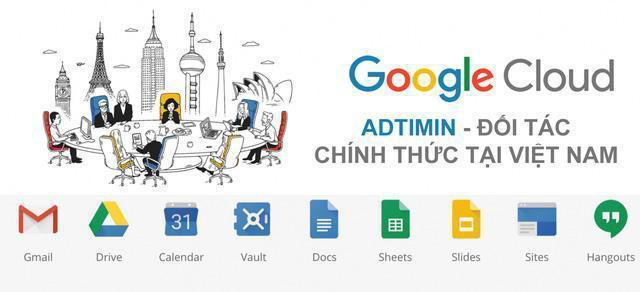 Adtimin Media Company Limited is the official sales partner of Google Cloud in Vietnam (Google Workspace is a product of Google Cloud). When you shop at Adtimin, you have the following privileges:
Sign a contract, support to issue a full financial invoice without paying any additional costs.
Better price support than when registering directly with Google
Get technical support when needed
You still retain the highest Admin rights, we only make payments on your behalf in your account. In addition, do not interfere with your data.
Contact information
Adtimin Media Co., Ltd
Address: 12/25 Street No. 49, Hiep Binh Chanh Ward, Thu Duc District, Ho Chi Minh City, Vietnam
Customer support
Hotline: 0918.437.227 | 0917.757.227 | 0917.457.337 VND
Phone: (028)66.830.474
Email: info@adtimin.vn
Website: www.adtimin.vn
Source : Genk