Admire the upcoming Samsung Galaxy Z Flip with a clamshell folding design
Samsung has planned to host the Galaxy Unpacked event in San Francisco on February 11, where the company plans to launch the upcoming Galaxy S20 series. In addition, the Korean manufacturer will also launch its next folding screen smartphone, which has been rumored during the past time as the Galaxy Fold 2.
Recently, there was information that this device will be named Galaxy Bloom. However, according to the latest report, it is thought that Galaxy Bloom is just a codename and its real name is Galaxy Z Flip. Today, a series of renderings of this phone were also unexpectedly shared online just before the launch date.
Through the series of renderings, it can be seen that the Galaxy Z Flip seems to be equipped with a new type of glass covering the screen called Ultra Thin Glass, replacing the plastic protective layer seen on Galaxy Fold. This will make the device more durable than the previous generation, but it also accidentally increases the price of the product.
The Galaxy Z Flip is expected to have a flexible 6.7-inch screen, significantly larger than the Motorola RAZR 6.2-inch screen and comes with a similar clamshell folding design. In addition, this screen also has a "mole" to accommodate selfie camera with 10MP resolution.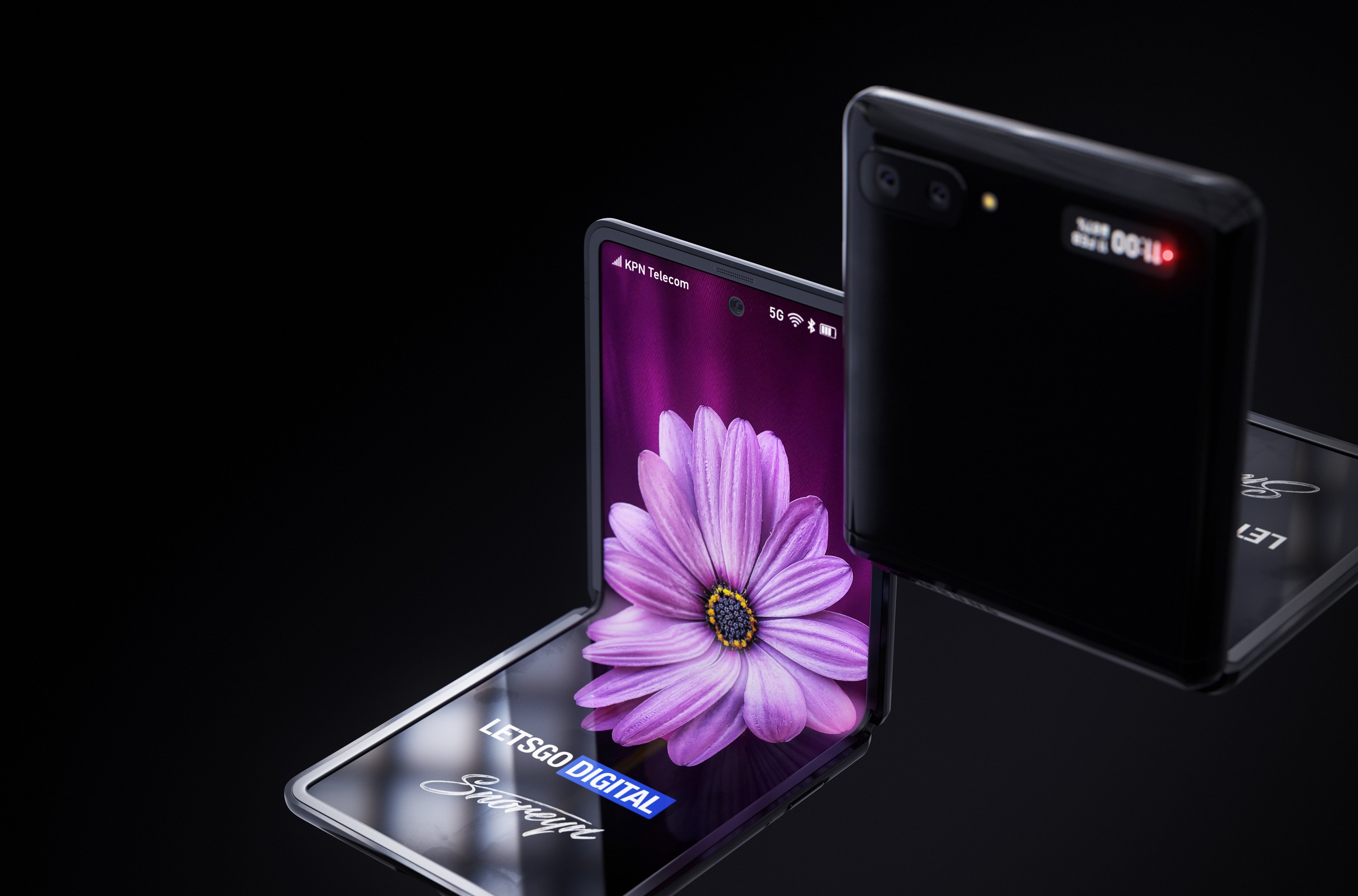 The report further reveals that Samsung will use a new type of hinge with many improvements, called Hideaway Hinge and completely invisible when you use the phone as well as when it is opened. Unfortunately, it is not clear how this mechanism works.
Of course, when the device is folded, you'll have access to notifications on the secondary screen on the back of the Galaxy Z Flip. This small screen is probably mainly used to display time, date, battery percentage and incoming notifications.
Video 360 degree render of Samsung Galaxy Z Flip
Besides the notification screen, we also have a dual camera module along with an LED flash. According to the report, the main camera sensor of the device will have a resolution of 108MP and support 5x optical zoom. Some other sources claim that this camera cluster includes two 12MP sensors.
In terms of other specifications, Galaxy Z Flip is expected to be equipped with Snapdragon 855 Plus processor, combined with up to 8GB of RAM and 256GB of internal memory. It comes preloaded with Android 10 operating system with One UI 2.0 interface when sold, comes with two batteries – one 900mAh tablet and another battery with a capacity of about 2100mAh or 2300mAh, and also supports fast charging.
Source : Genk