Acer Aspire 7 – Authentic gaming experience right at hand
Acer Aspire 7 was launched to the market to satisfy the need for an optimal gaming laptop with a reasonable price.
Strong gaming configuration
Acer Aspire 7 is a gaming laptop line aimed at the majority of users, the machine is equipped with a fairly good configuration enough for the most basic needs of young people: online gaming, learning, graphic design, editing. video, … AMD Ryzen 5 3550H chip with 4 cores 8 threads, maximum clock speed up to 3.7GHz to help Aspire 7 easily play smoothly online games like League of Legends, Fifa Online 4, Valorant, CS: GO at the highest graphic level. These are the popular game lines and have a large number of players in Vietnam.
The graphics card of the machine is NVIDIA GTX1650 with 4GB of GDDR6 memory, which can perfectly satisfy mid-range games and graphic design needs. For epic games that require high-end configuration such as Call of Duty, Battlefield, Far Cry 5 …, Aspire 7 can still play stably in Medium and even High settings.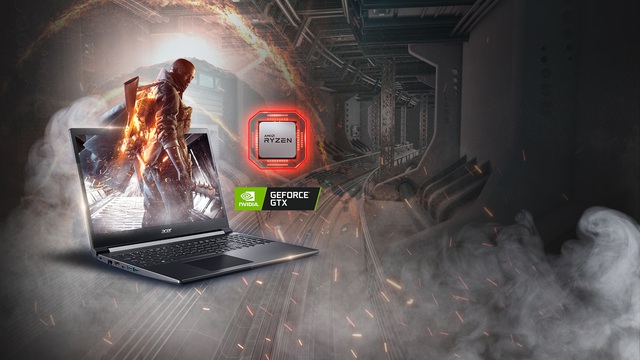 Powerful configuration for popular games
It also comes pre-installed with 8GB of RAM and 256GB SSD, suitable for daily work and online gaming needs. The 256GB SSD offers very fast boot-up times and applications, and is also enough to store about 7-8 games and other data. If users want to upgrade more, the Aspire 7 also supports easily. It has 2 RAM slots that allow upgrades up to 32GB and can add a huge capacity SSD up to 1TB.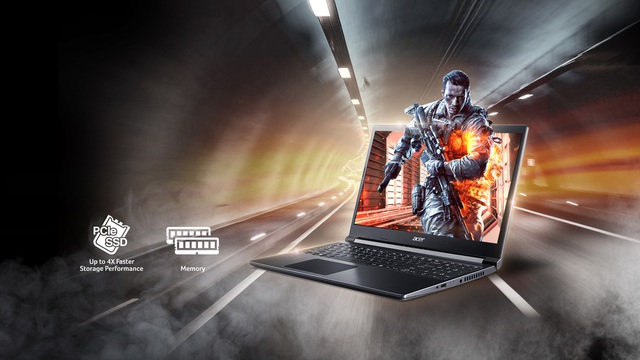 Easily upgradeable to 32GB of RAM and 1TB SSD
Optimized design for gaming experience
Towards the minimalism, focusing on the user experience, the Acer Aspire 7 does not have the glossy, flashy details. Although the appearance is not too prominent, in return the Aspire 7 owns a durable design and an extremely efficient cooling system in the segment.
The machine has a Charcoal Black exterior, gray-black tone that feels elegant, polite and less prone to dirt. The Aspire 7's hinge is sturdy and can open up to 180 degrees, minimizing the risk of breakage during use. The device is only 2.3cm thick and weighs 2.1kg, quite comfortable to take with you when going to school, going to work or cafe with friends.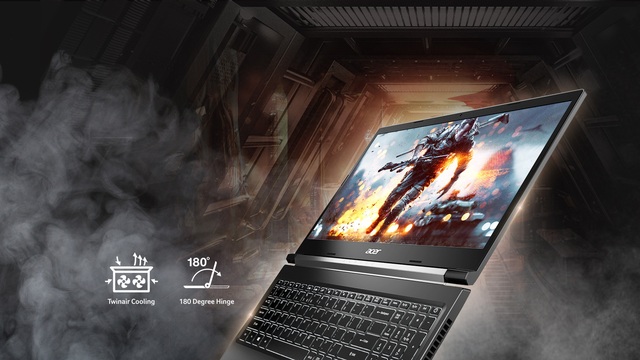 Optimized design for gaming experience
The issue of heat dissipation on gaming laptops is always something that a lot of users are concerned about. Too high a temperature will drop the clock, jerk lag, causing users to burn their hands, possibly even short and burn components. Understanding that, Acer has brought cooling systems on high-end gaming lines equipped with Aspire 7.
The machine has 2 radiator fans to help create a strong wind, combined with 3 full-size copper pipes, large heatsink to speed up heat dissipation. 2 heat sinks twice as large as usual, large air intakes at the bottom of the machine make the air flow easily, quickly bringing hot air out behind. As a result, Aspire 7 always maintains a stable temperature despite having to fight the top games.
Screen size 15.6 "FHD machine with ComfyView IPS panel refined by Acer brings vivid, realistic colors for the best entertainment experience.In addition, the screen also has an anti-glare coating that allows users to Comfortable use outdoors.
3S1 special warranty
3S1 is a VIP warranty policy only available at Acer: All gaming products are guaranteed a quick 3-day (72-hour) warranty including weekends. The company will change a new product of the same type or equivalent (1 for 1) for cases that do not complete the warranty during that time. The 3S1 policy shows that Acer always respects the interests of customers and is confident in the quality of its products and services.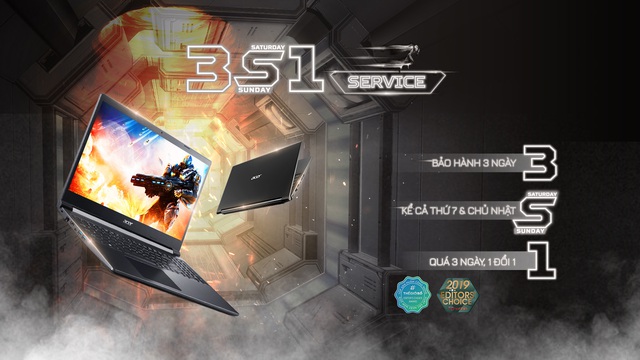 3S1 special warranty policy
Currently, Acer Aspire 7 is a very popular mid-range gaming laptop thanks to its powerful configuration, practical features and especially reasonable price. The machine is genuine distributed by Digiworld with the reference price from 17,999,000 VND for the Ryzen 5 version and 18,999,000 VND for the Ryzen 7 version.
Product link: http://ict.digiworld.com.vn/may-tinh-xach-tay/acer-aspire-7-a715-41g-r8kq-gaming-laptop-nhq8dsv001-p13826.html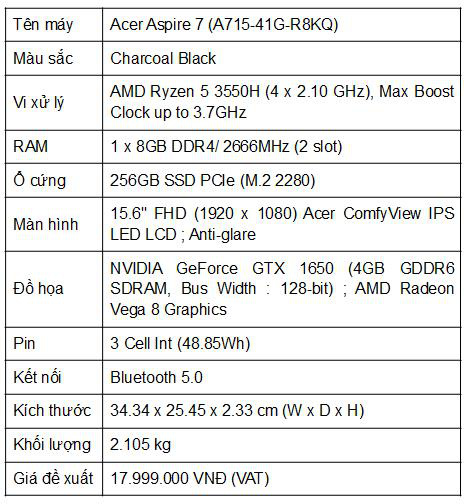 Source : Genk