A digital plot of land just sold for $2.3 million in the game Axie Infinity
Axie Infinity – a blockchain game based in Vietnam – announced that a digital parcel of land on their platform has just been sold for 550 ETH (about 2.3 million USD). According to the company, this is the largest amount ever paid for a piece of digital real estate.
The amount surpassed the $1.5 million deal for nine digital lands in this play-to-earn game back in February. The previous transaction became the largest NFT (non-fungible token) sale at the time.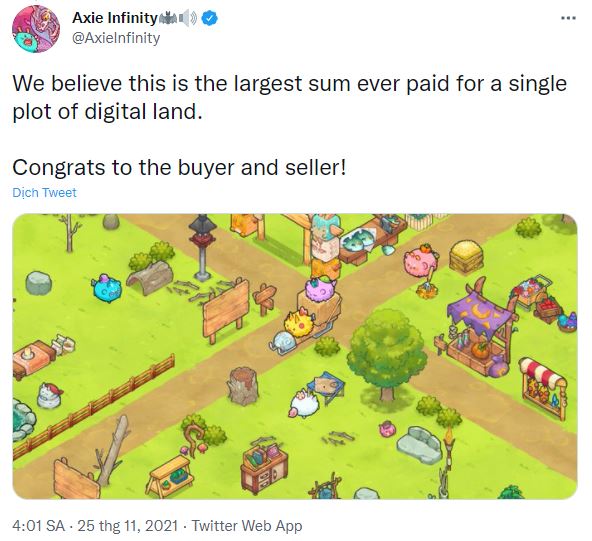 Axie Infinity's Twitter announcement.
This week, Tokens.com subsidiary The Metaverse Group also purchased a batch of digital real estate in another blockchain-based platform, Decentraland, for 618,000 MANA (approximately $2.4 million). The company says this is higher than most real-life homes in major US cities, and is the most expensive for a piece of virtual real estate in their platform.
The aforementioned two transactions are said to be the latest part of a wave of growing interest in digital real estate, in the metaverse economy.
A report from popular crypto asset manager Grayscale says the metaverse is estimated to have a revenue opportunity of up to $1 trillion across the advertising, social commerce, and digital events sectors, although no specific time is specified. The report also mentions that crypto fundraising has reached $8.2 billion in Q3 2021, with blockchain-based game startups receiving a total of $1 billion in funding. in the same period.
Axie Infinity is an NFT-based online video game application developed by a Vietnamese startup called Sky Mavis. The game is inspired by the once globally popular game Pokémon, in which players can battle, collect, raise and build a kingdom on land for their pets (commonly known as Axies. ). This game uses an Ethereum-based cryptocurrency AXS and SLP. Currently, Axie Infinity is the most expensive NFT collection according to data from DappRadar .
Refer to Techinasia
Source : Genk