Why is he holding $177 billion, the world's second-richest person, Elon Musk is still renting?
Recently, Teslarati learned and learned that Elon Musk is living in a ready-made house about 37 m2, movable developed by Boxabl. More notably, that house was rented by Musk from SpaceX.
According to Teslarati, a source said that this house is a real Boxabl Casita (mini "building block"). It can be easily moved and installed and can also be placed in new locations with relative ease. As can be seen in the image below, the house that looks like Elon Musk's can be towed away by a Tesla car.
This information was further reinforced when Musk himself confirmed that he was renting and had just finished selling the last house in San Francisco Bay that was rented for the event. If sold, "the house will hardly be used unless the buyer has a large family. This is likely to happen".
In fact, he has been working on a plan to sell off most of his home since a year ago as a way to refute criticism of his wealth.
The question many people ask is why would the second richest person in the world, holding $177 billion in Elon Musk's hand, want to rent a house, not to mention that house is only 37m2 wide?
The answer, explained by Musk, is: "In fact, I would become someone who does not own any assets except for shares in the companies I lead. If the work is stressful, it requires concentration. , I sleep in the factory or the office is okay. But because I have children, I need a larger space for them. Renting a house or something like that would be a reasonable solution."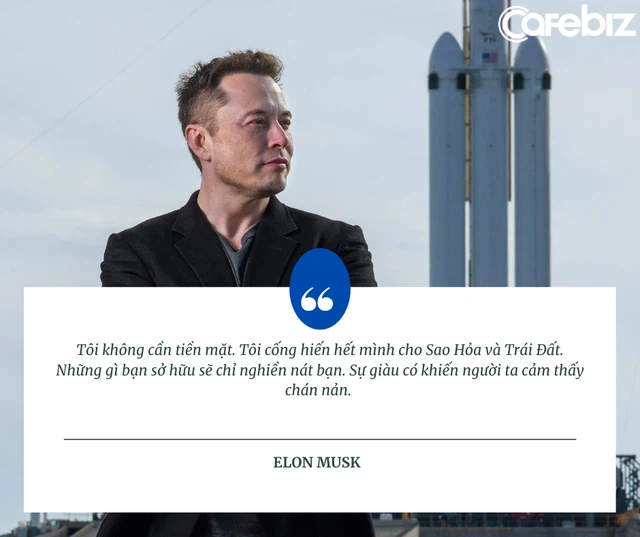 Also selling off houses and possessions "is for freedom… I don't need cash. I give my all to Mars and Earth. What you own will only crush you. Wealth. make people feel depressed. After selling the property, others will stop attacking."
Overall, for Musk, the fact that he gradually sold off all his assets clearly demonstrates his commitment to conquering Mars. Even in an interview with VanityFair, Musk emphasized that: "I want to die on Mars, not just set foot on it."
"I want to make it clear that I am very serious about this. The money that I received from the sale of properties will not be used for personal consumption. People will see that now I have no assets at all. ".
When Elon Musk's fortune surpassed Amazon founder Jeff Bezos for the first time on January 7, the CEO changed the pinned post on his Twitter page to a tweet posted in 2018. In it, he promised to spend half of his fortune to build the city of Mars, "to ensure the continuation of life for all species in the event of Earth collision with a giant meteorite or world war." The third explosion destroys all".
The SpaceX founder also said that he plans to send 1 million people to Mars by 2050 and build a fleet of 1,000 Starships to send people there. Musk aims to launch three rockets SpaceX is currently developing for "travel" from Earth to Mars.
Nguồn bài viết : Genk