Thanks to tourism photo editing but immediately winning "holy troll photoshop", netizens pity to receive the results but only know "angry" in their hearts
Today, editing photos before posting is no longer a strange thing for social network users. Rarely does anyone dare to post an original photo without going to the color-correction app, facial scrub, correcting the details to help you look more beautiful in the eyes of others. Especially when it is a tourist photo, there are still many steps that need to be done such as removing fonts, removing people, dragging legs, inserting this and that, etc.
James Fridman is an English graphic designer currently living in London. This man is famous for the nickname "holy troll photoshop" on social networks. The story is James often receives a lot of requests to edit photos from users, most of them are travel photos. Despite following exactly those offers, his products have many times caused "the owner" to cry after watching.
James often posts pictures before & after editing on social media to "have fun" for everyone. His Instagram page currently has 2 million followers, including Twitter approximately 1.8 million followers. Each finished product gets hundreds of thousands of interactions, enough to understand how famous this "photoshop god" is.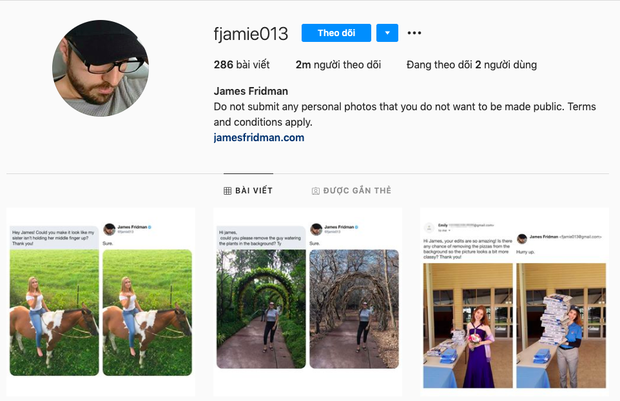 James's Instagram page currently has 2 million followers.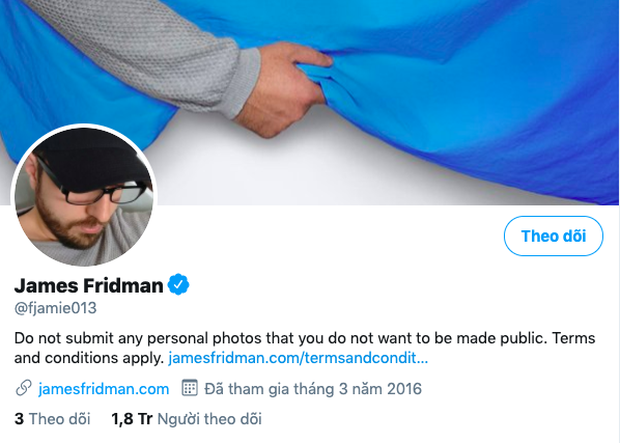 Even his Twitter has reached 1.8 million followers, enough to understand how this "photoshop holy" is concerned by the online community!
Let's take a look at some photoshop at first glance a bit ridiculous but think carefully, it is extremely convincing of this guy!
Thanks to photoshop that helped me reach the top of the famous Eiffel Tower, this girl has touched the top already!
---
A husband asked James to remove the white-hat man, but forgot that … he also wears a white hat. The result is…
---
Thanks to delete all people behind, "holy troll photoshop" humor erased even the famous Statue of Liberty on the photo!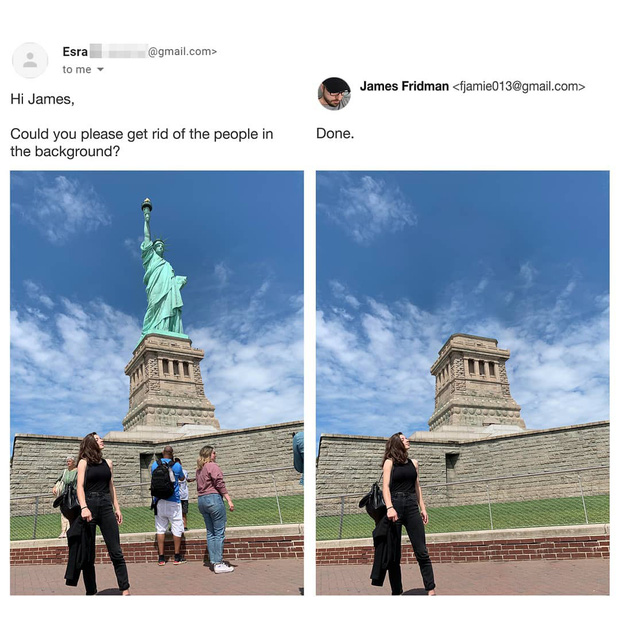 ---
Requiring "remove", people move to a different place that is!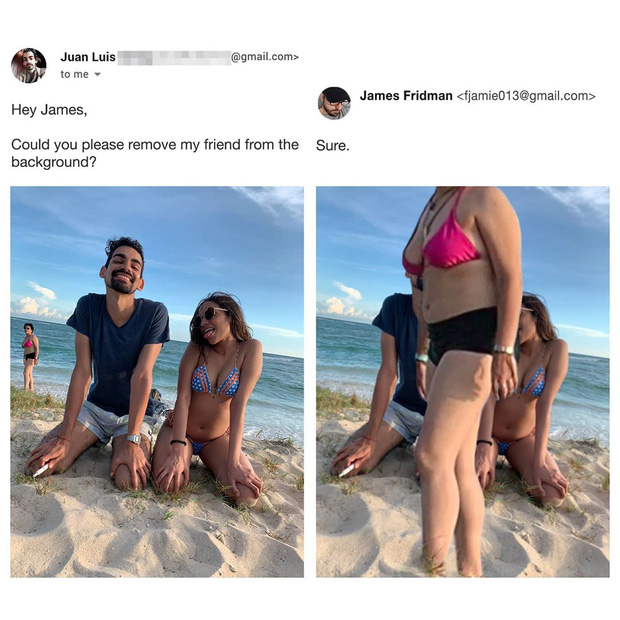 ---
A girl visits the famous Hollywood icon in the US and asks him to adjust herself to be closer to it. Finally she was satisfied, hey, very close is always the other side!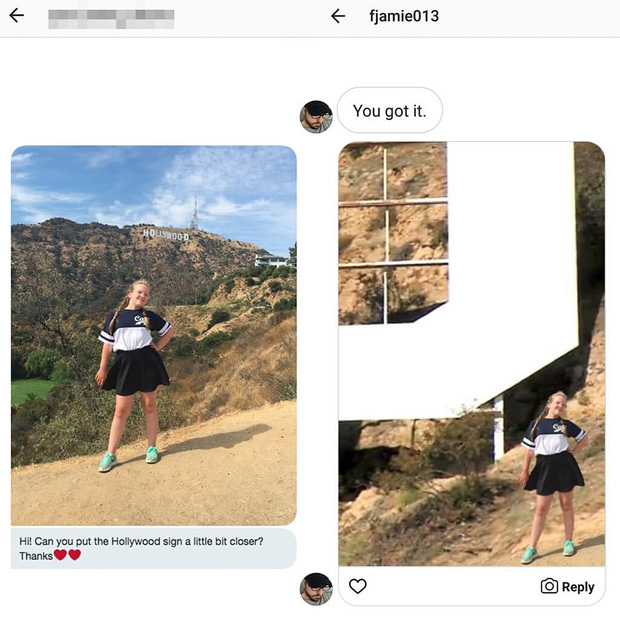 ---
And this guy asks for the waterfall behind to look bigger or closer. As a result, he … gets a free stream bath too!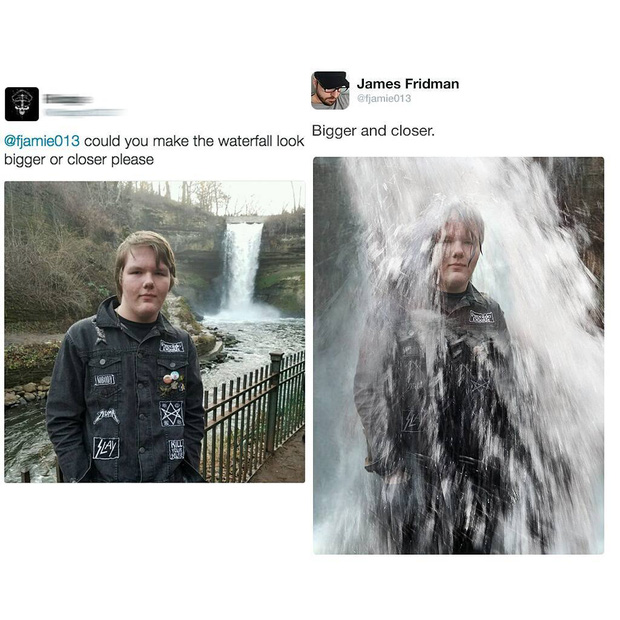 ---
This young girl asked James to put the symbol of the destination on her hands. But the "photoshop master" gave her a huge "lump"!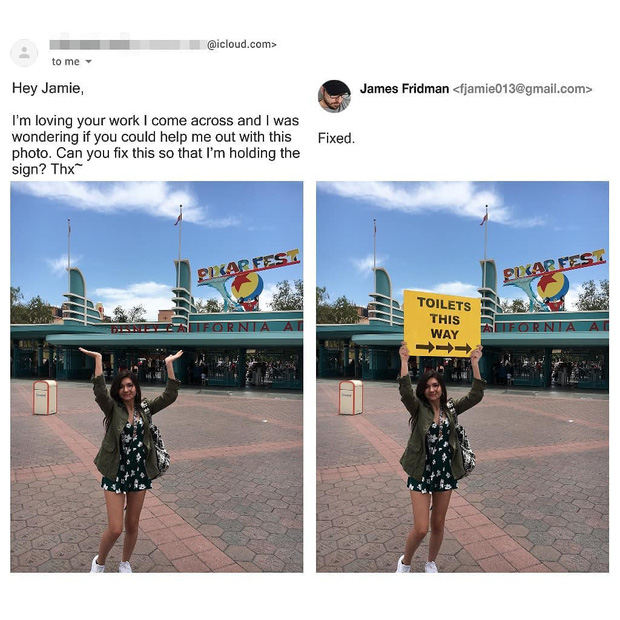 ---
Asking for his face to be reflected on the giant bean behind him, this girl must have "fallen over" after seeing the result!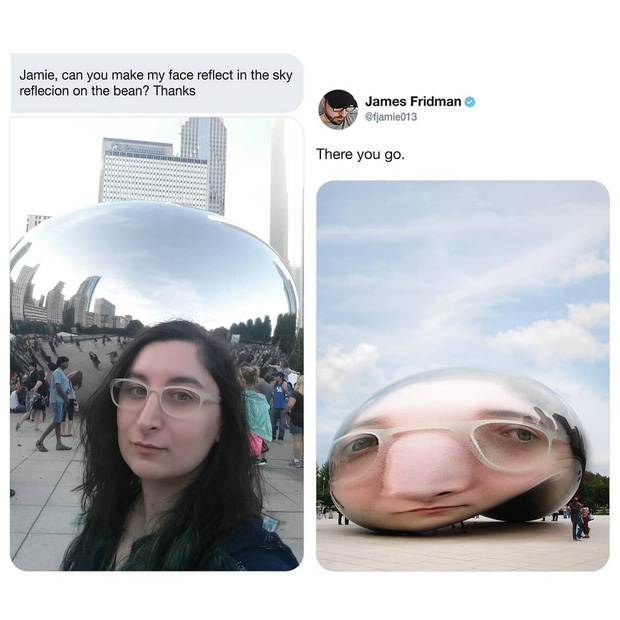 ---
Taking his girlfriend to Disneyland and taking pictures of kissing but forgot to tell her to close her eyes, the young man asked James for help. The result is … close your eyes!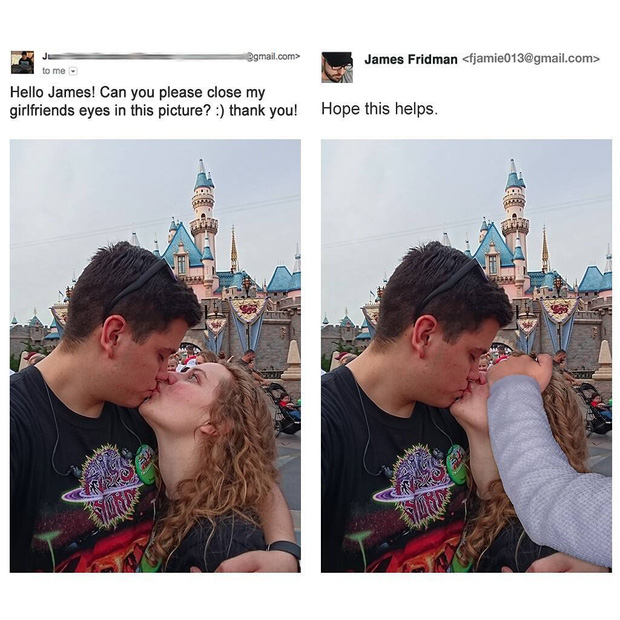 ---
Asking for the photo to look more "romantic", "holy photoshop" immediately came up with the idea for a florist to help the couple!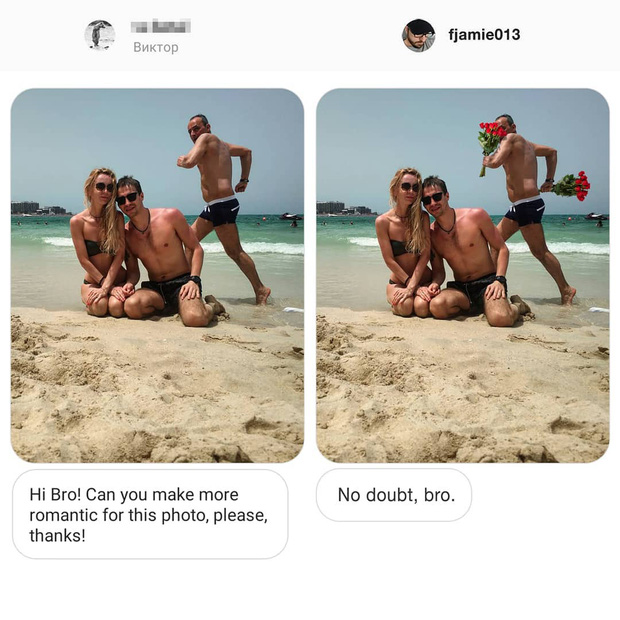 ---
Doesn't seem to have a boyfriend, so James is very "gato" with couples? This time a newlywed couple wished the car in the photo would disappear, so obviously it was gone!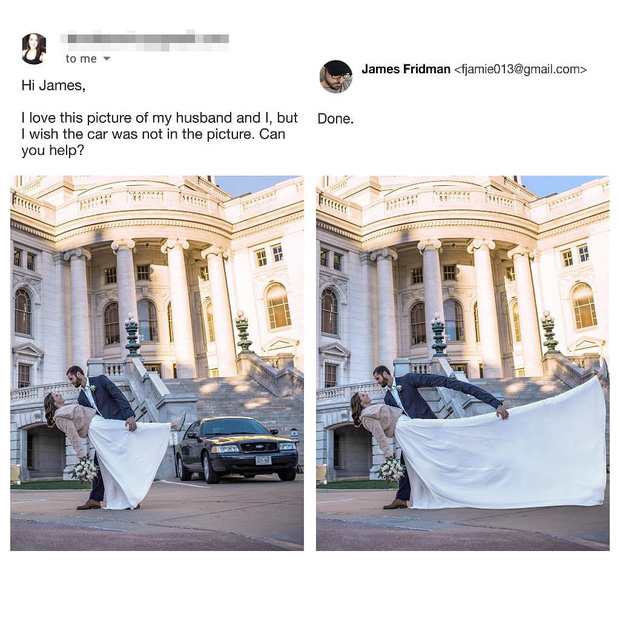 ---
Just asking to delete helps the woman behind wanting his picture to become more spectacular, this guy must have been "horrified" after watching the finished product!
---
"James, can you make the tree a little more leafy?" And this is the result!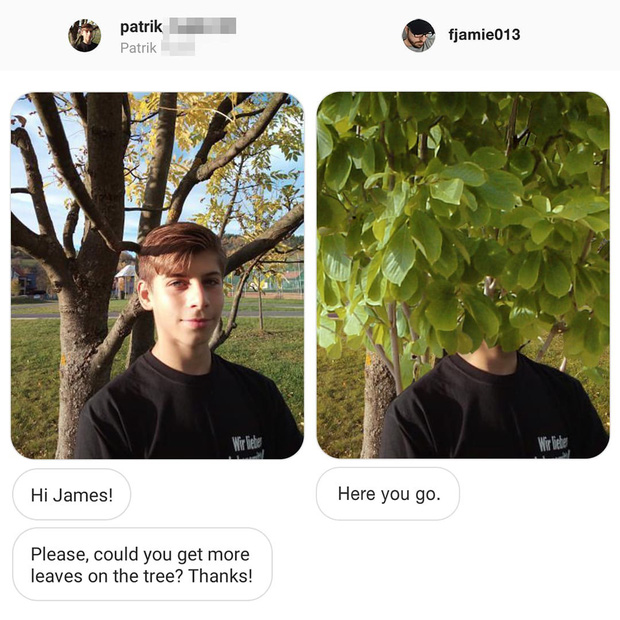 ---
If you do not have a girlfriend to travel, then remember to tattoo on the arm that says "girlfriend", a good idea!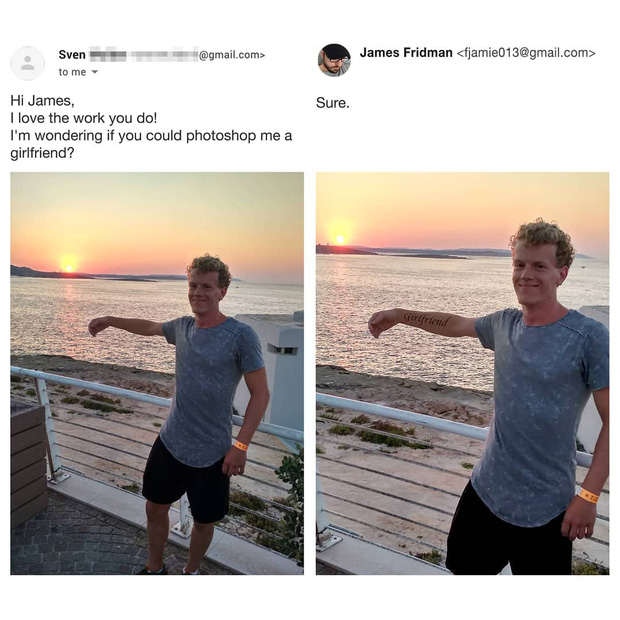 ---
Going fishing but having no patience for the fish to bite, James taught this girl a life-long lesson!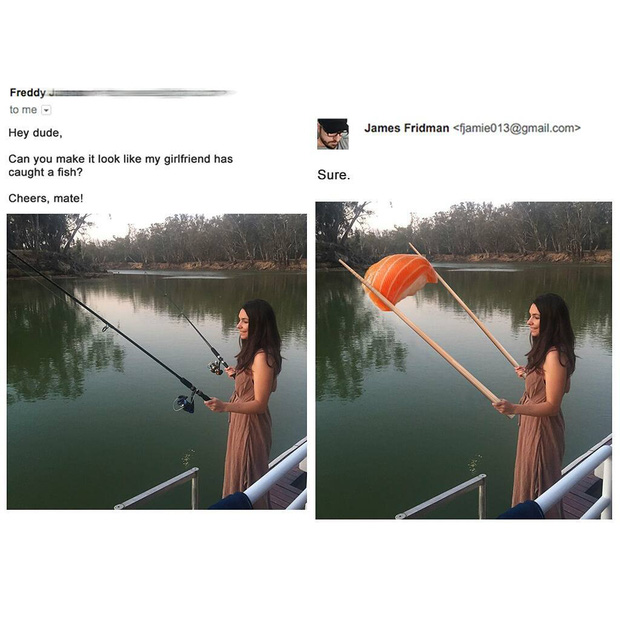 ---
Thanks to photoshop for his mother to look more beautiful, James straightforward "rewind time" for boys back to childhood always!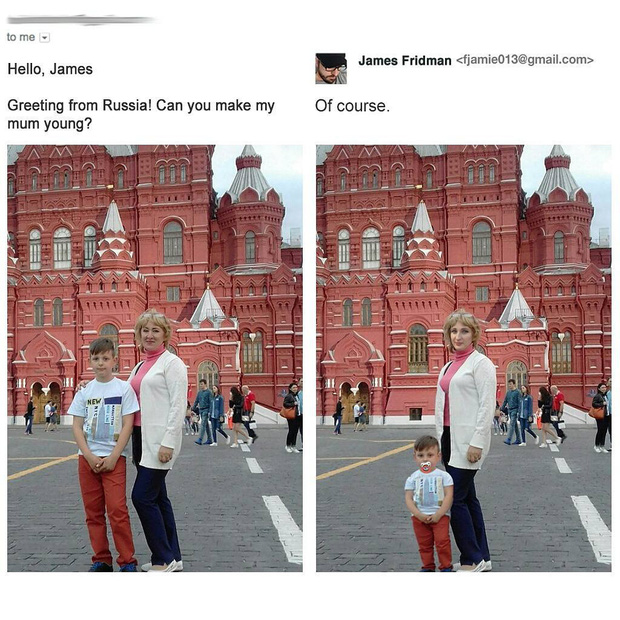 ---
Hoping for a train to chase me behind, the girl's going for it!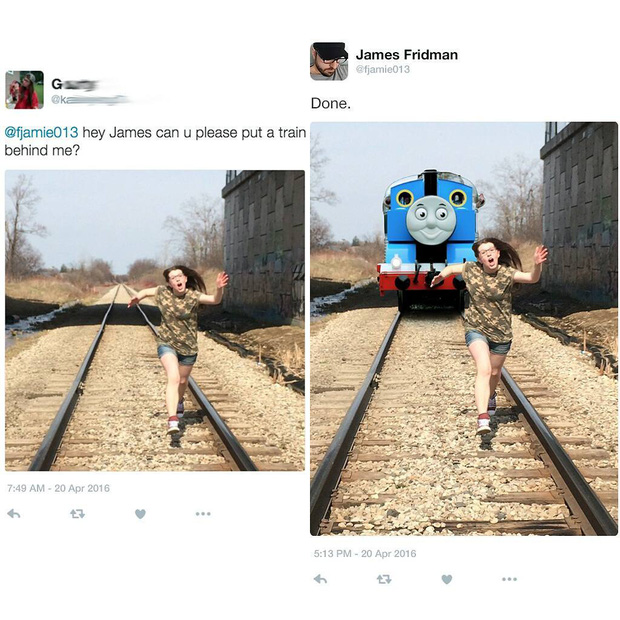 Nguồn bài viết : Genk