Data price "emergency" service
In the time of social network development today, after only a few minutes online, you can be dazzled by finding a series of "SOS" addresses in the country. Hard drive of personal desktops, laptops, server's hard drives, USB drives, memory cards, removable hard drives … damaged firmware, immersed, burned, due to "ghost" mistakenly, accidentally deleted, formatted … all The frequency is all in the "supported" list of data rescue companies. However, the price you get is sometimes a bit harsh even though the error is simple and the time to retrieve data may take weeks.

Since its inception in 2002, Vo Nguyen is one of the units in the top of the best data rescue centers in Ho Chi Minh City and Da Nang. In addition to expertise, what Vo Nguyen particularly noted is professional ethics. The honesty and absolute confidentiality of customers' data information is strictly regulated by the company so there will be no more problems of hard drives or copying countless junk files into guest HDDs to increase capacity and charge money. .
Besides, Vo Nguyen and a team of technicians are carefully selected to meet the high professional level, well-trained in Russia and China and have had experience in handling many difficult cases. gained prestige and quality of service with many big customers such as KTV VTC16, Ho Chi Minh City Open University, BigC Vietnam … The company also received the trust of many big partners when it became a unit. Maintain data for many "big" businesses such as Masan, Ton Hoa Sen, Vinamilk …
Mr. Vo Ngot – Director of Vo Nguyen Data Recovery Company, shared: In addition to modern equipment that are completely imported from abroad such as: AC3AB's PC3000, MRT Lab's Ultral from SCSI, SATA, SAS … to solve the most difficult and complicated cases, "In early 2020, Vo Nguyen has just succeeded in importing exclusively the Sata standard Ultra Data Rescue machine , a new design of MRT Laboratory. LAB was launched in 2015 with a completely new framework.This is the first PCIE2.0 interface data recovery tool in the world.The MRT Ultra is dedicated to high quality, high speed and human experience. Perfect use, can be classified as advanced configuration among MRT tools.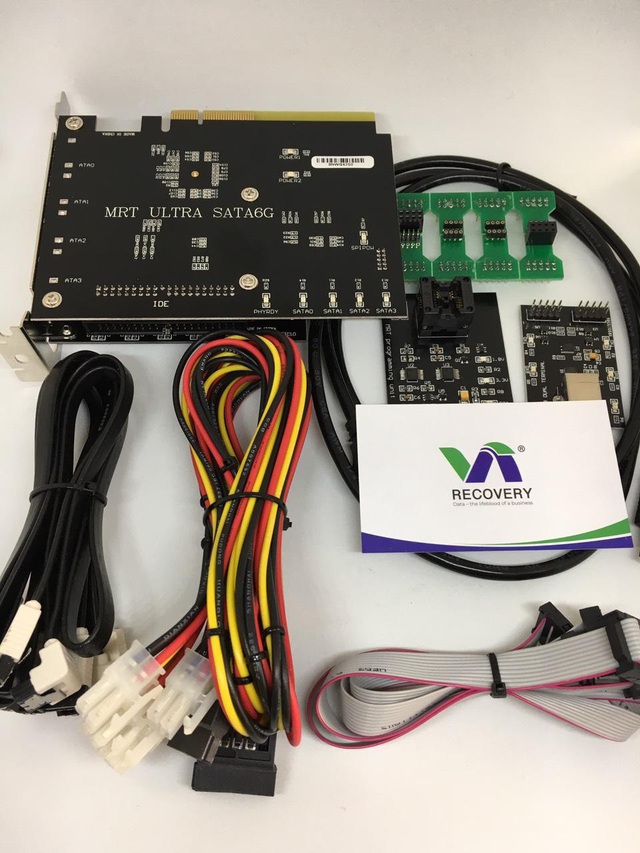 Standard SATA Data Rescue machine SATA 3.0
Sata MRT Ultra Data Rescue with PCI-Express 2.0 interface with four original SATA 3.0 ports and one IDE port that supports all IDE interface hard drives (CE, CF, ZIF), SATA (MICRO SATA) , 1.8-inch, 2.5-inch, and 3.5-inch hard drives with capacities up to 5TB, and one-click auto-diagnostic repair module. Is an effective USB terminal that can work with Seagate F3 serial hard drive, support Flash ROM programming unit, recover hard drive corrupted firmware, ability to unlock and reset drive password High hardware, support for data recovery and hard drive repair due to unsuccessful read / write heads, support for virtual head mapping technology, support for hard drive repair with physically damaged areas, support disk image, selective head image, file recovery, support to edit Head map in RAM to recover data, support to edit Head map in RAM to recover data.

PCI-Express 2.0 interface with four SATA 3.0 ports
Notably, the standard Sata MRT Ultra machine can also review error tables (P list, G list, T list, etc.), download the service information access program – LDR, hide the defects of magnetic surface. Besides, it can also provide direct reading and writing to Seagate SA monitoring, forward and reverse scan, and direct data recovery from bad sectors and Provides MFT Scan to recover accidentally files erase
Recently, Ultra was released to the market, a platform running software that supports 32-bit and 64-bit Windows operating systems. Featured by more ports, more advanced technology, less CPU utilization rate and hardware design of SATA3.0, there are two main power inputs, 4 power output interface, 4 interface SATA3.0 interface and 1 IDE interface. At the same time, there is a great improvement in the performance of Ultra Ultra ships. Check that the firmware transfer rate is increased from 2MByte / s to 33MByte / s. Check the DE image speed is increased to 460MByte / s. The theoretical transfer rate is as high as 600MBytes / s. This tool is a good choice for users with large business volumes, professional data recovery companies and disk repair organizations.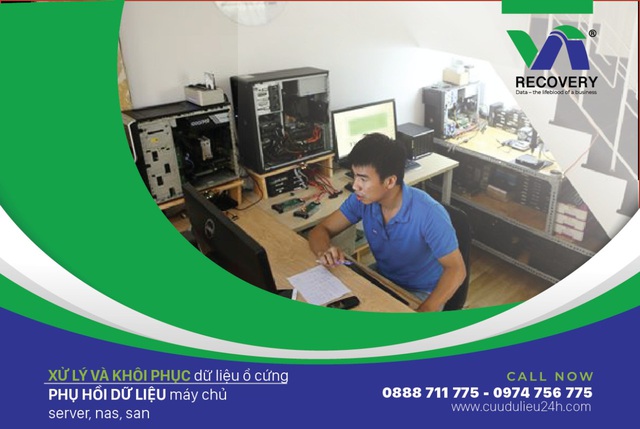 Vo Nguyen pledges "No data, no cost," which means the company will check for free in the presence of guests, notify the remedy, success rate, level of damage, time to refund. and quote beforehand so that customers fully understand the extent of the problem and the cost. Customers only need to pay once and do not incur any other costs. If the device still identifies in win (no error, read slowly), the company will give experienced staff to handle, fix on-site. If the device is not recognized, it is mandatory to bring the device to Vo Nguyen company to check with specialized equipment. For server data emergency service, customers can directly view the troubleshooting process right at the company.
The case of hard drives in the server, NAS / SAN also identifies but has lost Raid configuration, deleted, lost files, bad sectors, damaged by viruses, the company has shortened the processing time within 2 hours. to minimize losses to customers.
When the business sells peace of mind to customers, Vo Nguyen is your best choice at the moment. Your data will be guaranteed to be fully restored and completely confidential.
Vo Nguyen Data Recovery Company
-24/16 Doan Thi Diem, Phu Nhuan District, Ho Chi Minh City
– 3rd Floor, 21 Ham Nghi, Thanh Khe District, Da Nang City.
Phone: 0888 711 775 – 0974 756 775
Website: https://cuudulieu24h.com/
Email: vonguyen@cuudulieu24h.com
Nguồn bài viết : Genk