A series of teachers broke a classroom online with 18+ clips, messing around: Student pranks became teachers' obsession
Learning online recently has become a phrase that is no stranger to any student. From elementary school students to high school and college students have started to approach and become familiar with distance learning. This is considered a solution according to the motto of the Ministry of Education and Training, although having to temporarily stop going to school but do not stop studying in the middle of the Covid-19 season.
However, to change from traditional learning methods to this new way of learning is a difficult thing, not only for students, but also for the classroom teacher. In addition to technological factors, transmission lines, assessment and testing, many out-of-stream problems arise, which significantly affect the quality of teaching and learning. In particular, the recent days have emerged when the unconscious students used accounts on the system to log in and disrupt classes. This made the other students fed up, the teachers bored and the parents surprised by the unthinkable actions of their children.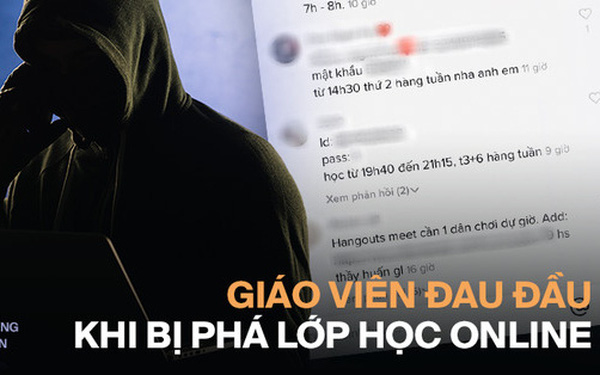 From white chalk, blackboards and lesson plans on pages, everything is now being transferred to internet platforms
Since the Tet holiday, when realizing the anti-pandemic situation of Covid-19 could be prolonged, some schools or localities have planned to organize online or television classes. These classes are designed to help students consolidate and review their knowledge before returning to school. But the long absence makes online learning become mandatory and many places have held assessments and tests of students through online lessons. Now all levels of education have implemented this form of teaching and learning, students, students and teachers are familiar with the job sitting in front of the computer screen everyday.
But to get acquainted and use the software Zoom, Microsoft Team, … into sports is not easy, especially for teachers. From white chalk, blackboards and lesson plans on pages, everything is now being transferred to internet platforms. Ms. VTH, a high school teacher in Hanoi, said: "As a teacher, I am not young and no quick to grasp information technology as fast as other teachers, so I struggled in the early days. For example, turning on and off the microphone, turning on the webcam, showing the lecture are confused. Many times I miss getting out of class and it takes a lot of time to stabilize. "
As for Ms. Phuong Ha, a teacher in District 7, Ho Chi Minh City, she shared: "Hard work online teaching, traditional teaching is less difficult. Social subjects can prepare lessons quickly, but I teach Natural subjects, writing lessons for 1 period sometimes up to 3-4 days. "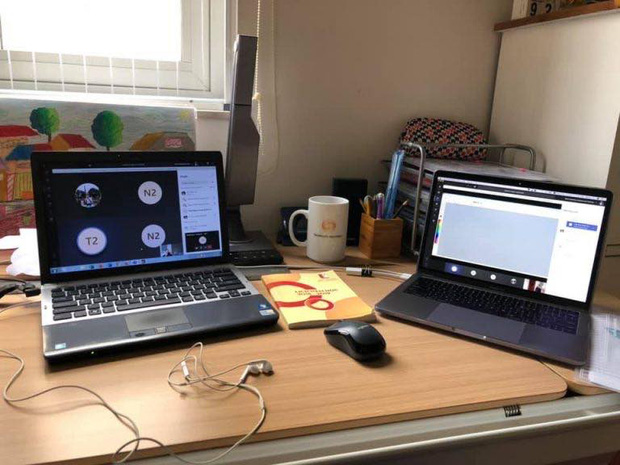 It is just one of the many other difficulties teachers face when attending online classes. That is the teachers can not control the actual learning situation of students and can not objectively assess the level of comprehension of each student. Many cases evade speaking, build lessons by turning off the camera, turning off the microphone, and citing many reasons for not having to answer questions asked by the teacher. Along with that is the problem related to not transmitting the internet, causing the classrooms to still experience fluttering or losing signals.
But now, when online learning has been going on for a while, things seem to be getting easier, students are also getting used to the new way of learning, teachers are more proficient in the steps of organizing classes. . Online learning is now starting to get back on track, when things are happening in sequence and there is a good coordination between teachers and students.
Student awareness becomes a new barrier that challenges the spirit of the teacher
However, overcoming initial obstacles, teachers face more complex barriers than ever. Most students think that ghosts and ghosts can only be done by students during class hours, but even with this distance learning method, students have devised countless countermeasures and harassing teachers.
From the offensive comments on the television videos mentioned previously that annoyed the online community, now the antics are raised to a "new level". Classes are provided with a password and password to log into the classroom, and this information required by the teacher is only circulated internally within the classroom. But taking advantage of this loophole, the students have publicly disclosed this information online to find people to harass and harass school hours. Even now, this activity has become "professional" when there are associations, groups just for those in need.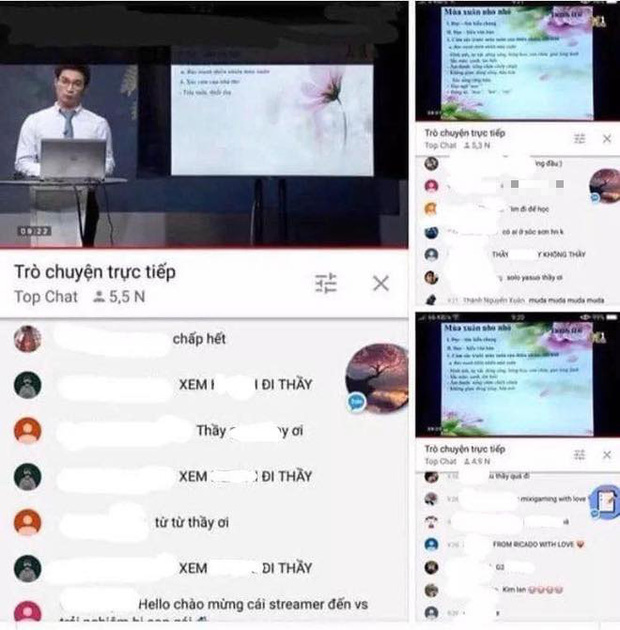 Ms. VTH shared : "Every day there are about 3 periods, almost every period has this phenomenon. Some faces in the classroom, borrow the names of the students in the class, and manipulate graffiti on the slide made me. Very uncomfortable. The class stabilization time has been long ago, and we have to spend time dealing with these things as well. "
Recently, students also brought photos, videos of sensitive and notorious characters in the Wanderer such as Huan Huan, Ngo Ba Kha, … into classes to protest and destroy the general atmosphere. of the lesson. Even more exaggerated, many people still play videos with 18+ content, videos swearing so badly in the classroom. Many teachers shook their heads in frustration and had to let students finish their class early because they couldn't find the main culprit. So far, in addition to kicking a disruptive account, changing the ID / Passwword, there are no measures for teachers to fully handle the case.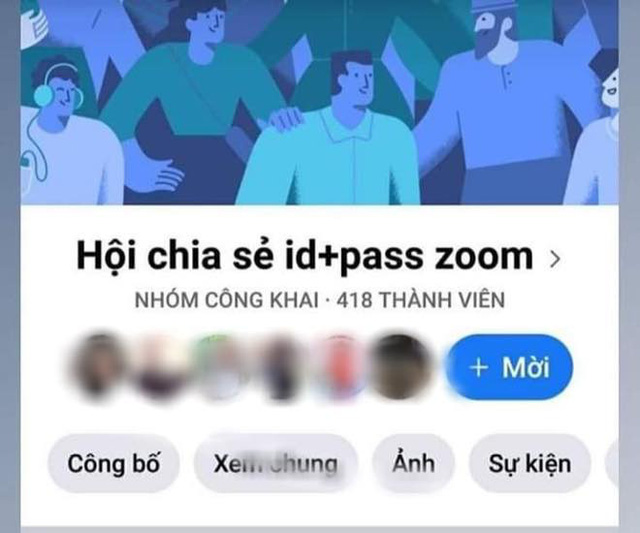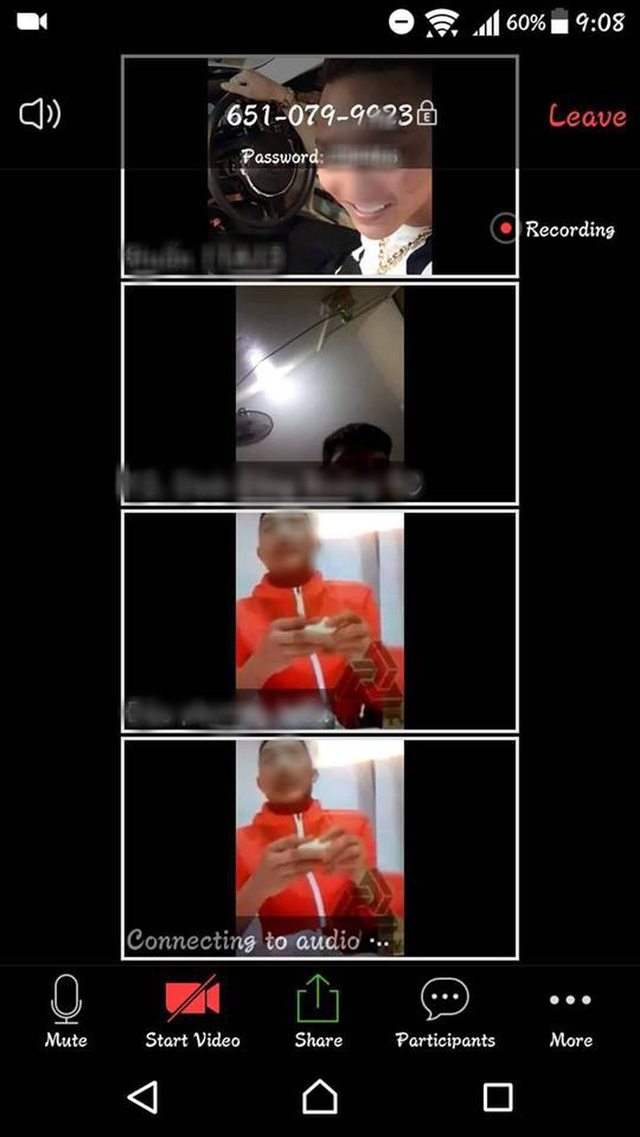 Ms. VTH added: "In my opinion, students who participate in these naughty things will also have some unique behavior in the classroom, or because they cannot show that difference in class because of the control. but using this method. This is a story about not being aware of 1.2 people anymore, but it is also painful for the entire education industry. "
Teachers feel like their efforts are being denied
The consciousness story is once again mentioned and should be quite serious. This shows the skewed thought of a part of students who are not self-conscious in learning and like to express themselves.
Ms. NHL, a middle school teacher in Hanoi said : "There are always very naughty students at all times. As a teacher, I am really sad to witness these phenomena. online at this moment is the best solution for students who do not forget their knowledge, the efforts of teachers are much higher than usual and many students in class are very serious, but only because they appear These phenomena disrupt the whole lesson. "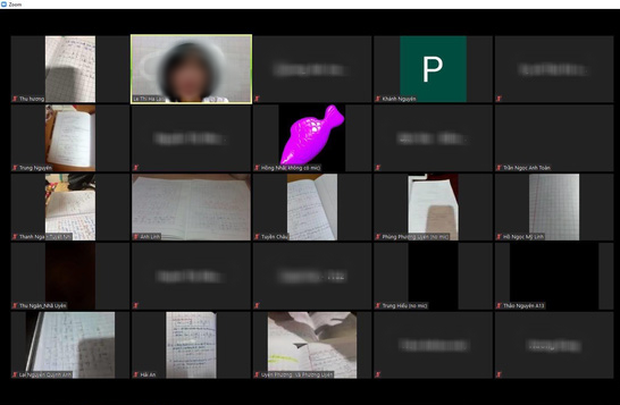 Mr. Vu Minh Hai, high school teacher expressed: "Being a teacher is hard, this makes me feel like I'm denying the effort to prepare my lecture. No matter what the reason is, those things are wrong. "
These actions need to be stopped now, so that teachers and people who work hard every day prepare lesson plans and prepare homework to be taught in a safe and clean internet environment. Every job is a measure of your worth and your consciousness, so think and change before it's too late. The pedagogical environment is not for non-standard behaviors that affect those who really want to acquire knowledge.
"NHL , please calm down and realize your mistakes right now. Change your mind, cooperate and study well. You should think for yourself and your family. for our Fatherland, please unite and strive not only in combating the epidemic but also in acquiring knowledge to help your future. "
Nguồn bài viết : Genk