'It's 9:59': Video of Amazon supervisor shouting at workers for taking a break 1 minute early goes viral on the Internet
The reminder that there is still 1 minute until the time to go home, it seems that can only be encountered in children who are anxiously waiting for the sound of the drum to end school. But that's what employees, adults, are facing when working at Amazon warehouses.
In a video posted on TikTok by @amazonassociatef1, an anonymous Amazon associate who often documents the day-to-day experiences of working for the US e-commerce giant, a manager or supervisor. Amazon announced over the loudspeaker that an employee was not leaving his or her position "soon," because there was still less than a minute to go before their shift ended.

"It's 9:59, not 10:00," asserted the Amazon supervisor. "If you're on your way on vacation, you're getting a TOT. We'll let you know."
"10 o'clock. It's working time," the female employee replied. And it seems that by the time she finished speaking, the clock was already 10:00.
The concept of "TOT", where superiors threaten employees who leave early, stands for "time off task". It's a system used by Amazon to track employee productivity. Accordingly, every minute of lack of work will be considered as rest time. And those who stop working at 9:59 a.m. won't get paid for that missing minute. With employees with so many TOTs like this, the system automatically generates alerts and eventually, the employee could be fired.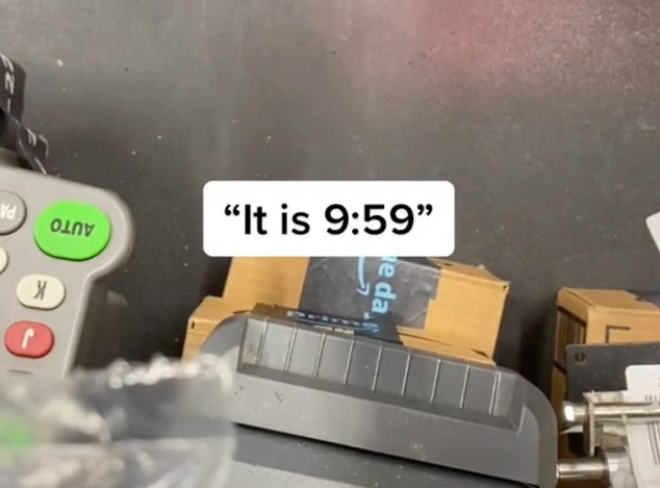 Image cut from video, now hidden on Tiktok.
The video is now hidden, but before that it went viral with 4.5 million views and 631,000 Likes. Many TikTok viewers were annoyed by this supervisor's warning action. They say this reminds them of their school days. Others argue that these workers should form unions to prevent unacceptable behavior towards workers.
"Turns out schools really remind us from childhood about capitalism," one commenter quipped.
"It doesn't mean anything other than reminding workers how little control they have and getting them beaten up," one viewer wrote.
"What's wrong if you take a 15-minute break at 9:59 or 10:00? They're just doing this to make them hopeless and submissive," another commented.
"What many people don't understand is that the warehouse is so big, it takes 5 minutes to walk to the break area," another wrote. "And that's why the turnover rate is 150%."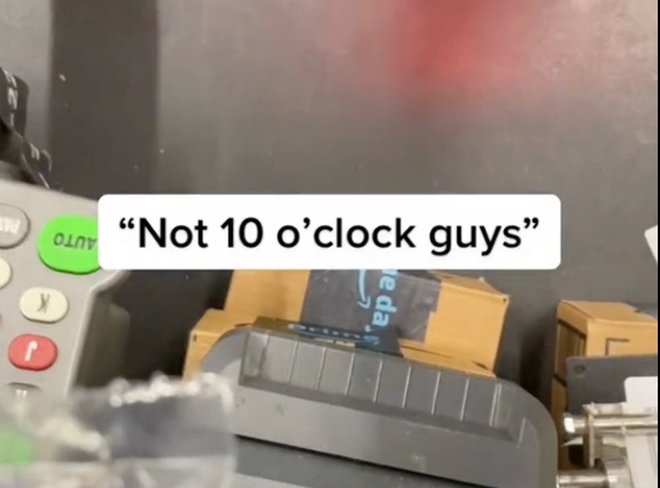 Image cut from video, now hidden on Tiktok.
The aforementioned TikTok account often posts videos that give viewers a deeper understanding of what working conditions at Amazon warehouses are like. Many videos show how workers pack and move at high speed. One of the comments said the warehouse is really huge, so even going to the break room takes time for the staff.
It is worth noting that there are also comments saying that there is nothing wrong with this type of behavior, because supervisors are also employees, and they are simply asked to do their job.
"When I worked at Amazon, they would yell at us to work faster," said a former Amazon warehouse worker.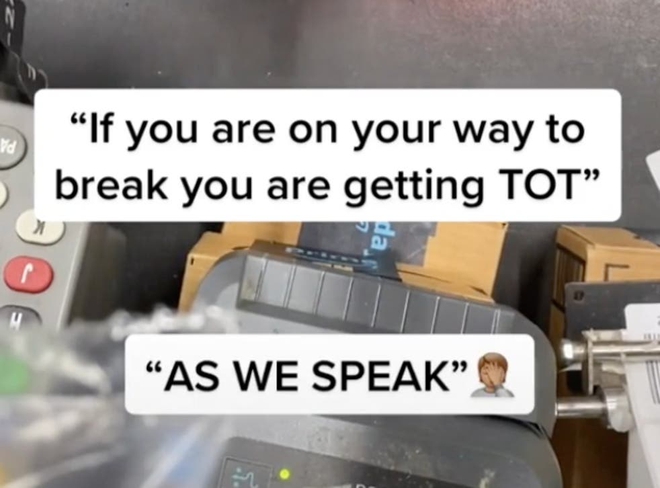 Image cut from video, now hidden on Tiktok.
Some other users have encouraged Amazon employees to unite.
"You all need a union," one person commented. "I wouldn't even work at Amazon, even though they do have such an organization," replied another .
Maria Boschetti, an Amazon spokeswoman, released a statement following the incident.
"We take these matters very seriously and are actively investigating the matter. This does not reflect the high standards we hold for our management team," the representative said.
synthetic
Nguồn bài viết : Genk