Xiaomi Mi 11 Ultra becomes the new king on the DxOMark rankings with a record high score
Immediately after its launch yesterday, the Xiaomi Mi 11 Ultra became the new king of DxOMark's rankings. The smartphone is far ahead of its predecessor, the Huawei Mate 40 Pro +, with an overall score of 143 (4 points higher).
DxOMark's testing team has completed the tests and assessments on all its dimensions, but has not had enough time to write a complete review. Therefore, DxOMark has just released the camera scores (photo and video scores) of the Mi 11 Ultra, while the review will be released later.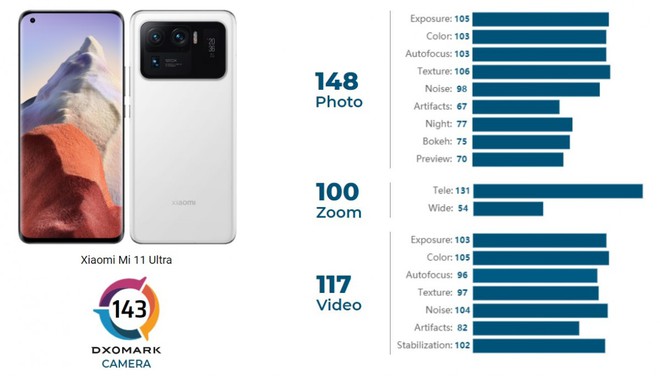 Mi 11 Ultra has 148 photo points, 100 zoom points and 117 video points. In comparison, the Huawei Mate 40 Pro + smartphone scored 144, 98 and 115 respectively. The overall score of the Huawei smartphone is 139 points.
Samsung's Galaxy S21 Ultra is currently in third place, with an overall score of 121 (the individual categories are 128, 76 and 98 respectively).
Mi 11 Ultra is equipped with only 3 rear cameras, but obviously using the larger sensor has significantly improved the performance of photography and video recording. We'll have a closer look when DxOMark publishes its detailed review.
Reference: gsmarena
Source : Genk