Xiaomi launches MIUI 12.5 international version: 16 devices updated, starting from Q2 / 2021
Yesterday (February 8), Xiaomi officially launched Mi 11 – its latest flagship in the international market. In addition, the Chinese manufacturer also launched the international version of MIUI 12.5, more than a month after its introduction at home late last year.
MIUI 12.5 builds on Google's latest Android 11 operating system, focusing primarily on system optimization – 20% less RAM, up to 22% less CPU usage and 15% reduction in consumption. Power consumption compared to the previous version.
The above advantages are partly proved through MIUI 12.5 version released in China. However, Xiaomi did not mention some features in the Chinese ROM such as MIUI +, Natural Sounds & Haptics, security features such as Sandbox mechanism and new Super Wallpaper wallpapers.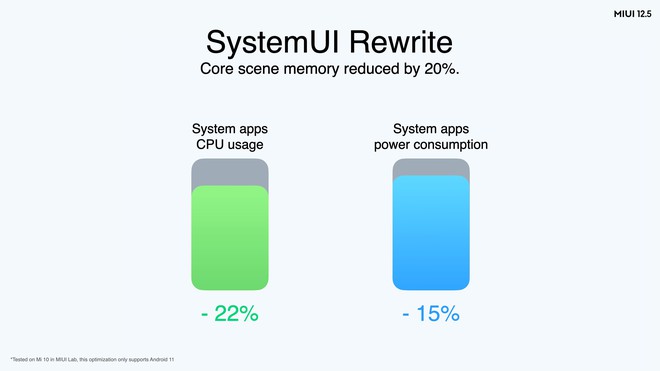 Xiaomi says MIUI 12.5 will provide a smoother gesture experience and faster app launch. Instead of using the same single core to handle gestures and tasks, MIUI 12.5 uses separate cores to ensure that the CPU is not overloaded.
In addition, the latest MIUI version also allows users to uninstall more system apps, such as Mi Calculator, Notes App, Weather, Compass, Scanner, Mi Recorder … In addition, you can also hide any application if you do not like it, including Mi Music, Themes, Mi Video, Downloads and Mi File Manager.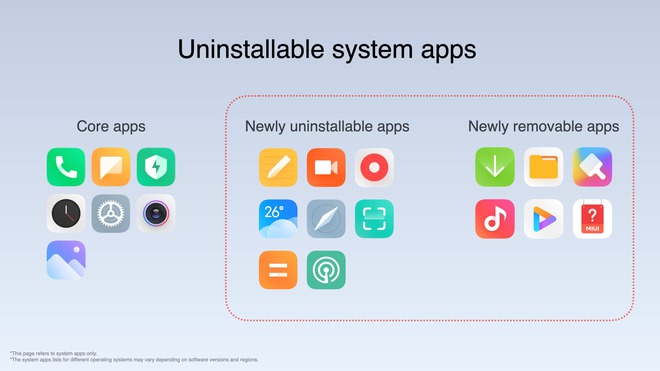 MIUI 12.5 update release roadmap
As expected, Xiaomi will start rolling out the MIUI 12.5 update for its smartphones sold in the international market from Q2 (probably around April). Of course, the Mi 11 is also on the list and will likely be the first to be updated.
Below is a list of smartphone models updated to MIUI 12.5 and the corresponding time period:
The first wave (Q2 / 2021)
– Xiaomi Mi 11
– Xiaomi Mi 10 Pro
– Xiaomi Mi 10
– Xiaomi Mi 10T Pro
– Xiaomi Mi 10T
Second wave (late Q2 / 2021)
– Mi 10 Lite 5G
– Mi 10T Lite
– Mi Note 10 Pro
– Mi Note 10
– Mi Note 10 Lite
– Redmi Note 9T
– Redmi Note 9 Pro
– Redmi Note 9S
– Redmi Note 9
– Redmi Note 8 Pro
– Redmi 9
Xiaomi says it will expand the list of updated devices to MIUI 12.5 and reveal more information in the near future.
Source : Genk