Xiaomi, HP and Hoco are racing to reduce up to 50% for the technology fanatic
Hoco: Brand Day – Sale hunting with passion

Hoco is known as a tycoon in the field of providing accessories, phone components, computers and OEM and ODM services from Hong Kong's HOCO TECHNOLOGY (SHENZHEN) Co., Ltd. Founded in 2009, up to now, Hoco has gone beyond Hong Kong and become a global brand.
Hoco currently has agents in more than 50 countries around the world and is highly appreciated in markets in Southeast Asia, North America, the Middle East or Europe. All Hoco products are certified with ISO9001-2015 standards, strict CE, FCC, and RoHS certificates of the European Union and the US.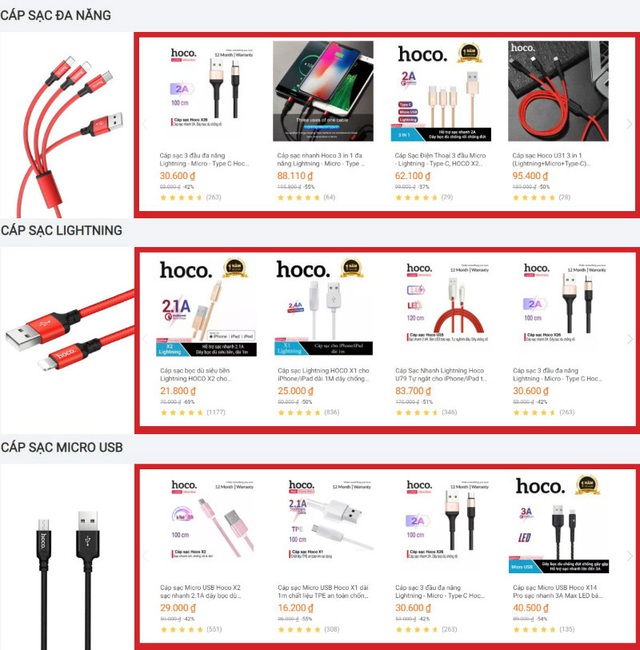 Hoco charging cable can not be cheaper, only available at Lazada.
And especially in this August, in the only 3 days from August 17 to August 19 on Lazada, Hoco Vietnam welcomes the enthusiasts of sale technology up to 60% of all accessories for all phones. . A series of well-known products with the title Hoco from versatile charging cable, Lighting fast charger, micro USB charger, fast charging cup or headphones all reduce shock from only 16k – 29k – 60k.
And yet, Hoco products ordered on Lazada in this program are guaranteed 1 for 1, freeship from 299k, have the opportunity to receive vouchers worth 20k and many other attractive gifts.
Quickly hunt for good deals from Hoco at: https://lzd.co/3iE7IMO
Xiaomi: Jubilant Sale – Celebrate 10 years of birthday

Xiaomi must be a name that is no stranger to technology followers. The brand is so hot that products have consistently set sales records in less than 1 minute. For example, Mi Note 2 sold out within 50 seconds, Xiaomi Mi 10 and 55 seconds, the most terrible is the Xiaomi Mi Mix sold out at a dizzying speed of only 10 seconds.
But Xiaomi not only produces cheap phones with good configuration, its ecosystem is also extremely diverse and even sells things you don't expect. From: backup charger, laptop, TV and related equipment, all kinds of Wifi routers, pocket GPS locator connected to smartphones, … to household appliances such as ballpoint pens, rice cookers, vacuum cleaners dust, self-balancing vehicle, air purifier, water purifier, security camera, kettle, smart light, electronic scale, desk lamp, desk clock, urinal battery, folding bicycle, … toys, electronics, high technology, fashion. It feels like every territory Xiaomi is in.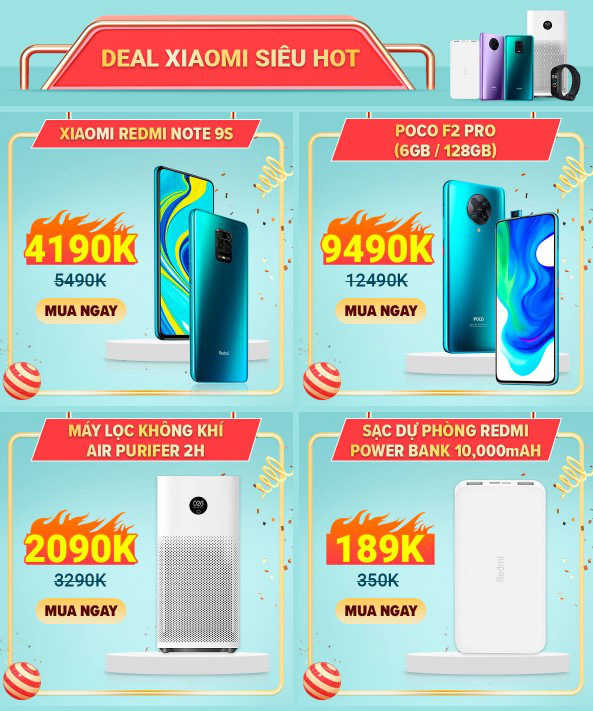 The opportunity to own the hottest Xiaomi products is now completely within your reach on Lazada.
This August, the Xiaomi super products will continue to be on the shelves with cheap prices now even cheaper than the 10th anniversary of their birthday in Vietnam. Specifically, Xiaomi phones decreased by 40%, Xiaomi accessories decreased by 70%, and household goods decreased by 30%.
Thousands of Xiaomi products are waiting for you to take home in the shock sale program with direct discounts on product prices, free shipping, 0% installment payment, 15-day return, 18-month warranty. As the name that guarantees the quality and hotness of each product, surely the 10th anniversary program of Xiaomi's birthday in Vietnam will not disappoint you.
Don't forget, the program only lasts 4 days from August 17 to August 20, only on Lazada. Access now: https://lzd.co/2E1soiN to receive big gifts from Xiaomi!
HP: Every celebration – Good deal

Creating a sales earthquake for technology enthusiasts in August is indispensable for the big man HP with many great incentives that are difficult to refuse.
From August 12 to August 17, pre-order the ENVY 13 ba0046TU laptop, you will receive a huge gift: HP E243 high-end display worth 4.5 million and HP 1015 printer worth 1.5 million. This is the best laptop in the ultrabook line with strong performance, sophisticated design and top-notch security features. That's why the 2020 HP Envy 13 is considered a great laptop for young people and a formidable MacBook rival.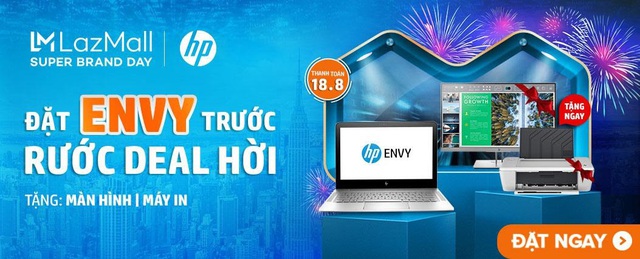 In particular, on August 18 only, HP immediately reduced 15% for all orders on Lazada and nationwide freeship. At many golden hours of the day, HP will open many super hot products at super shock prices.
Specifically, from 0am to 2am, immediately donate 1 HP Pavillon 14 laptop for the highest value order, donate HP V220 screen for the 30 earliest payment orders of 12 million or more. Particularly, the golden hour frame is 12: 00-14:
Access: https://lzd.co/2PKzafJ to hunt for a bargain deal from HP instant hand.
With peace of mind, shopping and optimistic consumption at home with Lazada.
Source : Genk