Winning 88 super products Samsung Galaxy Note20 Ultra over 2.5 billion with "The Soul" on Tiki
3 tips to "operate" super product Samsung Galaxy Note20 Ultra

"Dzut" great gifts also need a secret. Please "pocket" immediately the following tips to maximize your chances of being on the lucky dial list to receive this extremely hot "super product"!
Tip 1: "Dont" 75 Note20 Ultra with "Recruit heroes, win Samsung gifts"
● Step 1: Update to the latest version of the Tiki application;
● Step 2: Log in, select "Hunting" and click "Accept Challenge";
● Step 3: Start shopping right on Tiki! For each successfully delivered order worth 200,000 VND, customers will receive a virtual scratch card with a picture of the hero Tiki (not applicable to orders including milk products for babies under 24). month and products in the category of Voucher – Services – Scratch cards).
Customers who collect all 5 different hero images will immediately receive a set of 5 coupons worth 250,000 VND and 1 lottery code to participate in the lucky draw. Each Customer can receive maximum 5 scratch cards for each valid order and unlimited number of valid orders per day.
Recruit heroes, win Samsung gifts!
Tip 2: "Dzut" add 10 super mobile phones with Sacombank Tiki Platinum card
Customers who are Sacombank Tiki Platinum credit cardholders when paying for purchases at Tiki and other payment points with a total cumulative value of at least 30,000,000 VND or more will receive a attendance code for the lucky draw number. reward.
Tip 3: Play now "10s On Top" to finish 3 latest Samsung super products
The special episode of "10s On Top" will take place on October 1 with many interesting questions. Customers only need to answer quickly within 10 seconds, the list of customers with the most correct answers of the program will be participating in the winning numbers to automatically add 3 Samsung Galaxy Note20 Ultra.
"10s On Top" takes place every Tuesday and Thursday (from August 13 to August 27)
The lucky draw program to find out the owners of 88 Samsung Galaxy Note 20 Ultra will be livestreamed and officially announced at Tiki app on October 1, 2020.
Calendar "sober up" throughout the month
"Big play" is a must as Tiki when spending a whole month for people to freely "dzuto" for it!
● From August 13 to August 27, play "10 seconds on top" at TikiLIVE with 8 million Tikixu and gifts every Tuesday and Thursday broadcast.
● From August 17 to September 15, immediately accept the challenge "Recruit heroes, win Samsung gifts".
● From August 20 to August 31, join the game "Scratch is won" with 8 million coupons worth up to 8 billion.
● Only on August 25 and August 26, hunt now "Deal with the same price of 8K, 80K, 800K and 8,000K".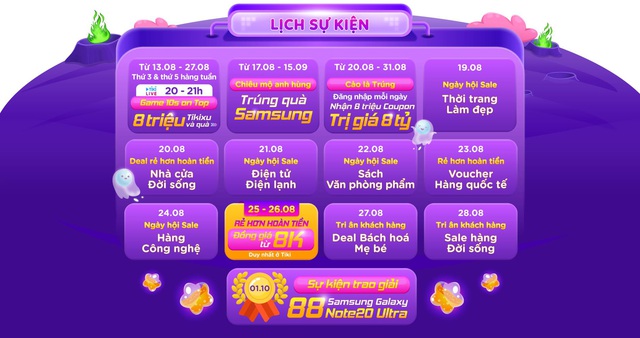 The super epic Soul Calendar at Tiki
"Dzut" now deal with the same price from only 8K!
Besides, "Sale festival", "Deal cheaper than cashback", "Customer gratitude deal" from a variety of industries such as Fashion – Beauty, Online department store, Home – Life, Electronics – Refrigeration, Books – Stationery, … continuously released during the program.
In addition, when coming to the "Top 100 super cheap deals" booth, shoppers will not be able to take their eyes off the diverse series of deals "released" at the website and Tiki application.
What are you waiting for, please visit and experience Tiki's "Dzut Co Soul" program right here .
Source : Genk