Wifi coverage of the entire house is only from 499k
It is hard to imagine on a beautiful day when suddenly without internet, what would our life be like and how!
The problems that you always face about the state of your home Wi-Fi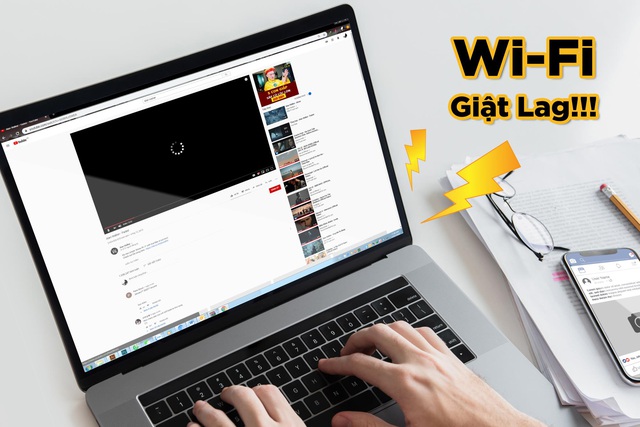 With the usual modem equipment equipped by the network, the Wi-Fi signal will experience flickering or frequent lag. These situations also occur with more frequent frequency and more serious with apartments with many floors or many obstacles. Besides, the load capacity of Wi-Fi modem devices is usually quite low, so sometimes only 3-4 smartphones connected in the family are … click, can't get online anymore! So users will often choose to buy additional wireless routers (Wi-Fi routers) to improve internet quality. However, currently on the market, the Wi-Fi Router devices are often quite expensive (about 1 million or more) but the feature sometimes for the basic user is too redundant, no need to used to.
Thoroughly solve your Wi-Fi situation
Understanding this, TOTOLINK would like to offer 2 standard and advanced "combo" packages to help you choose the network device that is both suitable for your financial capacity and can handle the upgrade needs. , improve the quality of home internet connection. A special feature of these "combo" packages is that you receive not only 1 but up to 2, 3 network equipment products for an extremely ideal price!
Solution 1: Wi-Fi solution for 1-storey houses, motels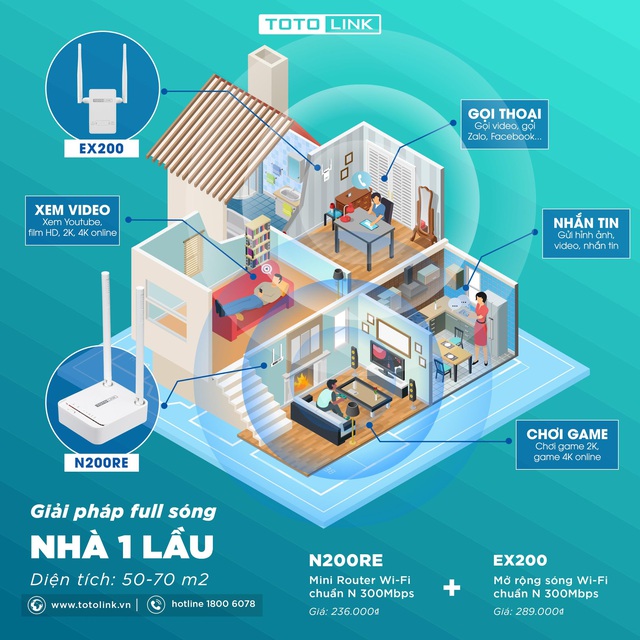 The first choice would be N network devices, including: 300Mbps TOTOLINK N210RE Wi-Fi Router, TOTOLINK EX200 wave extender, and TOTOLINK N150USM Wi-Fi USB extension (optional if you need a desktop computer) wireless Wi-Fi card). With the choice of standard N devices, users will only have to spend a very reasonable fee (reference prices of N210RE and EX200 are 259,000 and 289,000 respectively, a total of 548,000. However, if purchased at e-commerce sites, there may be a better price around 500,000) but still "weigh" the basic internet tasks in the family. This combo is suitable for apartments with 1-2 floors with a moderate area (50-70m2), common needs such as listening to music, watching online videos, reading newspapers, surfing the web, watching news … with about 20 – 25 devices connected at the same time.
Solution 2: Wi-Fi solution for 2.3-storey houses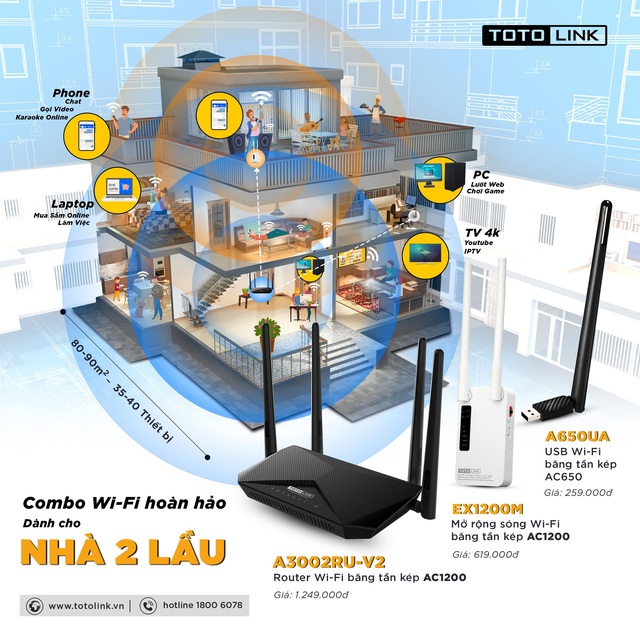 If you are looking for products with higher performance, faster speed, stronger resistance to obstacles, then the number 2 combo will be the choice for you! This is a combination of multi-band network devices (2.4G and 5G) including: Gigabit TOTOLINK A3002RU-V2 dual-band Wi-Fi router, TOTOLINK EX1200M dual-band extender and USB Wi-Fi dual band TOTOLINK A650UA (Optional if you have a PC that needs a wireless Wi-Fi card). Very good interference resistance and super-fast access speed on 5G band are plus points on dual band devices. With this advanced option, users will have the ability to fully meet all the needs of broadband Internet Wi-Fi from online gaming, livestream, watch full HD, 4K videos on youtube, download content files. large volume … with a more stable connection, faster speed. The price will be higher than the 1st combo (ranging around 1,868,000 including A3002RU-V2 – 1,249,000, EX1200M – 619,000, (A650UA – 259,000 if necessary), so it will be suitable for apartments with multiple floors, using area of ​​80m2 or more, many obstacles or thick walls … with about 40 – 45 devices at the same time.
In a nutshell, at a cost of less than 500,000, the N network combo set will be suitable for general users who need stable Wi-Fi performance along with wide coverage, meeting the requirements. Basic but necessary family internet needs. And if you want to enjoy the high-speed internet experience and the ability to handle powerful bandwidth-intensive tasks such as watching HD videos, livestreams, online games … the choice of dual band network devices is definitely will be for you.
In addition, users' personal data will always be safe when shared in the same LAN with optimal security. Thereby minimizing the fear of revealing user information when using the internet. In addition, you can also use additional Wi-Fi USB devices such as A650UA or N150USM to minimize the cost of wires and cables, and increase the "wireless" for your home!
Source : Genk