Why does Bitcoin price increase sharply on holidays and weekends?
On the first Saturday of this year, January 2, 2021, when many people were still living in the New Year's air, Bitcoin quietly crossed the $ 30,000 threshold for the first time. This single-day 10% growth step is one of the most recent spikes on weekends and public holidays, from early December 2020 to early January 2021, bringing Bitcoin two-thirds up in value. .
CryptoCompare research found that the trading volume on the six major crypto exchanges was 10% higher on weekends than in the past week period. This is a big change from 11 months ago, when weekend trading volume is 13% lower than the traditional trading timeframe.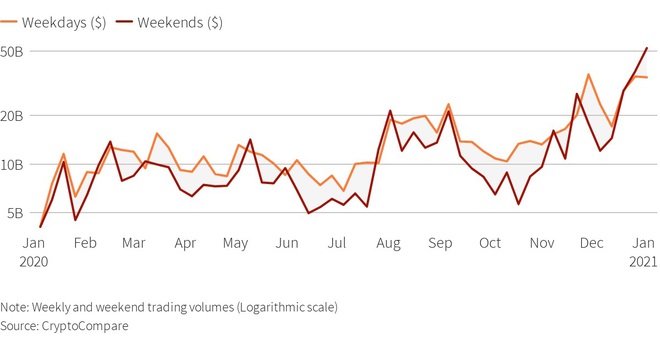 In the figure is a chart comparing Bitcoin transaction values ​​during the weekdays and weekends. Trading volume on the six major crypto exchanges was 10% higher on the weekends of the period.
The sudden weekends are posing a new challenge for "virtual money" players in the market, whether big or small, when they have to arrange time and manpower to work outside the traditional time frame, if not want to miss out. price fluctuations that are profitable or cause heavy losses.
The increasing participation of major investors in the US, like hedge funds in the market, has fueled the price of Bitcoin to soar, especially as they employ trading tricks. These investors often buy and sell Bitcoin in split increments so as not to cause excessive price fluctuations.
The technique was used by US software company MicroStrategy to buy Bitcoin in December 2020, then worth $ 425 million, supported by exchange Coinbase. But this technique can also create volatility on weekends, when liquidity falls.
" In the past, investors used to buy a small number of shares at certain times, usually on weekdays ," said Blair Halliday, head of Gemini exchange for UK market . But since the volume of purchases is so large, some transactions will move to the weekend . "
In general, the holiday price movement can be explained because there are few Bitcoins that are actually ready to trade on the exchange, and the volume of transactions is still high. Other trading techniques also amplify volatility.
Last Friday, Bitcoin hit a record $ 42,000 also because of the imprint of major US investors. By the beginning of this week, Bitcoin dropped to around $ 35,000.
Scott McKim, head of trading at a digital asset management firm based in Gibraltar, turned on the machine and worked on the Christmas holiday with his girlfriend's family. " Bitcoin never sleeps and I probably shouldn't sleep, " he said.
" We are always trading for people in need, and the market operates 24/7/365. We need to meet the needs when customers want to trade on Friday night, or Sunday morning ", McKim confirmed.
The positive point is that if Bitcoin prices fluctuate over the weekend, investors can react immediately.
According to Reuters
Source : Genk